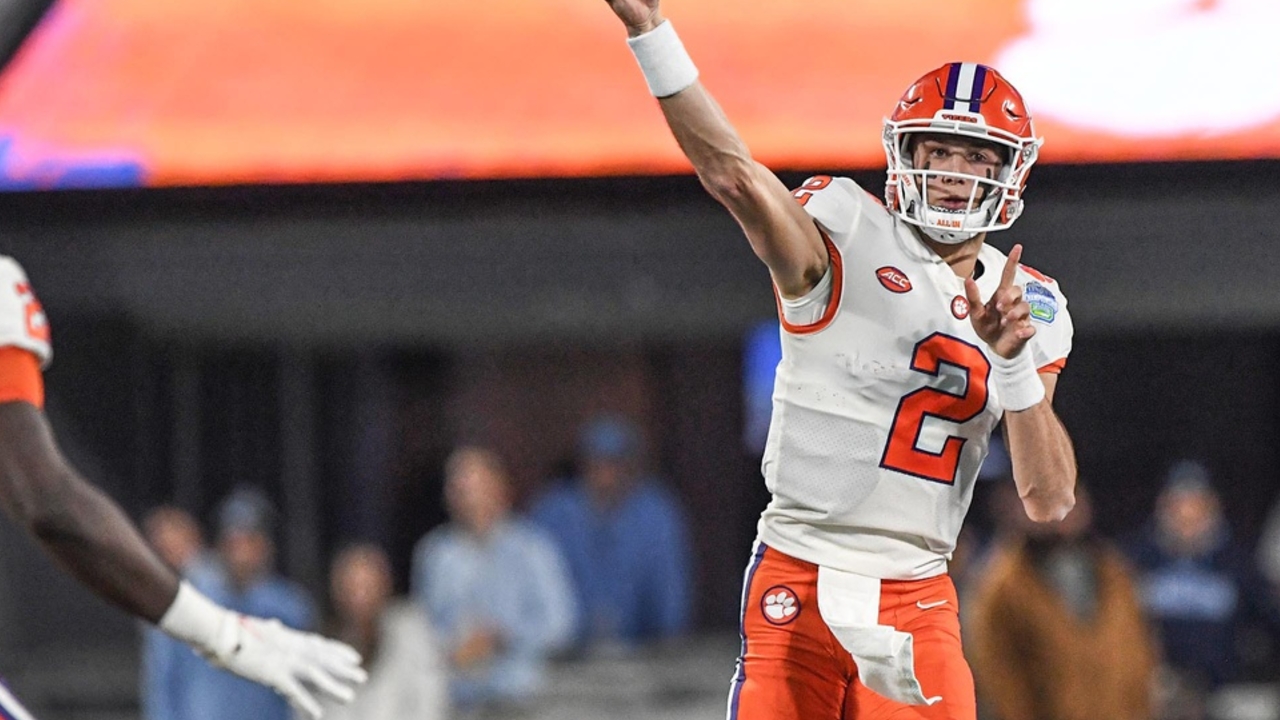 Clemson Football
Keys to Victory: No. 7 Clemson vs. No. 6 Tennessee
---

---
Each week we review the game's history, three keys to success, and Swanny's prediction.
The Match-Up:
No. 7 Clemson (11-2, 8-0 ACC) vs. No. 6 Tennessee (10-2, 6-2 SEC)
The 2022 Orange Bowl will be the 20th all-time meeting between Clemson and Tennessee. Though the teams met 16 times from 1901-44, including ten times in a 16-season span from 1901-16, this year's postseason contest will be only the fourth meeting between the Tigers and Volunteers since Clemson joined the ACC as a charter member in 1953
Clemson vs. Tennessee (2004 Peach Bowl)
Series History:
OVERALL: Clemson trails, 6-11-2
HOME: Series is tied, 2-2-1
ROAD: Clemson trails, 3-9-1
NEUTRAL: Clemson leads, 1-0
LAST MEETING: Jan. 2, 2004 (27-14, W)
STREAK: Clemson, Won 1
Roster:
Among players listed on Clemson's depth chart for the 2022 Orange Bowl, the following player is not expected to be available for tonight's contest: CB Sheridan Jones.
Stat of the Week:
Clemson will be making its seventh all-time appearance in the Orange Bowl, a game in which the Tigers hold a 4-2 record. The game was the site of Clemson's first national championship victory on New Year's Day 1982, when the Tigers defeated Nebraska, 22-15. Clemson has won each of its last two Orange Bowl appearances, including a 40-35 win over Ohio State to end the 2013 season and a 37-17 College Football Playoff semifinal win over Oklahoma in 2015.
Chasing History:
Head Coach Dabo Swinney will be coaching his 200th career game at Clemson, joining Frank Howard (295) as the only coaches in school history to serve as head coach for 200 career contests. With a 161-38 career mark, Swinney will attempt to earn his 162nd victory in his 200th career game as head coach to tie Joe Paterno and Tom Osborne (162 each) for the third-most wins through 200 career games in major college football history, trailing Urban Meyer (170) and Gil Dobie (163).
Swinney's 161 wins are already the second-most through the first 15 seasons in a career in FBS history, including his debut season in 2008, in which he was limited to only seven games after ascending to the position in an interim capacity.
Key 1: Energy in the Klub
I'm not sure if what we collectively felt watching Cade Klubnik's energy in Charlotte was real or not, but it sure felt like the freshman added a jolt of excitement to both sides of the football. The offense seemed to move faster, and the defense was playing on its toes. It was hard to explain, but after a couple of drives, I leaned over to one reporter and said, "It just feels different with Cade in the game."
If Klubnik brings that type of energy tonight, I think it goes a long way to helping Clemson knock off Tennessee. Additionally, Klubnik's play tonight will determine how pundits feel about Clemson as they head toward the 2023 season.
Key 2: Control the Line
If we are being honest, Clemson's defensive line didn't feel nearly as dominating as expected coming into the season. Perhaps it was the shift from Brent Venables to Wes Goodwin, but for whatever reason, the group just never jumped off the screen. It's not as if they played poorly, but it didn't have that pop one might expect, given the level of talent on the field.
What will be interesting to watch tonight is where and how Bryan Bresee plays. Almost all NFL Draft projections have him as a Top 15 pick, but in my opinion, he's got Top 3 potential-- but he would have to stay another season in Clemson to climb back up after all of the hurdles he faced this year.
If Bresee showcases himself at defensive end tonight-- minus Myles Murphy-- he could certainly improve his draft stock, but another season could elevate him to Top 3 status.
Key 3: Keep Momentum
Momentum in every game is key, but for Clemson, with Klubnik getting his first start, it sure feels like getting off to a good start will be key. This is his team now, and there isn't someone to fall back on at quarterback, so his confidence is important.
At times this season, turnovers have been an issue for the Tigers, and avoiding them tonight is going to be even more important with a young quarterback in the game.
Additionally, Tennessee's offense without Hendon Hooker, Jalin Hyatt, and Cedric Tillman shouldn't be nearly as potent, so avoiding any cheap scores would be significant. The Tigers need to make quarterback Joe Milton III lead lengthy scoring drives forcing the Volunteers to work hard to get into the endzone.
Prediction:
When you are 11-2, it's hard to complain about much, but the Tigers' elite status puts this group in a strange place where an incredible season can seem a bit less than stellar-- especially with how things felt with D.J. Uiagalelei at quarterback. I said all season on my daily radio show that Clemson could "make" the playoffs, but they never felt "like" a playoff team. It was a strange dynamic.
Outsiders will be critical of the ACC and say that the reason I felt that way is that the Tigers "don't play anybody." The truth is that Uiagalelei never exuded confidence, and it filtered through the entire program-- fans included. Apparently, the only people that didn't feel it-- or won't admit it-- has been the Clemson coaching staff.
I don't want to diminish the season or the success that Clemson has had under Uiagalelei, but it just feels different heading into tonight's Orange Bowl matchup with Tennessee, and I put that on Klubnik's confidence-- which will be key tonight.
If the Tigers win, they will probably start the year as a Top 5 team. With a loss, questions will remain about their status as a Top 4 team.
Clemson 31, Tennessee 24
Swanny's Predictions:
Date
2022 Schedule Predictions
Swanny's Prediction
Actual Score
✅ or

❌

9-5-2022
No. 4 Clemson @ Georgia Tech
31-14 Clemson
41-10 Clemson
✅
9-10-2022
No. 4 Clemson vs. Furman
55-7 Clemson
35-12 Clemson
✅
9-17-2022
No. 4 Clemson vs. La. Tech
38-13 Clemson
48-20 Clemson
✅
9-24-2022
No. 5 Clemson @ No. 21 Wake Forest
38-17 Clemson

51-45 Clemson (2OT)

✅
10-1-2022
No. 5 Clemson vs. No. 10 NC State
34-20 Clemson
30-20 Clemson
✅
10-8-2022
No. 5 Clemson at Boston College
42-17 Clemson
31-3 Clemson
✅
10-15-2022
No. 4 Clemson at Florida State
34-14 Clemson
34-28 Clemson
✅
10-22-2022
No. 5 Clemson vs. No. 14 Syracuse
43-13 Clemson
27-21 Clemson
✅
11-5-2022
No. 4 Clemson at Notre Dame
31-14 Clemson
35-14 Notre Dame
❌
11-12-2022
No. 10 Clemson vs. Louisville
31-17 Clemson
31-16 Clemson
✅
11-19-2022
No. 9 Clemson vs. Miami
38-13 Clemson
40-10 Clemson
✅
11-26-2022
No. 8 Clemson vs. South Carolina
35-13 Clemson
31-30 South Carolina
❌
12-3-2022
No. 9 Clemson vs. North Carolina
31-28 Clemson
39-10 Clemson
✅
12-30-2022
No. 7 Clemson vs. No. 6 Tennessee
31-24 Clemson
❓
❓
✅ = Correct Prediction
Never miss the latest news from Clemson Sports Talk!
Join our free email list