Photo by © Ken Ruinard / staff / USA TODAY NETWORK
Clemson Football
With Thomas and Mascoll out this spring, Hall evaluates younger defensive ends
---
Defensive end coach Lemanski Hall is without Xavier Thomas and Justin Mascoll this spring so the younger players have the chance to prove they can play on Saturdays.
Hall on redshirt sophomore Cade Denhoff having the opportunity to play this season:
"I think if he continues to do what he's been doing in terms of understanding the defense playing physical, taking advantage of the opportunity. We've had two guys out, Mascoll and XT [Xavier Thomas] so he's been getting a lot of reps, and I think getting reps is going to help him and he's done a great job. Every year I talk about having five or six guys ready to play. And that's still my plan. That's the goal. And hopefully, Cade will be one of those guys in the rotation."
On why he's excited about freshman Tomarrion Parker:
"He's physical. He's a big kid. He has a great foundation. His D-line coach has done a great job at preparing him for college football. For a young man who should be in high school to come in play and execute and do the things that he's doing on the field. I've been very pleased.
"He's physical at the point of attack. He can rush the quarterback. He's what we call a plug-and-play guy. I mean come in on day one, and you can put him in and he can play and execute. And that's what I wanted when I recruited him and that's what we got."
On whether freshman Peter Woods can play on the edge:
"Peter Woods can play anywhere he wants to on the D line. He's just that good. And right now, he's been playing mostly inside. But he's going to play wherever we need him to play. And he can do it and play that position at a high level as well. So, if we need him to play at the end position, that's where he'll play."
On the mindset of graduate senior Thomas as he continues to recover from foot surgery:
"Well, I think initially he had a hard time because he was disappointed but he's in a good headspace right now. And that's what we want. He's focused, dialed in and that's the best version of XT. And that's what I see right now and I saw that he stepped up the other day in my meeting on the field. Asking him questions, what did you see? How can you encourage these guys? That's a different XT. He's never been that guy before. And so that's encouraging for me as a position coach, knowing that I'm preaching that message, but I got one of my guys just right there encouraging the players and that's what we got to have."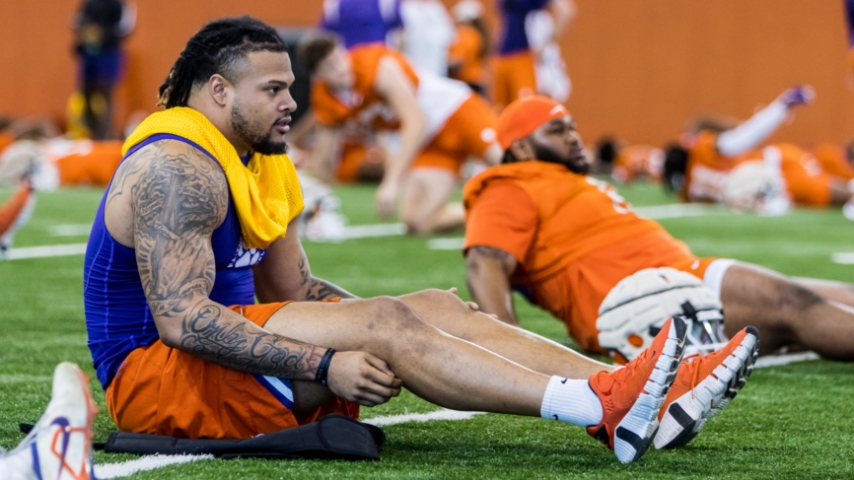 © Susan Lloyd/Clemson Sports Talk
On what graduate senior Mascoll has to do to reach his dream of playing in the NFL:
"Well, he got to continue to perform on the field. You got to make plays you're supposed to make. You got to be available. You got to do the little things. Mascoll is gaining weight. He's doing the things that he needs to do in the castle -- taking care of his body. He's eating well. I've never seen this Mascoll before, so I'm excited to see his progression moving forward."
On redshirt freshman Jahiem Lawson being a surprise this spring:
"Well surprise in terms of just his fundamentals and technique. Jahiem can rush the quarterback. There's no doubt. That's one of his skill sets. And so for us as a defense, we have to put him in the right situation so he can do what he's good at. As a position coach, it's my job to make sure that I help those guys identify what they're good at. And that's one of the things that Jahiem is good at so we're going to get him on the field in some passing situations."
On redshirt sophomore Zaire Patterson having the potential to be a great player:
"No question. You look at that dude. He walks into a room, and you're like, wow. He has the height, the weight, [and] all the measurables but he needs to decide if this is what he wants to do. And if he ever decides that and that light goes off, he can be a great player. But I can't want it more than him, Coach [Dabo] Swinney can't want it more than him. He has to make a decision that he wants to do it."
Never miss the latest news from Clemson Sports Talk!
Join our free email list