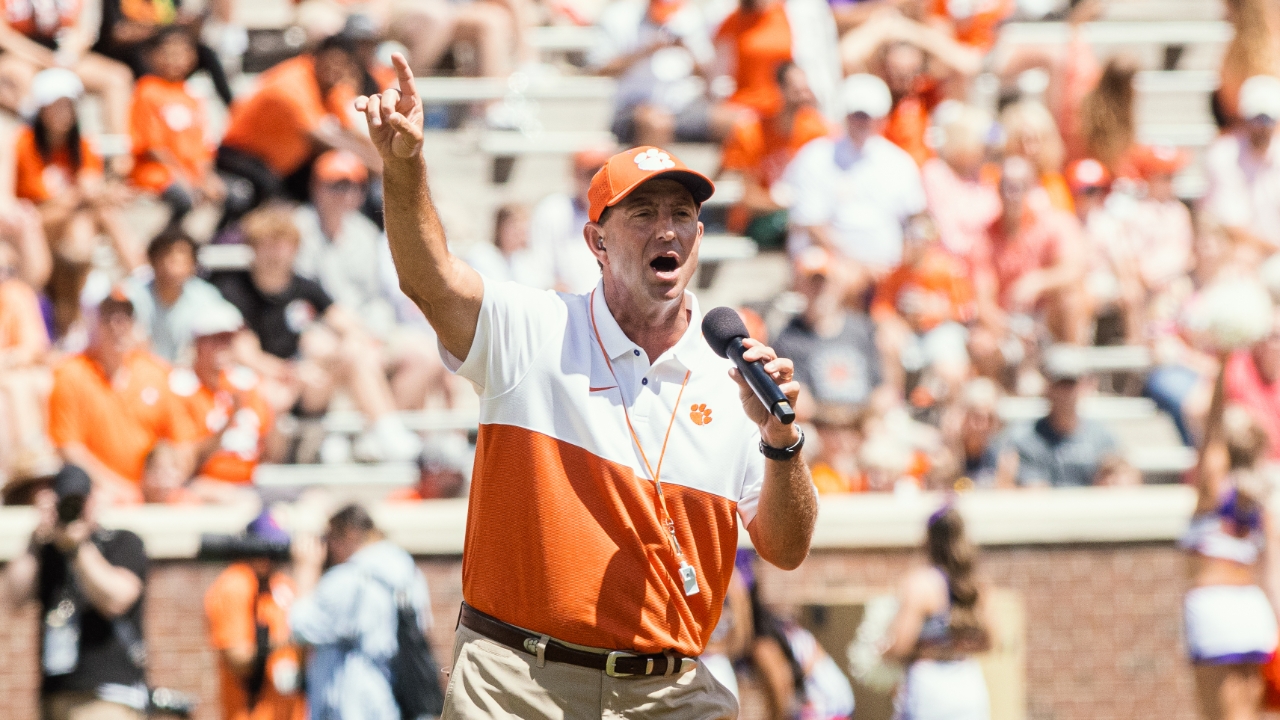 Clemson Football Recruiting
What did recruits think of Clemson's spring game?
---

---
Ten recruits, including a five-star, recap their visits to the Orange and White game:
Four-star 2024 TE Christian Bentancur‍ (Clemson commit): "Clemson and I have an amazing relationship, and it only gets better every time I go there! I have a great relationship with all the coaches, recruits, and current players!"
Note: "They used the tight end a lot more than I expected, and it was super fun to see the new offense!"
Five-star 2025 S Anquon Fegans‍: "My favorite part was meeting the coaches. Our relationship is building."
Fegans is closest with co-defensive coordinator Mickey Conn. He played at Thompson high school with Peter Woods and described watching Woods at the college level as "amazing."
Four-star 2025 RB Gideon Davidson‍: "I had the privilege to be at Clemson two weeks ago for a 2025 gathering which was fantastic. Today was about watching the team in a competitive setting. I was able to listen in on the team meeting before the spring game and spend some time talking to Coach Riley and Coach Spiller."
On running backs coach C.J. Spiller: "I enjoyed watching Coach Spiller be the white teams' coach. His body language and hype were all in the whole game. I loved the 4th quarter today, where the white team found a way to win for Coach Spiller."
On Clemson tight end commit Christian Bentancur: "I enjoyed talking with the coaches and Christian, a 2024 recruit. We hit it off, and he helped me understand why he committed to Clemson. Now I will wait until June 1 to see if I am among the lucky 2025s to receive an offer."
Four-star 2024 S Corian Gipson‍: "The love from the fan base was great, the people were just good, and the atmosphere was on point."
"My relationship with Clemson is good. It's on point. I love it."
Three-star 2024 ATH Fatu Mukuba‍: "It was very exciting, especially since my brother was able to get an interception."
On Clemson: "I feel like our relationship is good. My brother plays a big part in how highly he talks about the university. He tells me I would love it."
Three-star 2024 LB Drew Woodaz: "They are a really cool staff all around, and I'm able to talk to them very easily."
On the visit: "Being there with some of the commits in my class and hearing them throw their recruiting pitch."
2024 WR Na'eem Gladding: "The game gave me a great visual experience of how the game should be played at that level."
On the visit: "My favorite part was being shown the weight room. I can feel the energy in the room."
2024 ATH Zachary Pickelsimer: "I had a great time at the game. Being on the field with Tahj Boyd and watching some of the best college quarterbacks throw the ball and talk to them was a great experience."
On Clemson: "My relationship with Clemson is great. I've played with plenty of football players who have walked on to Clemson or received an offer from them, such as Misun Kelly, Jahiem Lawson, Trent Pearmen, Clay Swinney, and Tyler Brown!"
2026 OL Langston Hogg (multiple Power Five offers): "I enjoyed that the coaches were outgoing by meeting us when we arrived. The facilities were impressive, and I loved the slide."
2026 WR Nalin Scott: "The game was amazing. They made big plays on both sides of the ball and big-time interceptions left and right."
His impression of Clemson: "One thing that really took me away was the hospitality and the way everyone treated me from the moment I stepped on the campus."
Never miss the latest news from Clemson Sports Talk!
Join our free email list