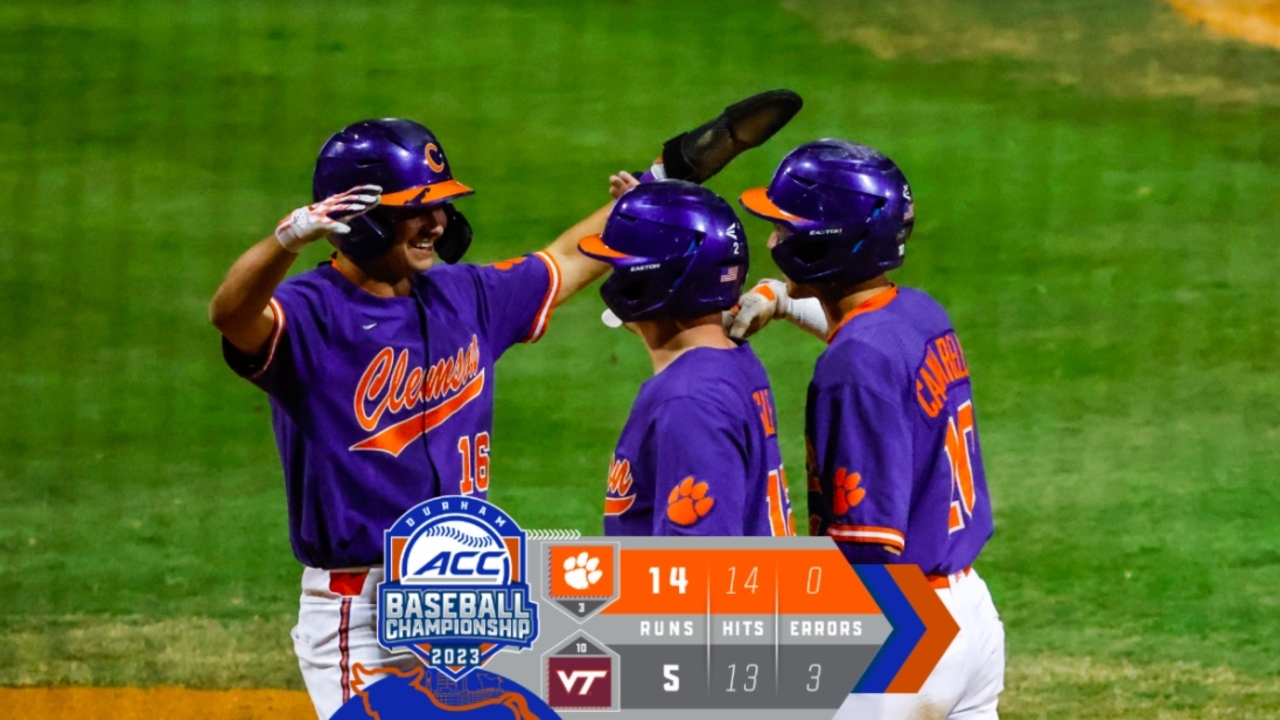 Clemson Baseball
Grice, Tigers Slam Door on Hokies
---
DURHAM, N.C. (theACC.com) – Clemson entered this year's Atlantic Coast Conference Baseball Championship as arguably the nation's hottest team, and the Tigers again seized the moment when presented with an opening on Wednesday night.
Clemson scored seven runs following a two-out Virginia Tech error in the top of the sixth inning, capped by a Caden Grice grand slam, and the third-seeded Tigers rode that turn of events to a 14-5 victory in their Pool C tournament opener at Durham Bulls Athletic Park.
Clemson (40-17) will face Boston College (35-17) at 11 a.m. on Friday morning, with the winner advancing to Saturday's semifinal round. The Tigers will enter the game having won 13 consecutive games, 18 of their last 19, and 23 of their last 26.
The Hokies (30-23) led 5-3 with two outs in the top of the sixth inning Wednesday night. The Tigers had runners on second and third, but Virginia Tech seemed poised to escape damage when Jacob Jarrell lifted a high fly ball into shallow left field.
Virginia Tech shortstop David Bryant appeared set to make the play before he was called off by leftfielder Jack Hurley. But Hurley wound up having to dive for the ball, and it caromed off his glove and fell to the turf. Two Clemson runs scored, leaving the game tied at 5-5.
It didn't remain tied for long, as freshman Cam Cannarella followed with an RBI single to make it 6-5. Virginia Tech starter Drue Hackenberg departed the game at that point in favor of reliever Andrew Setlinger, and an infield single and hit batsman loaded the bases to set the table for Grice's big moment.
Grice worked the count to 3-1 before sending a Setlinger offering over the wall in right for the fourth grand slam of his career – one short of the school record held by former Tiger All-American Seth Beer – and the 25th in ACC Baseball Championship history.
The flurry of unearned runs left the score at 10-5, and the Tigers tacked on a single run in the eighth and three in the ninth for the final 14-5 margin.
Billy Amick and Riley Bertram each finished 3-for-5 with two RBI for Clemson. Designated hitter Carson DeMartini drove in three of Virginia Tech's five runs, and leadoff hitter Garrett Michel finished the night 3-for-5.
Never miss the latest news from Clemson Sports Talk!
Join our free email list