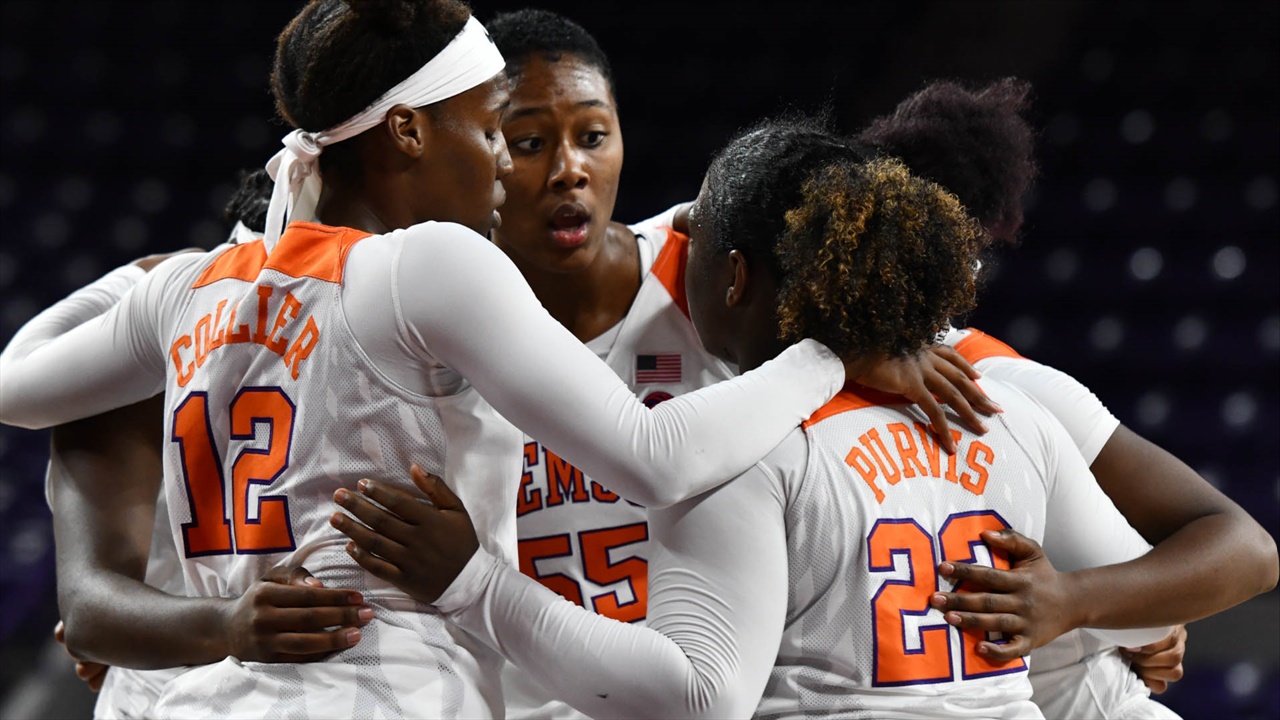 Clemson Women's Basketball
The "Ugly Ducklings" are dancing: Amanda Butler's team deserves some recognition
---
CLEMSON -- When Clemson signed Amanda Butler to take over the floundering women's basketball team, few could have seen the instant impact she would make.
Heck, given the Tigers lack of success since Jim Davis' tenure ended in 2005, even Connecticut's Gino Aurema would be hard pressed to deliver a turn around in Tiger Town.
After finishing the 2017-18 season with an 11-19 record (1-15 ACC), trust and hard work were the two things keeping the team afloat as they began a new season with their new coach.
"We never really set any expectations or any limits on what we could be. We really just wanted to trust each other and promise to work really hard for each other," Butler said last week. "Then, let's just try to figure everything else out as we go and try to make it a goal just to get a little bit better every day."
As each game passed, that goal became a reality and the hard work paid off.
In Butler's first season as a Clemson Tiger, the Lady Tigers finished the regular season 19-12 (9-7 ACC) and 7th in the conference. Keep in mind, this is the same team that was projected to finish last in ACC standings and now, after pulling off one of the biggest turnarounds in ACC history, the Tigers have earned an NCAA Tournament bid for the first time since 2002.
With the team's unforeseen success, there's no shock that Butler was also recognized as ACC Coach of the Year. However, despite this historic season, Butler remained humble when speaking about the success of her team.
"We've had some success and I think it's just an awesome thing for such a positive light to be shining on our program right now. If that comes in the form of recognition and individual recognitions then great, but certainly as a group effort for sure."
"We've had some success and I think it's just an awesome thing for such a positive light to be shining on our program right now. If that comes in the form of recognition and individual recognitions then great, but certainly as a group effort for sure."
The group effort of this team has not been overlooked. In particular, the upperclassmen, the leaders of this team, should receive praise for their faithful efforts and support after going through some struggling years.
Amanda Butler spoke highly about the patience and trust the upperclassmen displayed despite being thrown a curveball and playing under a new coaching staff in their final year(s), "They deserve so much credit for choosing to stay during the transition and to give us a chance to show them a different way and to be so open-minded to a different way of doing things, a new set of people, a new set of ideas, and then just committing themselves wholeheartedly to the work and the task at hand."
Simone Westbrook, a graduate transfer that once suited up for the Florida Gators, brought a new level of experience and maturity to a team that had yet to experience postseason play. This fresh perspective allowed the team to have a teammate that could speak to and look to in situations of uncertainty and growth.
Butler commented on Westbrook's steadiness throughout the entirety of the regular season and felt as if her prior experience, both on and off the court, "helped maintain that balance you need over the long haul."
"Her playmaking. energy, optimism, and her maturity have really been just a great addition to a unique group of women," Butler noted.
With a team consisting of a determined coaching staff, empowered upperclassmen, and underclassmen ready to give it their all, it's no wonder that the Tigers continued to shock everyone as each game passed. However, the driving force behind the fire the Tigers displayed all season can be traced back to a generally not-so-positive comparison.
Throughout the 2018-19 regular season, the Tigers referred to themselves as "the ugly ducklings." The term and idea surfaced during a regular team session when the team's sports psychologist asked the players to tell her something they learned that day, a lesson not basketball related, that could help them get better.
"They were describing themselves through pictures and they had chosen a picture of an ugly duckling, like a family of ducks, and then a picture of a flame of fire," Butler recalls about the moment the mantra was discovered.
"They said, 'what we came up with is that we're the dangerous, fire-like ugly ducklings. We don't do things the way everybody else does, it doesn't look as pretty as it does on other teams, but it works for us. And so that's who we are.'"
Since that moment, the "ugly duckling" comparison stuck and became a phrase the Tigers took pride in. Butler claims, "We've not looked back since and we take great pride in trying to make the game ugly and just playing in away that's 100-percent us."
This form of play, the less graceful but true-to-yourself kind of play, helped the Lady Tigers make a run that won't soon be forgotten.
And what better way to be recognized than this: a bid to the 2019 NCAA Tournament.
With no set-in-stone goals for the season, making the NCAA tournament seemed like a distant dream that every team strives to reach. No one believed that the NCAA Tournament was even on this team's radar. The Lady Tigers had not been dancing since 2002.
However, after navigating a challenging non-conference schedule with no major upsets, the capability of this team and its potential became clearer.
For Butler, the potential reality of making the NCAA tournament began to set in after making a trip to rival territory to compete against the South Carolina Gamecocks.
"I think really early in the season, when we went to Columbia, got down to South Carolina, but then fought back and made a game out of it to only lose by maybe 12, whereas that's not really kind of been the trend over the past few years," Butler said. "So for the game to be that competitive. That's when I really saw a special level of fight in them. They weren't going to give up, they were going to battle and they wanted something different than a second-half blowout, they weren't going to roll over."
This night meant more than just a team not giving up when playing their in-state rival. It showed that the fire ignited was not going to be put out soon and it was only going to continue to grow. Even though the future was uncertain, it was decided that if they could figure out and discover just how good they are then they can compete against anyone. In particular, playing against a good South Carolina team, a group that hoisted the 2016-17 NCAA Championship, "was a really good measuring stick for us early to know that we could compete."
No matter the outcome of the NCAA tournament game against South Dakota, this season will already go down in the history books. However, the Tigers are not done fighting yet and the fire is still alive. Before the tournament bids were announced, Amanda Butler said, "Just let us in and we'll do our work."
Well, the Ugly Ducklings are going dancing, and no matter what happens, this team is going to get the recognition it deserves.
---
Tune in to ESPN2 @ 7 pm on Friday to watch No. 9 seeded Clemson Tigers take on No. 8 seeded South Dakota Coyotes in Starkville, Mississippi.
Never miss the latest news from Clemson Sports Talk!
Join our free email list