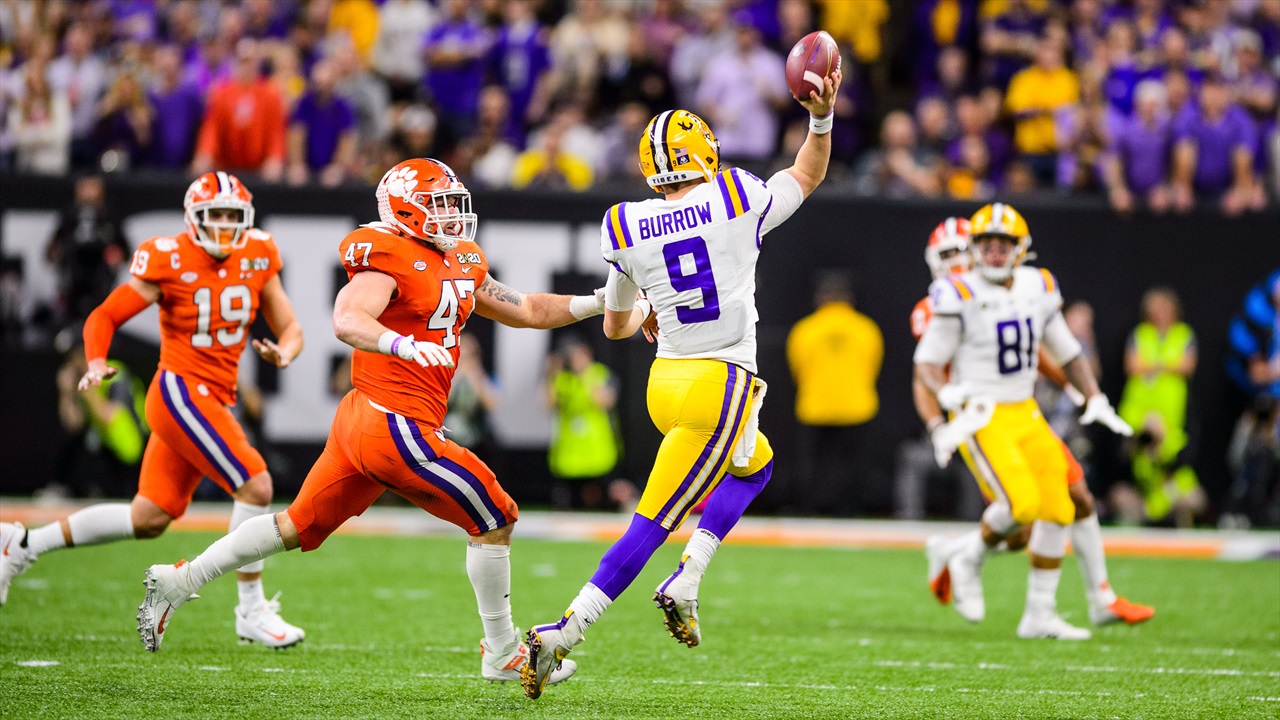 Clemson Football
FINAL: No. 1 LSU 42, No. 3 Clemson 25
---
Feel the difference - The best user experience on mobile devices or personal computers. Avoid clickbait and sites bloated with advertising! Join us today for just $1 or get a full year for $63.17.
Register for a FREE ACCOUNT today and you are entered to win a LIMITED EDITION Clemson football. ← Learn More
---
We will be chatting LIVE in this thread during today's game. Come hang out with the Clemson Sports Talk staff.
Watch, Listen and Read
Game: 8:00 p.m. Mercedes-Benz Superdome, New Orleans, La.
TV: ESPN
Radio: Fox Sports Radio 1400
Game Week Coverage: Clemson vs. LSU Stories
Game Week Must See

The Storylines
The Clemson Tigers will attempt to earn their second straight title and their third championship in four years on Monday, Jan. 13, when they face the LSU Tigers in the College Football Playoff National Championship. Kickoff at Mercedes-Benz Superdome is set for 8 p.m. ET.
Another Clemson championship would be Clemson's fourth football title in school history, joining the 1981, 2016 and 2018 squads.
Clemson enters the contest coming off of a thrilling semifinal performance in which the Tigers overcame a 16-0 first-half deficit to earn a 29-23 victory against No. 2 Ohio State in the Fiesta Bowl. The victory was Clemson's fifth-largest comeback in school history, the second-largest under Head Coach Dabo Swinney and its largest in postseason play.
Clemson is attempting to become the first team to win back-to-back national championships with a perfect record since 1994-95, when Nebraska won championships with records of 13-0 and 12-0 respectively. The only other schools to do so in the AP Poll era were Oklahoma (1955- 56), Army (1944-45) and Minnesota (1940-41).
The Tigers are also attempting to become the third team in the NCAA's list of consensus national champions since 1950 to win three national championships in four years, joining 2009-12 Alabama and 1994-97 Nebraska. Clemson would be the fourth team in the AP Poll era (since 1936) to do so, a list that also includes 1946-49 Notre Dame.
---
Spend this evening's game with us in this thread! Brandon Stockdale will be holding down the fort along with the rest of the CST Staff.
Never miss the latest news from Clemson Sports Talk!
Join our free email list