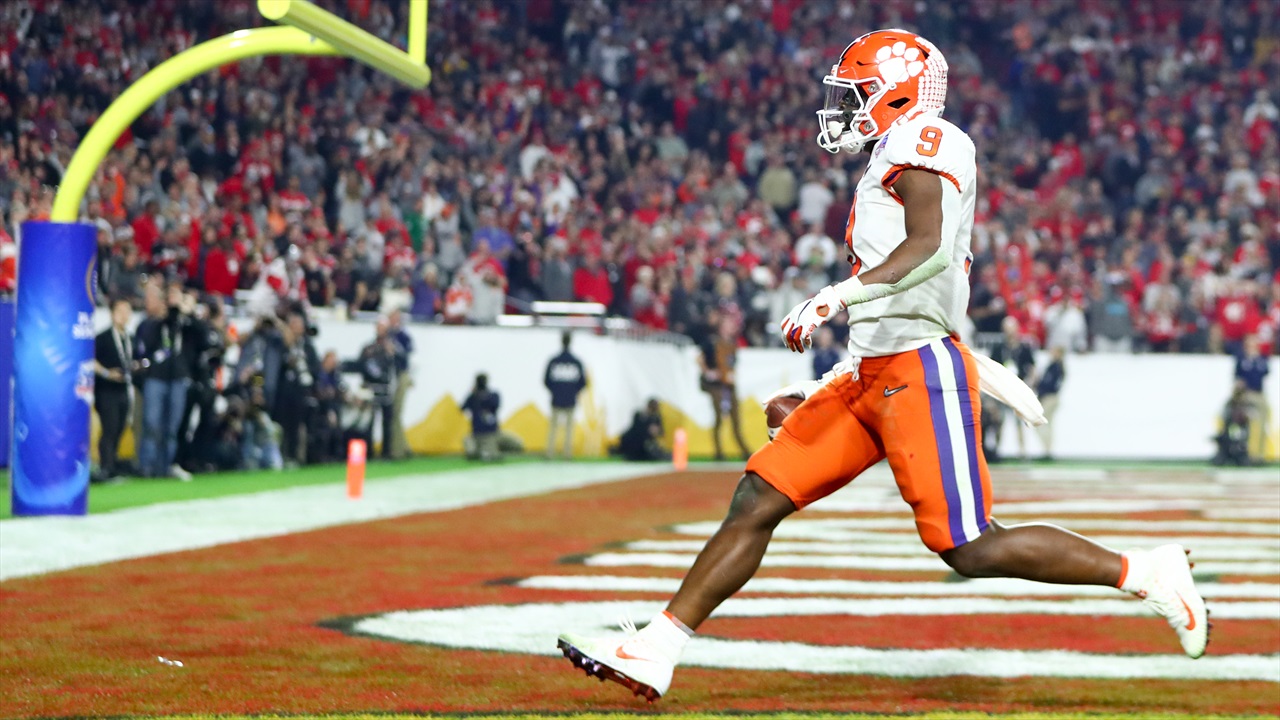 Photo by © Mark J. Rebilas-USA TODAY Sports
Clemson Football
Etienne's success at Clemson could hit home on Monday
---
We are giving away a LIMITED EDITION Clemson National Championship football to one lucky subscriber in the new year. Sign up today to help us continue to grow!
---
The last time No. 3 Clemson (14-0) played in New Orleans, LA, they suffered a 24-6 loss in the 2018 Sugar Bowl to Alabama. That loss is the Tigers worst since a 51-14 butt-kicking by Florida State in 2013 and one of only four losses in five seasons.
It was also the first game in the Mercedes-Benz Superdome, also home of the Louisiana state prep championships, for Louisiana native Travis Etienne.
As a freshman, entering the Sugar Bowl matchup against No. 4 Alabama, Etienne had 766 rushing yards and 13 total touchdowns but finished with only 22 yards on four carries and struggled with an early injury and in pass protection situations. On Monday, Etienne will have the opportunity to get a win and do it against the home state school Louisiana State University Tigers in front of lots of friends and family.
"It's definitely a great opportunity to go out there and just kind of redeem myself from my freshman year," Etienne said to the press on Monday. "It's also a unique opportunity being a kid from Louisiana getting to play in the Superdome against the home-state team. You couldn't script this up any better."
The stakes are much higher this time though with a national championship on the line and a place in the history books with back-to-back wins and a third title in four years. Individually, he can be the all-time rushing yards record holder at Clemson with only six yards needed to surpass Raymond Priester's 3,966 yards.
"He's such a competitor. It's been instilled in him. He is going to find a way to get it done. He competes so hard and it's for the team."
Etienne has done everything while maintaining the same smile, minus the braces, and humble attitude he brought from Jennings to Clemson, SC. His career numbers, game-changing speed, and national exposure could have easily transformed him into a self-absorbing content athlete, but that hasn't happened.
"That's the type of player he is, always humble. He's always been that way, and he's the same three years later at Clemson," said Jennings head football coach Rusty Phelps. "Travis gives all the credit to his coaches, offensive line, receivers and his quarterback. I'm sure that's the way he looks at it."
With the nation watching on Dec. 28, the ACC Offensive Player of the Year added to his legacy by scoring three of the four Clemson touchdowns in the 29-23 Fiesta Bowl win over No. 2 Ohio State. Etienne finished with three receptions for 98 yards with two touchdowns and 36 rushing yards and another touchdown.
The Buckeyes limited Etienne on the ground, but his improved pass-catching ability along with a career-high 107 rushing yards by quarterback Trevor Lawrence was an adjustment to the Buckeyes strategy and keys to the Tigers victory. Etienne's improvement is very similar to another number 9, Wayne Gallman. Gallman, like Etienne, struggled catching the football before work with coaches made him a reliable pass catcher.
"His improvement in catching the ball, that's come with hard work and the coaching of [Tony] Elliott and [Dabo] Swinney," Phelps said about his former player's hands. "He's not one of those [backs] that's a one or two down back now. You have to worry about him coming out of the backfield and catching the ball." Phelps also explained why Etienne lacked experience catching the ball.
"We didn't have to throw the ball to him. That's probably our fault for not doing that. We could turn around and just hand him the ball and it was safe. But I'm happy that he's been able to do all those things and help his team out."
Etienne's third and final reception gave the Tigers the final points of the game. On the play known as "Popeye," Lawrence approached the line of scrimmage as a runner but lofted the ball over the offensive and defensive lines to Etienne, who outraced the nearest Buckeyes to the end zone.
"He's such a competitor," Phelps said after a mention of the 34-yard touchdown reception. "It's been instilled in him. He is going to find a way to get it done. He competes so hard, and it's for the team."
After reaching the end zone, Etienne slammed the football and flexed his muscles, a display contrary to his, usually, unpretentious celebrations of just dropping the ball or flipping it to the referee.
"You saw another side of him with that energy," said Phelps of Etienne's endzone celebration. "He might not be one of these guys that hollers and yells at everything, but he does it through his work ethic."
If Etienne flexes a bit on Monday and displays more emotion than previously during his career, it should be understandable, because he will be home and facing the school he originally wanted to attend. At the time, during the bulk of his recruitment, Les Miles ran the LSU program and chose to recruit other running backs, but things changed when Ed Orgeron was named interim head coach.
"When Coach O was named interim, I got a phone call from him within five minutes of him leaving the podium," Phelps said.
Phelps also said Orgeron explained the situation he was in with two running backs already in the fold and knew he was playing catch up with Etienne.
"That didn't stop him from recruiting Travis, and he recruited him hard," he recalled. "It was nothing but positive stuff in their recruitment of him. At that point, I think Travis was looking for the right fit, and he found it with the Clemson culture and coaching staff."
The SEC Tigers' loss has been an excellent gain for Clemson. Orgeron told reporters this week that he gets "sick to his stomach" each time he sees Etienne in the Clemson uniform and having success. If that's the case, then he's always sick. Just this season alone, Etienne has 1,536 rushing yards and 22 total touchdowns.
Orgeron is sick now, and he doesn't want history to repeat itself. He has already offered 2022 running back Trevor Etienne, Travis's younger brother. Trevor has one offer-- it's from LSU. Phelps is also handling Trevor differently, too. He has made an effort to include the young back in the passing game more than he did with Travis. Trevor had over 500 receiving yards and nine touchdowns this season.
He also rushed for 2,365 yards and 31 touchdowns and led Jennings to the Dome for the Class 3A state championship game.
Jennings (9-6) fell 51-14 to undefeated St. James High (15-0) in the final. It was Phelps first trip to the Dome in 31 years of coaching. Trevor finished the game with 111 yards on 18 carries and was named the MVP for Jennings.
While Trevor has two more years to get that state title in the Dome, Travis has one shot at a national championship there. Even if he returns next season, the national championship game will be played in Miami, FL. Like he said, "you couldn't script this up any better."
The perfect script for Monday night would be Travis becoming Clemson's all-time leading rusher, hoisting the national championship trophy, winning MVP in the Dome, and giving Orgeron one last stomach ache, in what could be the running back's last night in orange.
Never miss the latest news from Clemson Sports Talk!
Join our free email list