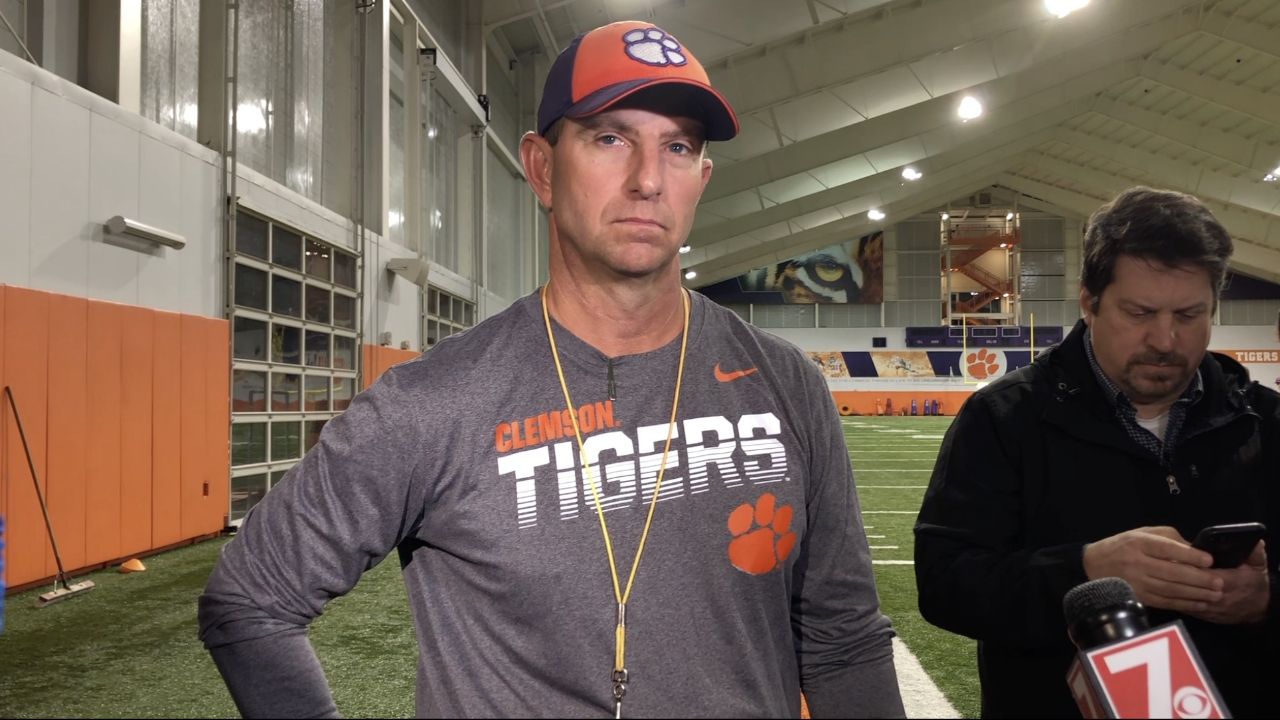 Clemson Football
Dabo Swinney: Clemson is "way ahead of where we were day one last spring"
---
We are giving away a LIMITED EDITION Clemson National Championship football to one lucky subscriber on February 28. Sign up today for just $1 and help us continue to grow.
---
The following are unedited transcripts.
On if they had more banged-up players than usual:
"I don't know, I didn't count. We don't keep a scorecard on that. We are in pretty good shape health-wise."
Player updates:
"We went ahead and did surgery on Nolan (Turner). So he's gonna be out. He could have gone through spring and we could have done it after spring. But we just decided that he's incredibly knowledgeable, knows what he's doing, and we felt like from a timing standpoint if we went ahead and did it. He had a little shoulder thing he needed cleaned up. If we went ahead and did it he'd be ready for the start of May and really have a full summer. Having him out there this summer leading skills and drills and all that is important. He went ahead and made the decision to do that, so he can have a full summer and then he can coach the spring and really work. We've got a lot of young guys to get a lot of reps. Blake's (Vinson) doing great, he's working his way back.
On 5-star freshman Bryan Bresee in a knee brace:
(Bryan) Bresee had a little sprain should be fine here in a day or so."
On the attitude of the team:
"It's excellent. They've been really good since we had our first meeting the Friday that we got back from the National Championship, it's hard to believe it's been six weeks. I really like it to be honest with you, I like to turn the page I like to get back to work. My experience as a coach is, that the longer the gap is, the more you try to do as a coach. I think the more you get away from fundamentals and techniques and your quality control and things that you need to do to improve as a team. Their spirit, it's been really good. The spirit of the team is great. Our leadership is good.No question, way ahead of where we were day one last spring it's really not even in the same hemisphere from where we were first practice. I'm excited about it.
On getting ready for the spring:
"We had a few things we talked about in the team meeting as far as you know, some of the quality control stuff we've spent the last three days as a staff really being detailed with our self-scout our quality control. We spent the last three days as a full staff going through all that together. So some of the things that came out of that was part of my message to them but at the end of the day, it's always the same thing this time of year, back at it back to work, leadership and the chemistry of our team, you got to earn it. It's just a daily focus. How we practice, the practice expectations. We've got to get those little things right. Good group, fun group, good looking football team, and we're really blessed because we got much our whole team here. We've got about eight guys, I guess that will show up this summer. With 15 mid-years, we've got a lot of bodies a lot of work and depth that we can develop this spring."
On Andrew Booth:
"He had his knee scoped several weeks ago. He's really progressing very well. I expect him to get some good work this spring as we continue to go through so he's doing a lot better and kind of fixed his issue that he battled through all summer and all fall."
Tayquon Johnson with the offensive line and Ben Batson with the safeties:
"We decided to make that move with Tayquon. I'm really, really excited about that for him and for our team. I think he's unbelievably powerful. He's one of the strongest kids we've had come through here and that's just based on what we saw in practice this year. We just feel like that's the best place for his future and probably the best place for our team as we move forward so, we'll see how it goes. He can always move back but that's what spring is all about is evaluating those type of things. Ben is a guy we've really wanted to move for a while. We just really haven't been able to. We just couldn't afford to do it based on where we are but we've got three special dudes at quarterback and we feel good about that and then, Will Spiers has played quarterback in high school and so he's going to be kind of our fourth arm for us this spring. We've got to have a fourth arm so he'll be that fourth guy just help us in our team periods and RVAs (routes versus air) and skelly and those type of things. Give us another out there throwing."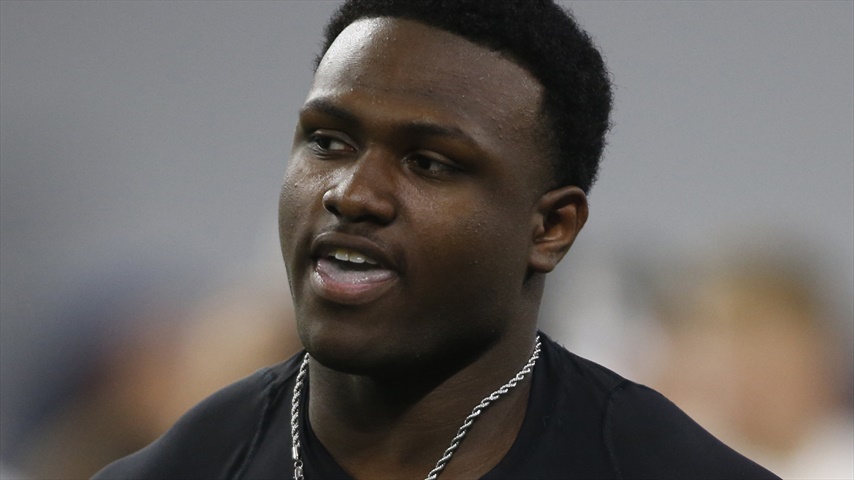 © Tim Heitman-USA TODAY Sports
Expectations for the midyears:
"Just a daily attitude. Come out here with the right attitude every day. Make sure you're paying attention. Get the mental reps. It's an overload. Some guys will shock you but it's an overload. It's a lot of installation. It's a lot of stuff that they have to process, especially that offensive line. You look at that second group offensive linemen, young guys in there. It's easy to survive in shorts but when you get them pads on, it starts moving a little faster. They'll get exposed early and that's ok so just come back every day with the right frame of mind, the right attitude and make sure that you're getting mental reps when you're not getting physical reps. Take ownership of your daily preparation. If everybody will do that, then we'll get better as a team but in particular, those young guys. Just expect it. Know that it's going to be hard. It's going to be fast but just trust what we do and how we do it and like I said, bring the right attitude and effort every day and you'll get better."
Which of the young guys you think will surprise us this spring?
"I don't know. I don't know if any of them are going to surprise me because we recruited them all to be great. I'll have to read y'all's stories this summer to figure it out and we'll see how it goes this spring but we've got a ways to go. We haven't even put pads on. This is just day one but like I said earlier, we're a good looking team. We look the part but we've got to play the part. You've got to be knowledgeable, you've got to be detailed and we got a long way to go. Our football IQs have got to grow a lot through spring so once I can kind of assess them a little bit more as we go through and see how they respond when it gets a little tougher but I think we signed a really good class. These 15 guys that are here are impressive. Physically, athletically, attitude-wise, character-wise, all those things so, we'll see where they are in football development-wise and IQ wise as we progress."
Dabo, you mentioned Jordan McFadden possibly moving to guard, you can foresee him I think last year. I think he played some right tackle today. Where does he kind of fit in and maybe a few words about how Mason Trotter fits in to maybe vying for more playing time this year?
"McFadden will be our right tackle. He's outstanding. He's going to be as good as we've had here. He's a really, really talented player and no doubt about him. We lost a great one in Tremayne (Anchrum) but McFadden is as good as we've had. Really feel that way about him. I think we're in good shape there. I think that whole first group is really got a chance to be pretty special. We've got the state of Ohio on the left side between (Jackson) Carman and Bock (Matt Bockhorst). Bock was considered a starter for us last year and he's a great player. Excited about Cade (Stewart). Cade's one of the more physical guys we've got. One of the strongest, most powerful guys we've got so he'll have an opportunity to step in there at center. It'll be nice when we get Blake (last name) back. A little more veteran. He's very knowledgeable. He's going to play center and guard for us. He's played really every position and really understands so he's working his way back. That'll be a big shot in the arm for us. Really pleased with Putnam at right guard and then McFadden at right tackle and then all those young guys obviously, we've redshirted a couple of them. (Mason) Trotter, (Kaleb) Boateng, (Hunter) Rayburn. They all look great. (The) three guys that came in from high school, they look great too. They don't know left from right now but they look the part right now so we'll coach them up and get them ready but I'm excited about it. It's a really good group but McFadden, I think will be an outstanding player."
How interesting will the safety competition be?
"We lost good players but we love our secondary. This is probably as talented a group as we've had. Long, athletic, guys that can run, physical guys and they got some experience last year. Jalen played, practiced. (Lannden) Zanders, we think, man, he's right there. He was that far from the top of the line last year. Joseph Charleston can flat out play the game. Same thing with Ray Thornton. Had to have shoulder surgery and was able to redshirt but he's been here since last January so they're not starting from ground zero. At all. Then you add in Venables who he was impressive today. It doesn't shock me that he catches my eye right out of the gate because I've watched him all through high school and you just can't help him. (R.J.) Mickens, what a great looking prospect he is so, I love the guys we got at the position and we're going to be just fine and then all of a sudden you get a healthy Nolan back, it's going to be a great group. Same thing at corner. That's probably the one position we've got to develop. Our top picks in the recruiting process, what we consider our top picks in the recruiting process, if you will. DK, Mario. Mario (Goodrich) is nursing a little bit of an ankle but he's working back so really excited about his potential. Very excited about Sheridan's potential. Very excited about Fred's potential. Booth's potential. We feel like we got the right things. LeAnthony gives us a veteran presence in there. He's continued to work on his body and give himself a better chance to compete so we've got a good group. We've got the right guys. We've got to develop the leadership at that position. Obviously, DK back taking another step, just the consistency at that position.
Never miss the latest news from Clemson Sports Talk!
Join our free email list