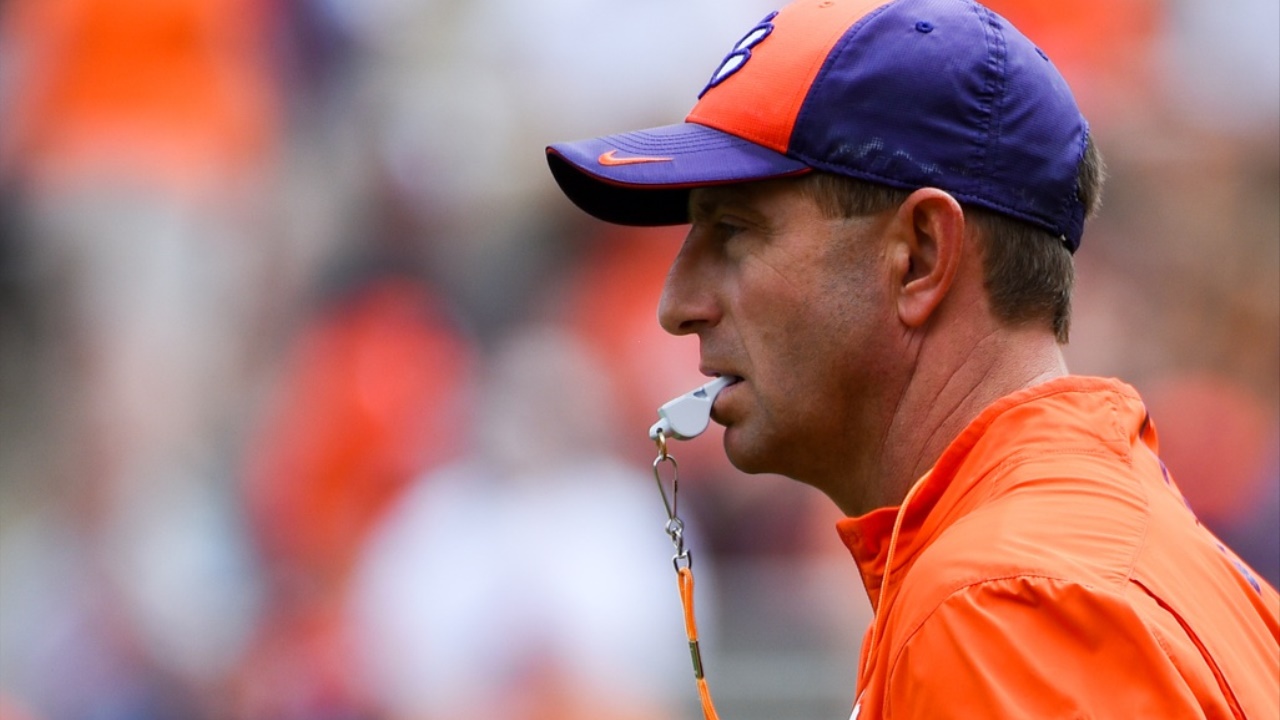 Photo by © Adam Hagy-USA TODAY Sports
Clemson Football
Dabo Swinney on COVID-19 pandemic: "I think that God is bigger than this."
---
---
Dabo Swinney spent some time on ESPN's First Take this morning to discuss his thoughts on the start of the college football season.
Last Friday, Swinney raised eyebrows around the country when he stated that he had "zero doubt" that the college football season will start on time.
Pressed on the show today about why he felt that way, Swinney stood firm with his optimistic view of the situation.
"Just faith and hope. I think you have a choice. You can be optimistic or pessimistic and I just have always lived my life with optimism. I just believe in all the unbelievably smart people that we have in this entire world that are working on this thing. I just hope for the best and I believe in the best. But to answer your question, it's really just my faith. I think that God is bigger than this. I think he's gonna be glorified and shine through this in a mighty way. I think he has the ability to stamp this thing out as quick as it rose up. It's just what I believe and you know, if it doesn't work out that way you adjust but my plan is to get back at it and hope for the best. I think sometimes people can be critical when you have that mindset, but that's how I've always lived my life and that's never going to change. The reason I have that optimism is because of 50 years of life, and because of my faith in Jesus. Over 2000 years ago, this weekend, the world was in a crisis and I'm sure a lot of smart people didn't think that Jesus could come back to life. But he did. And this Sunday, we're gonna celebrate that. And I believe this fall....and this is way bigger than football, I believe this fall, we'll be back to our lives as well."
Swinney was then asked if there was anything outside of faith that made him believe that the season will start on time. Swinney said that at this point there really isn't any other reason in his mind.
"No, no, I mean, just my faith, just my hope, my belief. That's really what that's rooted in. At the end of the day, the leaders of the universities, the presidents, the commissioners, the medical experts, they're ultimately going to make a decision on if we play, when we play, when we start. My job is to have my team ready and we'll certainly do that. My mindset is to make sure that I have the best-case scenario ready to go and we'll adjust from there. My optimism is simply from nothing else other than my faith."
One other topic that has been discussed out there is the scenario in which teams play with no fans in attendance. Some coaches have said that isn't something that they believe would be good for the game. Swinney noted that right now it's just too early to say, given how quickly things are changing.
"I think that there's a lot of discussions that will have to come forth. It's just so much unknown right now. This is April 9th; I would say May 9th, you could have me back on and we're probably going to have a different conversation and different questions the way this thing is changing all the time. I think by the time you get into June, July, and August, the conversations are even very different then. I think college football is very different from the NFL. In the NFL, there are 32 teams. As you said, college football is way bigger than just the Power 5. I think at the end of the day, the decision will come through the presidents, the commissioners, the ADs, the TV people. Whatever is best, that decision will be made. Could it happen? I mean, of course, anything can happen. I would say that's probably more unlikely than not, but I have no idea. You know what, next week is going to bring much less three months from now."
Never miss the latest news from Clemson Sports Talk!
Join our free email list