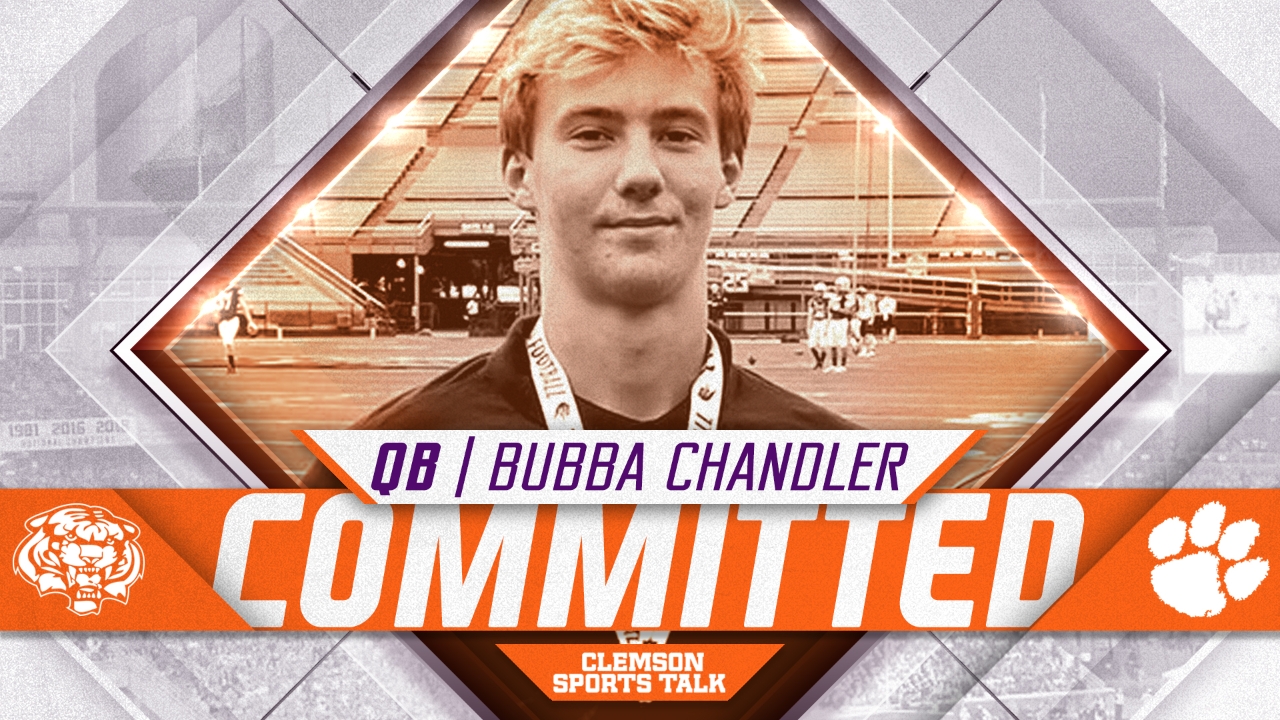 Clemson Football Recruiting
Bubba Chandler on his commitment: "Clemson is the place to be"
---

---
It wasn't that long ago that very few members of the Clemson community even knew who North Oconee (GA) quarterback Bubba Chandler‍ was. All that changed when Roy Reuben Chandler IV picked up an offer to play football at Clemson.
Today, he told ClemsonSportsTalk.com, "Clemson is the place to be," just minutes before making his commitment known.
Last week, we spoke with Chandler about picking up an offer from Clemson to play football. That offer changed his college plans significantly, and he began to evaluate his options. Originally a Georgia baseball commit, an offer to play football at a national powerhouse program like Clemson flipped his recruitment on its heels.
When Clemson's Brandon Streeter reached out to Chandler initially, the self-proclaimed "zero-star" quarterback didn't even know who the Tigers' quarterback coach was.
"My head coach from our football team at my high school called me, and he said, 'Hey, Coach Streeter about to give you a phone call in a little bit,'" Chandler said. "I had no idea who Coach Streeter was, and he finally told me he was the Clemson quarterbacks coach."
A few days later, Chander got a text message giving him a number to FaceTime. When he did, it was Coach Swinney on the other end of the call. The two spoke for nearly an hour, and that led to an extraordinary moment for the rising senior quarterback.
"We had about a 45-minute conversation, and he offered me during that conversation. It was a dream come true. It was one of the most special moments in my life that I've had so far."
When we spoke with Chandler earlier today, he told us that, "since that moment," when Swinney offered, he's known that he wanted to be a Tiger.
Chandler becomes the second commitment from the state of Georgia in as many days as the Tigers added four-star linebacker Barrett Carter‍ yesterday afternoon.
While his family is also adjusting to life with Power 5 offers coming in, Chandler's decision allows them to focus on his next chapter on the gridiron and potentially the diamond as well. It's something that he'd like to be able to do in Tiger Town.
"Yeah, it would be awesome," Chandler said. "It's something I really want to do, playing both sports in college. It'd be very difficult, but I feel like I can make it happen at Clemson."
While there are still MLB options out there for Chandler, right now, he's "All-in" with the Clemson Tigers.
"I'm a no-star quarterback, kind of underrated, and that's one thing that Coach Swinney and Coach Streeter love about me," Chandler said. "Not a lot of people know about me, but I'm a one of a kind talent as they would say. Something I take passion in is being an underrated guy."
Never miss the latest news from Clemson Sports Talk!
Join our free email list