Dabo Swinney
Brent Venables
Tony Elliott
Clemson Football
Scrimmage Insider: Venables says freshmen on the defensive line have "been flashing"
---

The deal ends tonight! Sign up today!!
---
Clemson defensive coordinator Brent Venables spoke to the media via Zoom following the Tigers' scrimmage inside Death Valley earlier this afternoon. He covered a variety of topics including his thoughts on the safety position, Mike Jones and the freshmen on the defensive line.
We also have the videos from Dabo Swinney and Tony Elliott's Zoom call with the media following Saturday's scrimmage.
Below are a few unedited notes from the full Zoom call earlier today:
Thoughts on the safety position:
"It's been fun to watch those guys. It's a group that skilled got length, good instincts. Good aggressiveness. Really pretty smart, they've picked up on things pretty well. And it's a group that's easy to coach, they like to be coached. It's a humble group. And hopefully as they gain experience that will become a strength for us."
Takeaways from the scrimmage today:
"Just inconsistent, got a lot of work to do. Guys played with good effort, there's some good things to build on. A lot of little mistakes. A lot of guys got to step up, you know, (Justin) Foster's out. Xavier Thomas is out. Mario Goodrich is out. James Skalski is out, to name a few guys and so a lot of guys (have) got to step up and be baptized early. Again, guys that run around, hit and made some really good plays, caused a few turnovers."
"Really excited about some young guys that flashed, but we just got play. If we're going to be anything, we got to improve our consistency and pre-snap, some of our communication. Had too many offsides, just little things that will get you beat. Not playing with the kind of discipline that it takes. We got the right kind of toughness, the physical toughness but we're not anywhere close to where we need to be from a chemistry and a mental toughness standpoint."
On why the other guys missed besides Xavier Thomas the scrimmage today:
"Don't worry nobody's opting out. There's nobody with the COVID. Just getting bumps and bruises. (It's) that time of year."
On the four freshmen defensive linemen:
"Yeah, and they've been flashing. We had coming out (work) yesterday. It was a live scrimmage yesterday. (The) guys really performed well. There's (the) two minutes situation. All three units up yesterday was a first time we've done two minute and did just outstanding. We did really well in short yardage."
"A lot of those guys flashed today, in short-yardage our guys did really well. All three units. And, you know, just like a lot of young guys you know, some great moments where they really flashed, made some spectacular plays, and again just lack some experience here and but it's a group of guys that like to compete, like to practice. And, you know, play the game with incredible passion and intensity."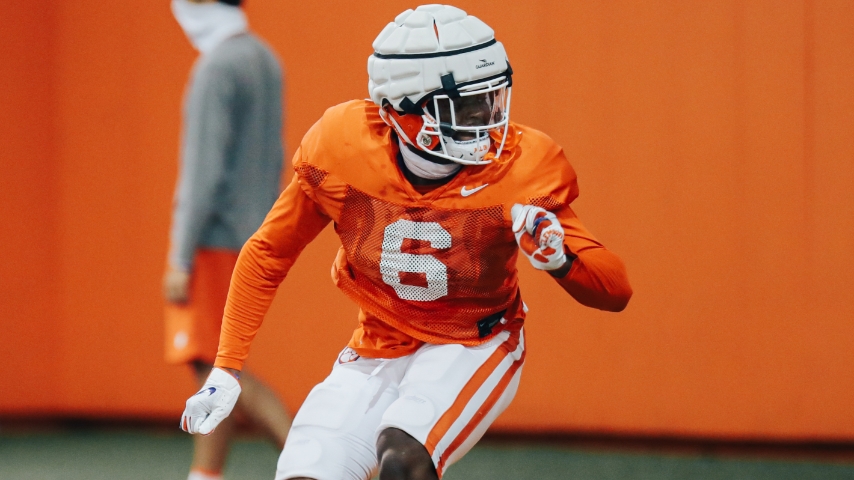 Clemson Athletics
On why he thinks Mike Jones has made such great improvements:
"That's just detail. He knows more about guys around him. And so he's playing at a different level from a confidence standpoint and he's very skilled. He's worked hard on his craft. He was a guy during this time that really took advantage of the time and went to work, his head down, controlled what he could control."
"He's got a great mindset, loves to play, he's hard on himself, he demands a lot, so I don't have to coach him hard, he's again a detail guy that really, he wants to do his part, he takes leadership to heart and him how he leads, so just a great example for the other players he really serves you know our entire team in a great way."
On whether or not they're letting Bryan Bresee get good at one spot there at the tackle spot or letting him try to learn both end and tackle right now:
"Yeah, he's learned more than one spot. Again, he's still on the shoulder of the offensive lineman. So there's definitely some differences, there are a lot more similarities than not. So, you know, he's played both his whole life. And he's comfortable at both so he's playing both."
On what he's seen out of Myles Murphy:
"He's a little bit inconsistent but more good than not. He's got a great first step, really gets off the ball. He's got fast eyes, very instinctual. His fundamentals again are well developed. And he's got great natural power and explosiveness and like I say, can really run. And he's got a refined pass rush game, so he knows what he's doing out there for sure, but he's still got work to do."
On how Tre Williams has adapted in his short time on campus to the defense:
"Really good. Again, he's very disruptive got a really good first step. Still got to work on some fundamental things in knowing what to do but really he's done a great job. Coach Bates did a great job getting him to understand what we do, the verbiage and the language prior to him ever arriving on campus and it's showed."
"He's not overwhelmed mentally. Just got to get some fundamental things worked out but he can create some knock-back and his first step is very natural. He understands how to get off on the ball and that's what the d-line is all about, you know, creating another line of scrimmage playing on the opponent's side of the line of scrimmage and, and just being disruptive but you have to fit within the confines of the defense as well. And so just refining and fine-tuning and improving some fundamental things and some understanding of what we do but he's done a nice job."
On what he's seen from the veterans who have been here awhile at defensive tackle that may get overlooked by those on the outside like Etinosa Reuben who are looking for playing time:
"Well, E.T., he hasn't practiced yet. He's got a scaphoid surgery before we started. So he's been out but the other guys been doing good, you know? Nyles Pinckney missed all spring so he's been injured until we started up so he's a little rusty and got to get into shape and, but he's a veteran, knows what to do. Jordan (Williams) has made some nice improvements. Darnell Jeffries has really made some good improvements. Tyler's (Davis) quicker and faster."
"Ruke (Orhorhoro) has been good. Again, if he just improves a little bit fundamentally, he'll be a guy that can play every down, and Demonte (Capehart) is a big load inside, just got to work on some fundamentals. And again, Bryan Bresee, you know, he's as advertised from liking to play and to practice and has really made some improvement with his fundamentals from the spring. And so he's doing a lot of little things very well right now, but as a group, it's gonna be strong for us."
Never miss the latest news from Clemson Sports Talk!
Join our free email list