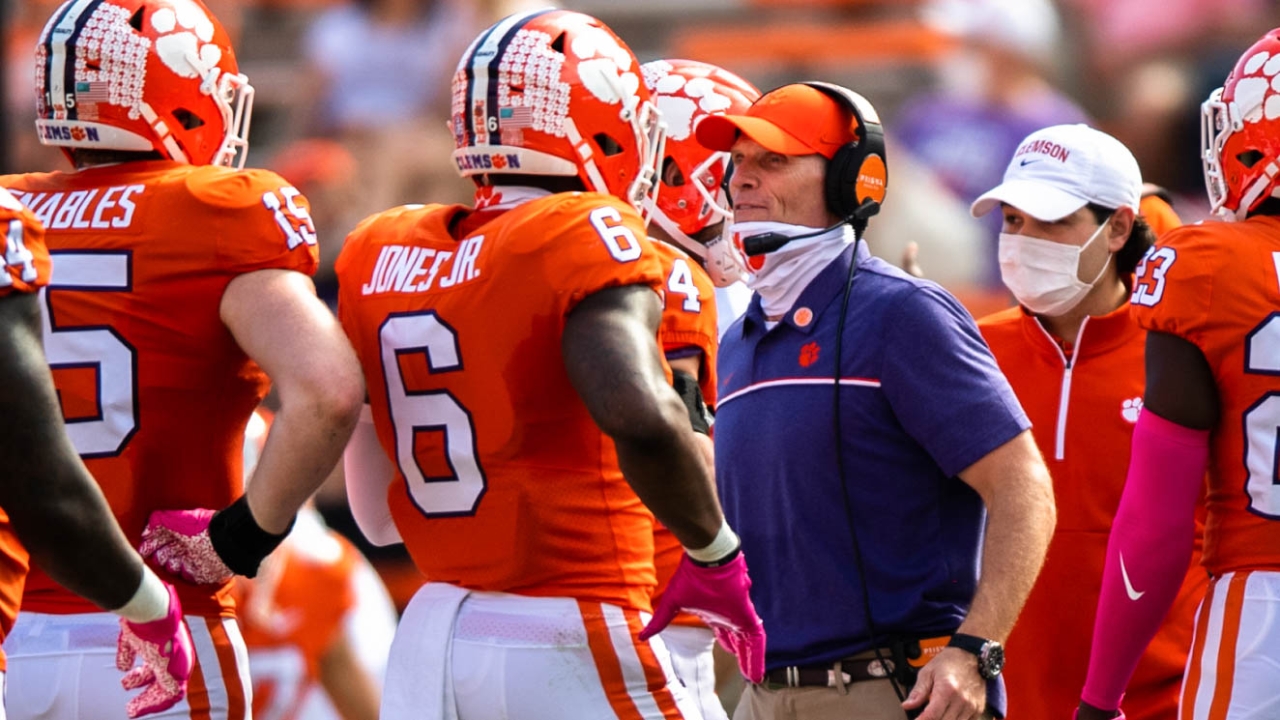 Photo by Courtesy of ACC Media Portal
Clemson Football
THE ROAR: The Porthole | Shift Happens | Sunshine State of Mind
---

Feel the difference - The MOST DIGITAL CONTENT covering your CLEMSON TIGERS! Avoid clickbait and sites bloated with advertising!
Register for your FREE ACCOUNT today, and you are eligible to win a LIMITED EDITION CLEMSON FOOTBALL. ←
---
Late last night, we got wind that Coach Swinney may have contracted COVID-19 at some point after the Sugar Bowl and did not attend Clemson's 2020 Football Banquet in person instead he appeared via video conference.
You can read the full article and watch the video clips in the link provided above.
THE PORTHOLE.
As we mentioned earlier, the transfer portal consumed another Clemson star, furthering our argument that the Tigers have to dive into the portal sooner, rather than later.
There is no doubt that Clemson's forthcoming staff moves are going to be significant in opening up the evaluation of players looking to find a new home and perhaps play for a team like Dabo Swinney's that competes for a spot in the College Football Playoff annually.
It's my belief that the Tigers can continue to get to the playoff without the portal, but it could be the thing that pushes them over the top against other premier teams in the postseason.
After watching players leave, even leaders like Mike Jones Jr., it's more and more apparent that the Tigers need to dip their paw in ASAP. His entry simply adds to the knowledge that there are "fits" for Clemson's program out there, it will be up to Danny Pearman to identify them and the staffs' job to secure them.
SHIFT HAPPENS.
Talk about catching a bad break...the Clemson basketball team was scheduled to face off with a 3-10 Boston College team on Wednesday, with hopes of snapping a three-game skid. Then COVID-19 hit in Chestnut Hill and now instead of facing the Eagles, Louisville, at 10-3 and ranked No. 25, will fill that gap in the Tigers' schedule.
Ugh...
For fans with tickets, you are good to go as they will be honored at the door, but if you were hoping to see Clemson turn things around, this wasn't an ideal situation.
Chris Mack is one of the best coaches in college basketball and the Cardinals are again trending upward after struggling in back-to-back games a week or so ago. Sophomore Quinn Slazinski was moved into the starting lineup and that seems to have helped avoid some of the slow starts they've seen in recent contests.
Louisville is 5-2 in ACC play and recently split home games against No. 16 FSU (65-78) and Duke (70-65). They will be a much steeper task for Brad Brownell's squad on Wednesday night.
SUNSHINE STATE OF MIND.
According to his Twitter account, lengthy defensive back Edric Weldon‍ picked up an offer from Clemson on Monday.
Weldon, a 6-foot-5 inch DB will certainly turn some heads on the gridiron. Weldon, who considers himself "underrated" has recently picked up offers from Alabama, LSU, Miami, Penn State, and others.
Looking at his film, you have to imagine the Tigers would covet his length as a safety, similar to what they had a few years ago with Jayron Kearse.
SONG OF THE DAY.
- "Ain't No Sunshine" - Bill Withers
A BIT OFF THE PATH.
If you are like me, you might have an on and off relationship with the WWE Network. With a ton of streaming options out there, I'm compelled from time to time to add the network to my group of packages, but in the end, the $9.99 price tag as always pushed me away eventually.
Well, a new partnership with Peacock (NBC's Streaming Platform) might change that as you can get a $4.99 version that has commercials.
In other news, Apple issues new warning: Keep your iPhone 6 inches away from your pacemaker-- I can remember microwaves causing issues for people back in the 1980s, but this could be significant if someone you know carries their phone in a shirt pocket.
Let us know what you think about THE ROAR! If you liked it, make sure you SHARE!
Never miss the latest news from Clemson Sports Talk!
Join our free email list