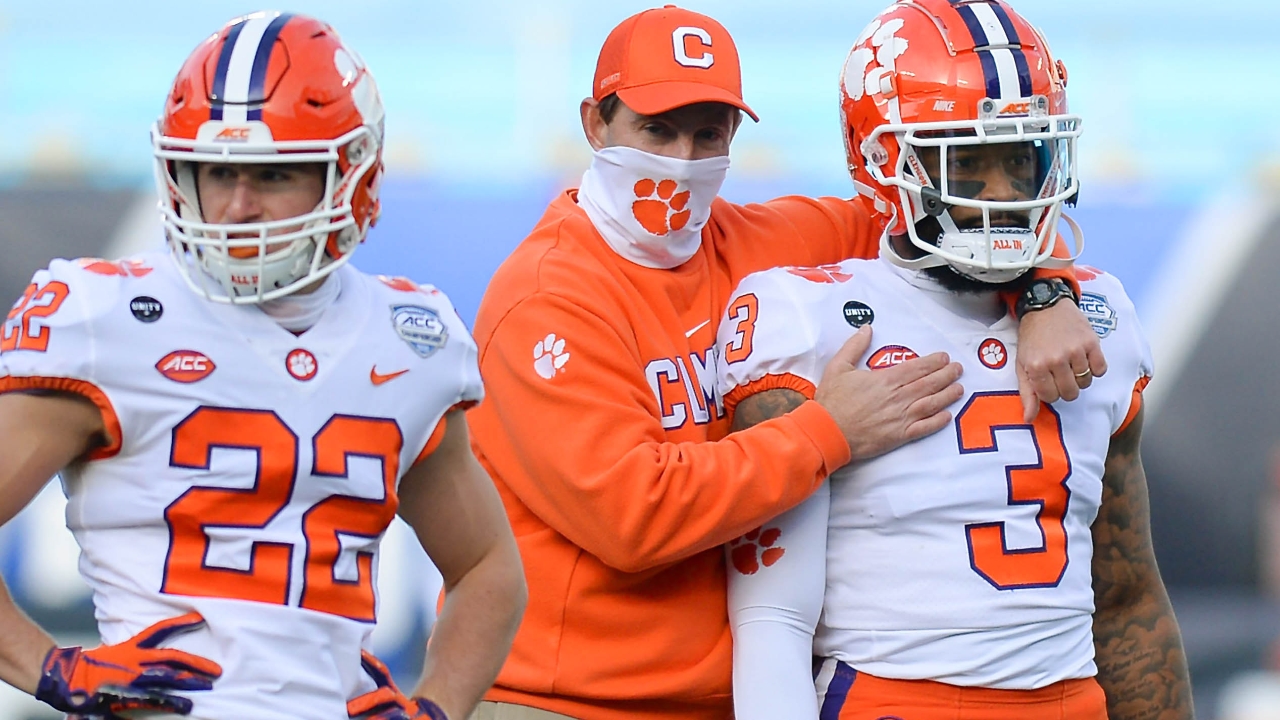 Photo by jsiner@charlotteobserver.com
Clemson Football
Video: Dabo Swinney missed Clemson Football Banquet due to COVID-19
---

Feel the difference - The MOST DIGITAL CONTENT covering your CLEMSON TIGERS! Avoid clickbait and sites bloated with advertising!
Register for your FREE ACCOUNT today, and you are eligible to win a LIMITED EDITION CLEMSON FOOTBALL. ←
---
On January 16, Clemson held their end of the year banquet to celebrate the 2020 football team.
In a video that surfaced today, Clemson running back Darien Rencher is on film saying that head coach Dabo Swinney wasn't at the event due to COVID-19.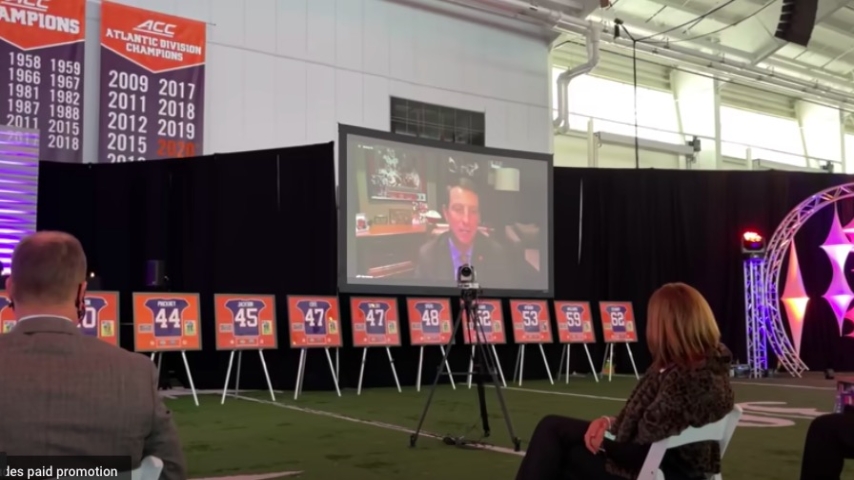 Clemson Sports Talk
After reviewing the full video, Swinney can be seen on a screen addressing those in attendance via video conferencing software.
Mike Uva, from WACH-FOX, who joins Clemson Sports Talk every Tuesday at 5:00 PM, pointed out a key portion of the video on his Twitter account. The clip was first spotted by Scott Eisberg, Sports Director in Charleston at WCIV.
Asked by his girlfriend about how the event will be different, Rencher responds, "Coach Swinney's got COVID."
Later in the video (now set as private), Rencher's girlfriend notes, "Today they have a football banquet for the 2020 season. So I thought it would be fun to bring you along to a little behind the scenes Clemson event. They actually just found out that Dabo has Corona-- so it will be virtual-- not virtual all in all, but just his segment."
It's certainly possible that Swinney was simply in the COVID-19 protocol from an exposure situation, but the statements in the video would seem to indicate otherwise.
In a statement provided to ClemsonSportsTalk.com the Athletic Department noted:
"We have been providing COVID testing data in aggregate on a weekly basis but aren't able to discuss individuals' personal health information without their consent (like those who provided us consent to announce before they missed competition). Coach Swinney is healthy and working on-site at the Allen N. Reeves Football Complex."
Swinney's apparent infection happened just weeks after Clemson offensive coordinator Tony Elliott missed the Sugar Bowl after a positive COVID-19 test. The news of Elliott's positive test forced the two-time national championship-winning head coach to break out his pandemic playbook and maneuver the coaching staff ahead of the Tigers' matchup with Ohio State in the College Football Playoff.
Never miss the latest news from Clemson Sports Talk!
Join our free email list