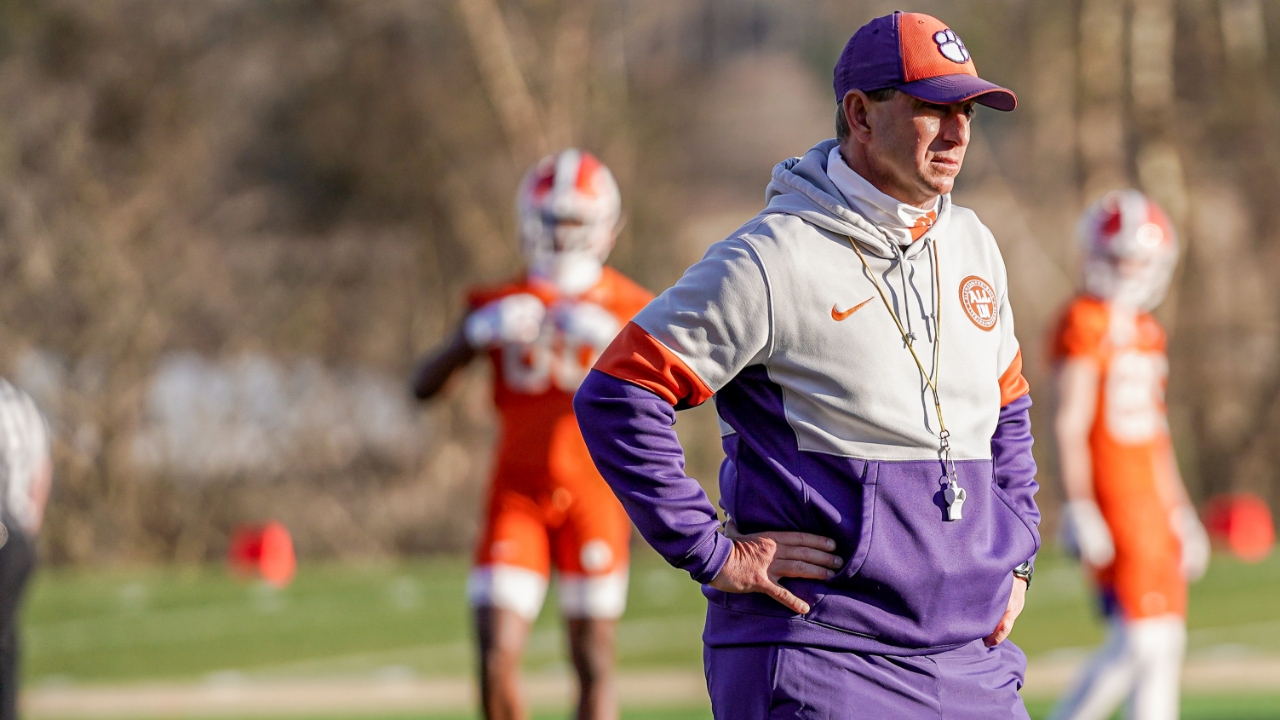 Dabo Swinney
James Skalski
Nolan Turner
Clemson Football
2021 Spring Notebook | 'It's always about the journey'
---

Feel the difference - The MOST DIGITAL CONTENT covering your CLEMSON TIGERS! Avoid clickbait and sites bloated with advertising!
Register for your FREE ACCOUNT today, and you are eligible to win a LIMITED EDITION CLEMSON FOOTBALL. ←
---
The following are unedited notes from Tiger Town, plus the full videos from Coach Swinney, Nolan Turner, and James Skalski.
Dabo Swinney
On the end of the 2020 season:
"Obviously, we were all super disappointed in how the season ended. But you know what? Unless you win at all, you always are a little bit disappointed. I know this too, when you're part of a program where people are disappointed you win the national championship that means you're at a special place."
"We finished 3rd overall in the country, and we had 10 wins. There were three Power 65 teams, that won 10 games-- that was us, Alabama, Notre Dame. Really proud of our guys and all that went into it-- an incredible accomplishment any year to win 10 games, but to be able to do it, under the circumstances that we had to manage last year, just a credit to everyone involved. We won the league again. We got back to the playoff for our sixth year in a row. A lot of great things, man. We had the highest team GPA in the history of our program. We had 74 guys-- the most we've ever had make a 3.0 or better. So just a lot of great things."
"I wish we had one the whole dadgum thing, but I know this, we're off to a lot better start this decade than we were back in 2010. That's for sure. But it's never about the destination, never. Even if you get to the place that you're trying to get to. It's not about that. It's always about the journey. It's always about the journey-- that's what you always remember. I can just say man, it's been an amazing journey to this point at my time here at Clemson and every year is a new journey. And it's been a blessing to be a part of it. I know we got a lot more great moments ahead, that's for sure."
On Coach Pearman's new role:
"Coach Pearman has done an awesome job for us really, since the day I've been here. This is just the right timing and something he and I talked about for our present status, but also for the future of, where college football is (going). Danny is a great football guy. He's a great evaluator, and he always has been. He's got a great mind for the game. He's worked on both sides of the ball. He's worked defense. He's worked on offense. He's done special teams. He's worked all three phases. So he's got a great perspective."
Kind of a vision that I had was to really create this Director of Scouting position. So he and Zach Fulmer are going to head that up and I know there's a lot of rhetoric out there, 'Oh, it's all just like, sitting around looking at a portal every day,' that is a small part of the Director of Scouting role. This is high school scouting, college scouting, obviously, you want to be positioned to be able to be responsive to anything that changes in the landscape of college football. This is also about opponent scouting, self-scouting, there's a lot that goes into this a lot of layers to this job."
On Justin Foster giving up football:
"Justin Foster, who graduated back in December, he's ready to move on. He's got some really, really good and special career work opportunities that he really is interested in and really wants to get started on. I tried to talk him out of it, but he had a very tough fall. COVID was a very tough thing for him. Justin is a guy that has always battled asthma and allergies. When he got COVID, last summer that really, really set him back. He just wasn't able to do what he needed to do."
"He's way better than he was back in August, but he's still kind of working through that and really was hoping that he would continue that process and hopefully come back and play next year. But if you know, Justin Foster, you know, that he's a brilliant young man. He's incredibly smart. He has a lot of interest, and he's very, very talented. He's got a great career ahead of him and so he knows exactly what he wants to do. He's got a unique opportunity and that's kind of been weighing and tugging on him because he's graduated. He loves football, but he really wants to take this next step and get started with this part of his life with his work career, so he's not going to be back with us."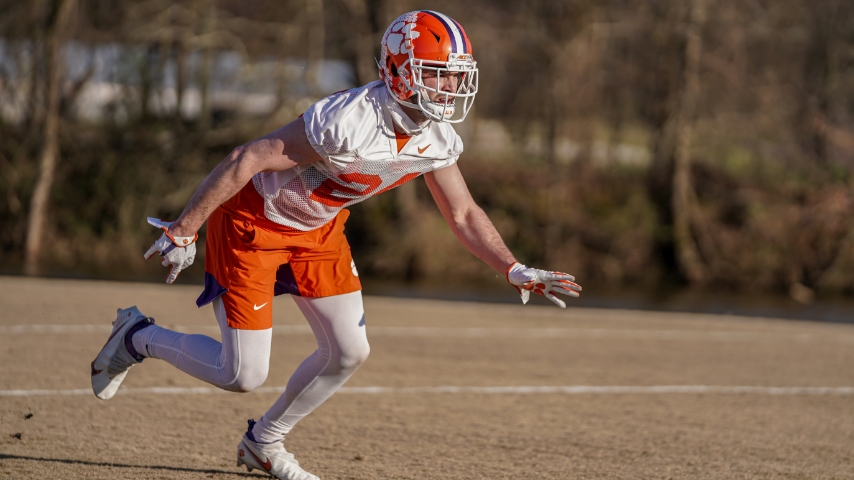 Clemson Sports Talk
Nolan Turner
On returning for another season:
"I kind of had my mind made up right after the last game, I knew what I was gonna do, there's just, you know, things I'd get better at. Obviously, the season didn't end the way we wanted to just have one more run at it-- just kind of those things factored in-- really taken advantage of coming back for grad school and taking advantage of all these opportunities. It was definitely the best decision for myself."
On the Ohio State performance:
"Yeah, this one stung pretty good, obviously, it was pretty embarrassing. I thought we just got out-physicaled, we didn't adjust well, at all, during the game. There were just so many things we did terribly on the defensive side. It's just something we're trying to take ownership of this spring and get better at. We got a lot of guys going back, but, that only matters if we improve. So that's the big emphasis on the spring and the summer and start preparation and just in gaining more knowledge on this side of the ball-- getting bigger, stronger, more physical, and, you know, coming with the right mindset for this next season."
On getting more physical defensively:
"I don't think we did. It was definitely very humbling. We got exposed and that's just, what we've got to work on and it was obvious, I think, to everybody that watched the game. We gotta step up. We got guys growing up this offseason we got coming up, we're gonna take advantage of it, and we're gonna get right."
James Skalski
On his decision to return for a sixth season:
"Yeah, that wasn't too much of it. I mean, of course, it was a factor. I came back because I feel like I got a full year of health and I feel like I've still got room to grow and there's just a lot of uncertainties of COVID. So, there's a lot more that played a factor than just that game. But that game definitely did, you know, help the decision."
On the targeting call in the Sugar Bowl:
"Man, that's on me, at the end of the day. The rules there to protect people and I gotta respect the rule. They're not out to get me, they're out to protect me-- to keep my career long and keep myself healthy. That's something I've got to fix. I can still play fast and wide open and knock the crap out of people, I've just got to keep my head up."
On being a part of this unique group of 'super seniors':
"I mean, we're the first. I mean...so there's some medical stuff, guys, I guess in this situation, but this is a unique situation. I'm just I'm thankful for it. Honestly, just so everything worked out. I'm just happy to be here and the decision is done-- I'm bought in and I'm ready to go."
On if he thinks about the fact that he could win his sixth ACC championship this season:
"Yeah, no. I don't really think about it. I guess the ACC become so normal. It's such a hard thing to do. But it's become so normal for us to just get there. So I don't even I can ACC almost feels like the end of the regular season and the playoff is the expectation. But it is crazy, I remember growing up and I'm a Georgia kid watching college football and seeing watch the SEC Championship, ACC Championship and I'm thinking 'Dang, Man, I wish I could in one of those,' and, you know, you look up and you've seen everything you want. I'm just so thankful to be a part of it."
Never miss the latest news from Clemson Sports Talk!
Join our free email list
PRESENTED BY