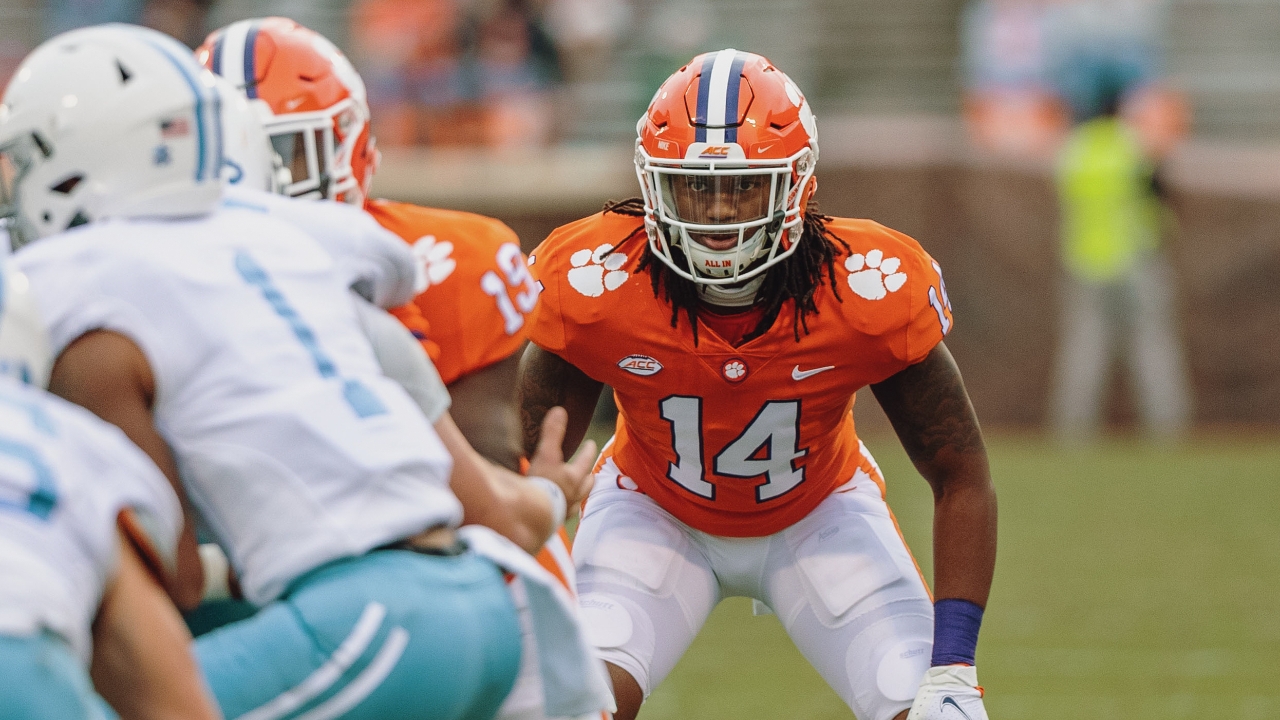 Photo by Courtesy of ACC Media Portal
Could linebacker Kevin Swint's shift to defensive end become permanent?
---

Feel the difference - The MOST DIGITAL CONTENT covering your CLEMSON TIGERS! Avoid clickbait and sites bloated with advertising!
Register for your FREE ACCOUNT today, and you are eligible to win a LIMITED EDITION CLEMSON FOOTBALL. ←
---
When Justin Foster retired from football on Feb. 24, he became one of seven Clemson football players and the fifth defensive player with starting experience to leave the team. Foster, a redshirt senior, never played a snap at defensive end in 2020 due to COVID-19 complications, which led to him hanging up his cleats for life after the game.
Without Foster, last year's starters K.J. Henry and Myles Murphy and reserves Justin Mascoll, Xavier Thomas, Regan Upshaw, and Greg Williams handled defensive end duties.
Henry, Murphy, Mascoll, Upshaw, and Thomas, once he recovered from his own battle with COVID-19, received the most snaps on the season. This spring, Henry is out with an injury and only Cade Denhoff, one of two four-star defensive end signees, is on campus.
With Henry out and signee Zaire Patterson in high school, the rotation is down to six, and freshman linebacker Kevin Swint has been cross-training with the group.
"I think Coach [Brent] Venables caught me one morning and just asked me would I be interested in cross-training at D-end, and I was willing to do that [to] help make the team better," Swint recalls the conversation with defensive coordinator Brent Venables that initiated cross-training.
Venables initiated the move, and Swinney is fine with it. He likes Swint's versatility and thinks he can play anywhere.
"Kevin Swint is one of the best pure football players we've got on this team," head coach Dabo Swinney said earlier this spring. "He can really play anywhere. He can play MIKE. He can play WILL. It's no problem at all for him to go down there and play end. We're just cross-training him in different spots."
As camp has progressed, Swint has found himself almost exclusively with the ends but not entirely.
"Right now, I've been mostly at D-end," the Carrollton, GA native noted. "I haven't took too many reps at linebacker, but I'm staying on top of that with film study and stuff like that."
Spending time at defensive end is not novel to Swint because he previously moonlighted there as a sophomore at Carrollton. For that season, he was simply told by his coach to get the quarterback, and he did. He finished the season with 18 quarterback sacks.
So what's the difference in the positions according to the rising sophomore?
"I think, at defensive end, things happen way faster than they happen at linebacker," Swint replied to a question about the positions. "I think at linebacker, you get a little more split time to evaluate things, but at defensive end is like right then and there. You got to use your eyes more. That's one thing I had to improve on - using my eyes and hand placement and things like that."
Besides having Venables and defensive ends coach Lemanski Hall teach him the nuances of defensive end this spring, Swint also receives advice and support from his teammates.
"Um, I really try to take advice from all the guys like Justin Mascoll, Myles Murphy, and K.J. Henry. They've been helping me watching film and stuff like that - catching me up, helping me learn on the fly. So those guys have really been holding me accountable and vice versa."
The guys can help him with most aspects of the position apart from size. At 6'3, 230 pounds, Swint's lighter than other defensive ends-- and faster-- which can help him get around offensive lineman.
"I feel like that [speed] does help in a way because it gives me a kind of advantage to work speed rushes and ghost moves and many other moves that consist of speed rush and stuff like that," Swint said when asked about his size. "So yeah, that does come into play in playing defensive end."
Swint may be the smallest end, but the opposite is true at linebacker. He's the tallest and heaviest on the roster. Former Tigers Chris Register (2014-18), Chad Smith (2015-19), and Tre Lamar (2016-19), and redshirt sophomore Greg Williams were recruited to Clemson to play linebacker. Of the quartet, only Smith (6'3, 245) and Lamar (6'4, 240), a 2018 Butkus Award finalist, finished their careers at the position. Register (6'4, 240) and Williams (6'3, 235) only spent their redshirt seasons there before transitioning to defensive end.
Could Swint be done at linebacker, or is he just cross-training to build depth at defensive end?
"I don't have as many details into that," Swint stated. "But yeah, you could say, just helping learn and just having something extra if things happen during the season."
Never miss the latest news from Clemson Sports Talk!
Join our free email list
PRESENTED BY