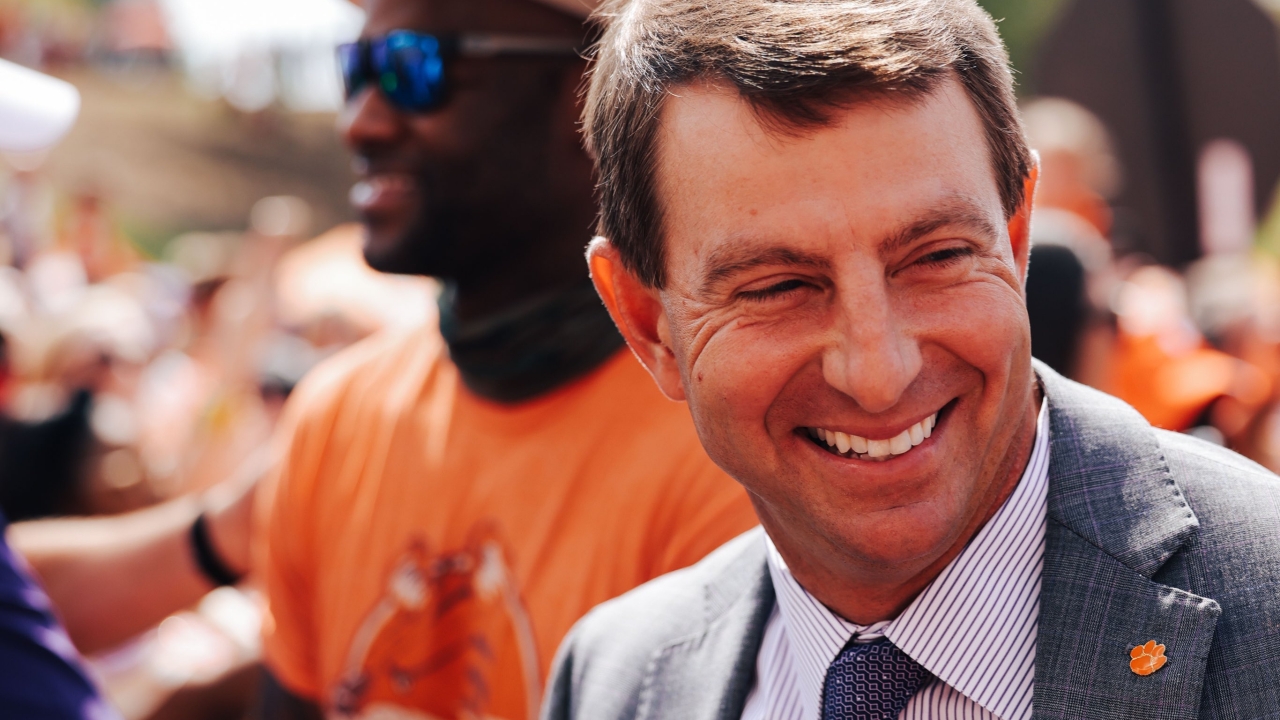 Photo by Clemson Football
Clemson Football
Swinney says Clemson needs a 'lot of improvement' to be the type team they want to be
---

Feel the difference - The MOST DIGITAL CONTENT covering your CLEMSON TIGERS! Avoid clickbait and sites bloated with advertising! Support a 100% Clemson-owned business.
---
Opening statement:
"I am excited about getting back at it this week. Every every week is really a season of its own, and that's how we look at it. This week is no different, a lot of opportunities ahead. It's all about where we are, and just trying to continue to build our team, grow our team, and to get better. We got another opportunity to go play this week, we're excited about it. The biggest game of the year, that's our mentality. Just to keep improving, and it starts in practice. Today is a critical day for us, Tuesday, Wednesday are tough and fast physical practices. As I said last week, I was really pleased with how they came to work all week, and especially coming off a tough, tough opener."
On opening ACC play:
"Excited about ACC play, kicking off, we got seven straight conference games. And you know, the next goal for us is very simple-- it's to win the division. So that starts this week. That's what's in front of us. We know that we've got a lot of improvement to do to be the type of team we want to be overall and in this league."
On Georgia Tech:
"They are a much-improved team in all areas. They had a crazy opener with Northern Illinois who's a good team and a good program. Their culture is growing and they bounced back this past week and played really really well. I think they're a much-improved team, and you can see that belief growing in what they do. They're committed in believing in their philosophy and what they do I think that's important."
On watching the NFL on Sunday:
"I mean, Sunday, I saw just bits and pieces, more highlights, Sunday's are long days, and some days I get more opportunity than others, but I didn't get much time. this past Sunday to see many games. I get the updates though. Clay usually feels me in on what's happened that day. I know Nuk (Hopkins) had a great day. Tee (Higgins) had a touchdown. I think Mike Williams had a big day. So I was kind of hoping that Sammy (Watkins) and (Hunter) Renfrow would have a big Monday. I did get to see, you know, a little bit of that last night as we were finishing up here. I was trying to go to bed and then I couldn't go to bed because both teams kept screwing it up. Like, 'Who is going to win this game?'"
Never miss the latest news from Clemson Sports Talk!
Join our free email list
SPONSORED BY