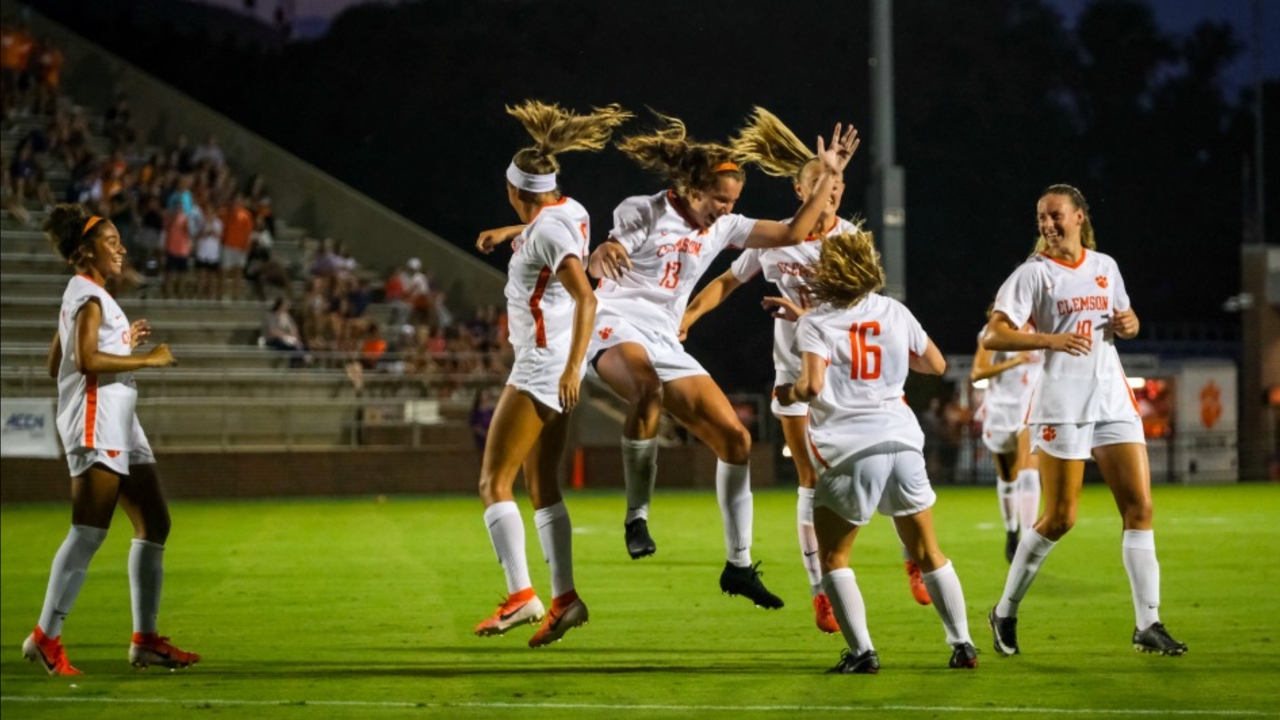 Clemson to Host No. 20 (TDS) Pitt on Thursday Night
---
CLEMSON, S.C. – The No. 21 (TDS) Clemson Women's Soccer team hosts No. 20 (TDS) Pitt for a Thursday night match at Historic Riggs Field. The game is set to kick off at 8 p.m. and slated to stream on ACC Network.

The Tigers and Panthers have met six times, most recently in 2020 when Clemson claimed a 2-1 victory. Sophomore midfielder Megan Bornkamp scored both goals for the Tigers, including the game-winning goal in overtime to capture the win for Clemson. The Tigers are 6-0 against the Panthers and look to keep the streak alive. The Panthers come into the match with a 7-1 overall record and are led by forward Sarah Schupansky with six goals and 16 total points.

Bornkamp leads the team with 17 points, as she has netted six goals and added five assists early in the season, followed by freshman Renee Lyles with 12 points. Renee Guion has tallied nine assists and a goal on the season and is tied for first in the nation for total assists. Seven Tigers have at least six points on the season.
Tigers Earn Weekly Honors
• Sophomore Megan Bornkamp was named the ACC Offensive Player of the Week for her six points against South Carolina and Gardner-Webb. This was Bornkamp's second honor of her early career.
• Junior Hal Hershfelt was named to the Top Drawer Soccer Team of the Week after registering a goal against both South Carolina and Gardner-Webb, a team-high for the week.

Tigers Finish Non-Conference Strong
• Clemson finished the non-conference slate strong with a 4-0 win over Gardner-Webb.
• Four Tigers scored in the match: Hal Hershfelt, Renee Lyles, Fran Stables and Harper White
• Stables recorded her first career goal while White registered her first goal of the season.
• Megan Bornkamp recorded a team and career-high with three assists.

Palmetto State Won
• The Clemson Tigers beat South Carolina in an epic rivalry match (9/9).
• Junior Hal Hershfelt and sophomore Megan Bornkamp recorded goals in the match, giving Bornkamp 14 points on the year.
• Renee Guion recorded two assists in the match, bringing her total to nine on the season.

Offensive Clinic
• Clemson scored eight goals in its dominant performance over College of Charleston (9/5).
• Six Tigers netted a goal in the match, including two from Megan Bornkamp and Maliah Morris.
• Maliah Morris scored her first goal of the season against College of Charleston, bringing her total to two.

In the First Four Games...
• Clemson outscored its opponents 14-6 in its first four matches (Saint Francis, Loyola, Texas A&M, Georgia) and outshot them 82-32, with 38 shots on goal to the opponents' 12.
• The Tiger defense held the Loyola Greyhounds to zero shots in its 4-0 shutout victory on 8/22.
• Tied a program-high for goals (12) through the first two games of a season (last time: 2000)
For complete coverage of the Clemson women's soccer team, follow @ClemsonWSoccer on Twitter, Instagram and Facebook.
Never miss the latest news from Clemson Sports Talk!
Join our free email list