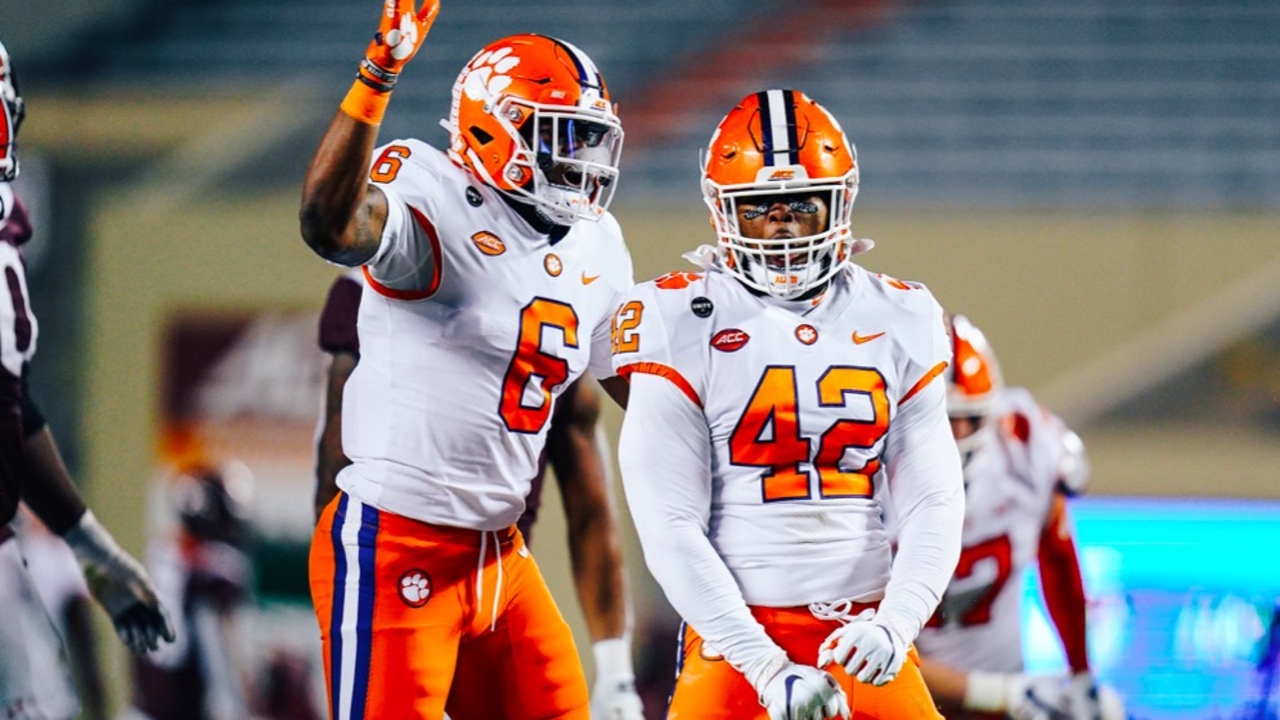 Matt Bockhorst
D.J. Uiagalelei
James Skalski
LaVonta Bentley
Nolan Turner
Jordan McFadden
Clemson Football
The Players' Lounge: 'I'll ride with No. 5 until it's over'
---

Feel the difference - The MOST DIGITAL CONTENT covering your CLEMSON TIGERS! Avoid clickbait and sites bloated with advertising! Support a 100% Clemson-owned business.
---
Matt Bockhorst
On how fired up he was during the game on Saturday trying to rally the team:
"Well, you know, I mean, it's an emotional game. I'm an emotional guy. I try to play the game the right way and play with fire. At the end of the day, everyone's got a job to do and you got to be held accountable when you don't do your job. If I don't do my job, I'm held accountable and the same goes for everyone else's playing. So it is what it is, and whatever it takes to get that fire out of everybody, then that's what I'm gonna do. It's kind of a burn-the-boats mentality. You know what, at this point, there's no going back, this is my last year, my last go around, and I'm gonna do what I have to do to get it out to everybody. It's not about making friends; it's about winning games."
On the issues they had against Georgia Tech:
"I think there's a number of things you can point to, I think that there's also a lot of a lot of good things that happened. I think this offense, in general, grew up a lot on Saturday because we weren't able to do what we wanted to do. We had to go put our hand on the ground and win the game the old-fashioned way. I know, everyone's disappointed, because it wasn't flashy, or sexy, or whatever everyone else wants it to be, but at the end of the day, we did what we had to do to win."
On D.J. Uiagalelei being a quiet guy:
"Whether or not D.J. is a quiet guy, he's still a competitor. We all are. I know, we didn't put up the points that we wanted to put up last weekend, but dudes are out there competing, and given it all they had for the guys around them. At that point, that's all we need- and that's all we have. So you know what? I was very happy to see D.J. get into it and show that emotion-- because football is an emotional game. When you're being challenged on the sidelines and being challenged in the locker room during the delay-- you know what? You got to go out there and prove them wrong. I think we responded well, in the second half, there's a lot to clean up. I think that the biggest thing is finishing drives."
On mistakes of the offense:
"We're all human, D.J. included. So that's the biggest thing and nobody's immune from mistakes. That kid comes in here and works as hard as anybody else. His dedication, and commitment, and drive are unmatched. I know that they see maybe a missed throw, or I know that there are throws from Saturday that D.J. wants back, but D.J. is improving and D.J. is a proven leader. We have faith in D.J. I'll ride with No. 5 until it's over. I don't care. If he's not doing as well as they think he should, then so be it, but I know that myself and the other guys around him, we've got in the confidence in the world in him."
D.J. Uiagalelei
On hearing that Matt Bockhorst had his back in the press conference:
"It means the world, man. Matt Bockhorst-- leader of the offensive line and the center-- to be able to hear he said that about me that means a lot-- coming from a senior. It's his fifth year, his last hurrah. So be able to hear that from somebody like Matt Bockhorst and see how much work he puts in for himself-- it's amazing."
On how the offense is playing:
"Oh, definitely. I'm frustrated. We know the caliber we have as an offense and the type of weapons that we have. Just to know where we want to be as an offense. We definitely want to be better than we have been, but at the end of the day, it is what it is. So the only way you can go up is by continuing to work. Take it day by day and just focus each and every day, learn from our past, and just look to the future."
On what they need to do to fix the issues:
"I think the main thing we're talking about is just can't press. The outcome we see in practice, it didn't show up. We know how much better we are and you can't press. When things aren't going, right, wor you feel like they should be, and the expectations that we have for ourselves ongoing is what is planned. You just can't press at the end of the day, it's gonna eventually come. You've just got to keep working. Keep following the plan-- trusting the process. Rome wasn't built in a day."
Ken Ruinard / staff via Imagn Content Services, LL
James Skalski
On the blood on his uniform after the game:
"Yeah, just from being in my stance get us all over me. We had to fight for that one. It was a good game. I think we made it harder on ourselves than it had to be. But when we needed it the most, we got it. So that's all that matters."
On stopping the shovel pass:
"I mean, the shovel-- I've been here in 2016. Right? If y'all remember, we got beat by Pitt and they ran the shovel probably 100 times. I remember, we drilled that play forever and that's years ago. Our offense will run that play a little bit, so I've seen it forever. And Tech? I mean, we didn't really go over the shovel pass once because they have such a wide variety. They do such a good job on third downs their packages so good. They have so many different looks so many different plays. That's just one I've just seen forever-- hard to explain-- just happened so fast. I just knew what it was."
On what he recognized on that play:
"When that tight end goes away from the sniffer then they sprint. I mean, if they're going to sprint and pass, they're gonna bring the tight end with them and they're gonna have two guys. When they get them apart. I mean, there's just something going on on the back end."
LaVonta Bentley
On when he found out he was starting:
"It was during a pregame warm-up and Spec (Baylon Spector) told me that I might have to go ahead and be ready. So I was."
On what he took away from his first starting experience:
"I mean, the game was fast, but football is football. So just taking in? Knowing my responsibility, and just taking it from the practice field into the game."
On being read for the moment:
"Oh, yeah, it was very important. The standard is the same, so it should be no drop-off when one person or the starter goes down. That's what I look up to. You need to be consistent, play a great game, so we can win."
On ending up at Clemson and not Alabama or Auburn:
"I'd say the family vibe that's here. It's just something different. I wanted to get away from home. It's like Bama-- 45 minutes and just wanted to get outside and see things different. The coaches up here, like they're real with me."
Nolan Turner
One being back in the mix:
"It was great. It's been a long time. So I've gotten to go there and just play football. I missed a lot of camp. Just hated not being out there with the guys and putting in a bunch of preparation for Georgia-- all through the summer and spring-- then you're not getting a play? It was tough. Those guys did a great job of being prepared and going out there and playing. It's just nice getting to play football again. I just had a ton of joy in being out there with my teammates playing football again. So it was great."
On what the defense has done this year:
"Yeah, it's inspiring, man. I think they said, it's been 71 years since that a Clemson defense hasn't given up a touchdown in the first three games. It's been fun to be a part of, fun to watch. It's just very physical, relentless defense-- very detailed too. You've seen a lot of maturity from last year to this year-- because there's a lot of guys that got experience last year playing. But now they have to come back and play at a higher level. It's really cool to see the growth and development of some of the guys and in this in this unit, just really growing up and maturing from last year."
On Andrew Mukuba:
"Yeah, I mean, he always is, I remember when he first got here as a mid-year, just coming in, not knowing much being a great athlete. He's like, 'Look, I want to play. But I don't know, anything. I need to learn this defense.' So he would get me to come in and we'd go in. I just kind of just started off breaking down concepts-- breaking down scheme. Before we even get to any of the calls, it's explaining everything to him. So I was like, 'if you can get this big picture stuff, down early, all these calls and details, everything else will start to make sense to you.' Just trying to get him to think the right way early and then he progressed throughout the spring. Then we started getting the Georgia game plan down and start getting the calls and letting him get familiar with how the game's flow-- just getting the game plan details down."
Jordan McFadden
On having a leadership role:
"I've tried to accept it. Being an older guy, being a leader on this team, that's not necessarily my nature, my personality. I think definitely, that's what the team needs, so I've tried to accept that role. Every day, I'm just working to be a better vocal leader."
On Matt Bockhorst being so fired up on Saturday:
"It's definitely not the outcome we wanted, but I think only that we can do is go to work. I think we're a work in progress. There are bright spots, there are definitely spots, we have to improve. Watching the film, they're just opportunities that we missed. We shoot ourselves in the foot. We jump offsides, different things like that, that are just hindering us from going forward. So I think really honing in on the details kind of focusing in on the little things and I think the big thing is, we'll come after that."
On if the offense is struggling at practice:
"Going against our defense is a great challenge. But t's definitely things that are happening in the game, that aren't happening on the practice field, and we've just got to learn from it. I think the only thing we can do is just watch the film and grow each game from those mistakes-- not making the same mistake again, I think it's the biggest thing that we have to learn from-- not continuing to make the same mistakes and grow from those mistakes."
Never miss the latest news from Clemson Sports Talk!
Join our free email list
PRESENTED BY