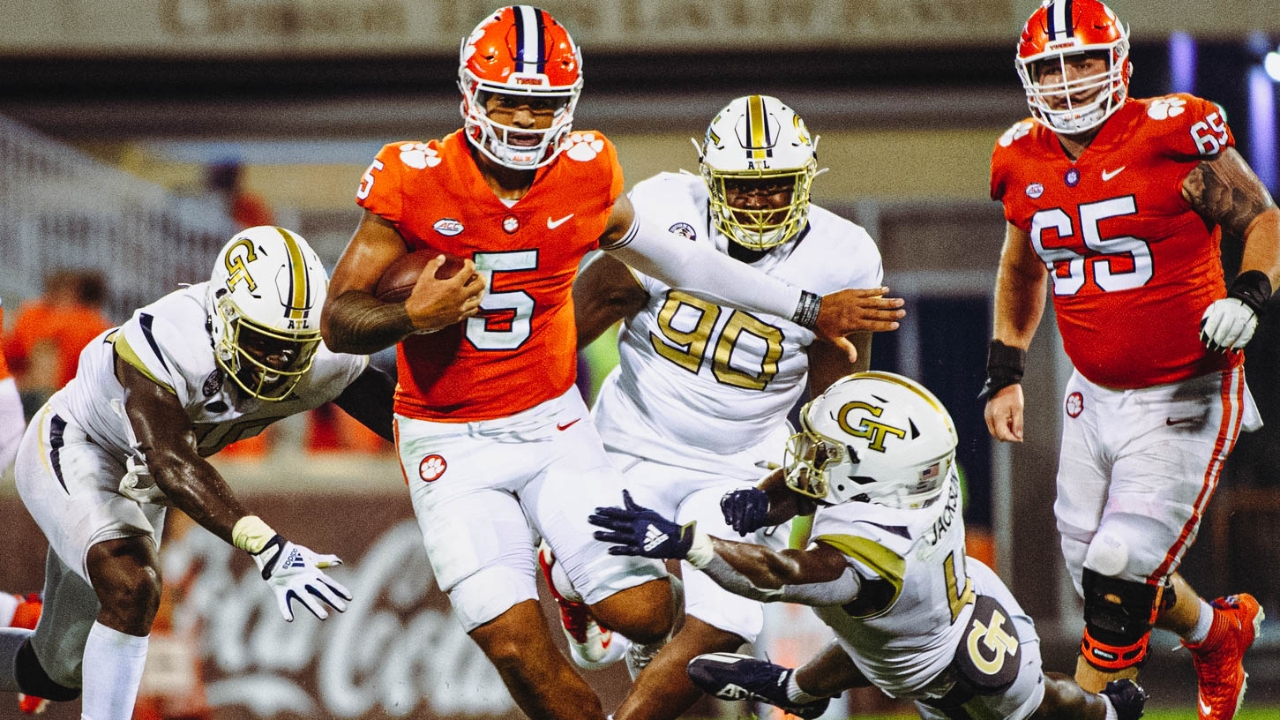 Photo by JOSH MORGAN/Staff via Imagn Content Services, LLC
Clemson Football
Michael Felder says Uiagalelei and Clemson must play '11-on-11' football
---
On Clemson's offensive issues:
"To an extent, I think D.J. Uiagalelei is still is a symptom of the disease. Obviously, we talked about the offensive line all day, but I think right, there are two things and we saw Oklahoma do it in real-time on Saturday. Oklahoma recognized 'our offensive line is not up to snuff. How do we fix this?' We make Texas play 11-on-11 football."
"I think if Clemson made teams play more 11-on-11 football-- meaning quarterback has a run option-- because guess what, you can put Koby Pace in the game and you can have him as a lead blocker for DJ-- which means you have an extra body in the box that's unaccounted for, which leads to bigger runs, those bigger runs, make safeties come up, now you have an opportunity to push the ball over the top of them."
On Alabama's upset:
"They're going to have to do some soul searching from a defensive standpoint because they've got to figure out, 'how did this happen to us and what did we do wrong?' And I think that there's no doubt in my mind, that, films probably not any fun for anybody in that secondary or along that defensive line and certainly not the linebackers."
On how Texas A&M fans must be feeling after beating Alabama, but still having two losses:
"Yes, you're going to be disappointed you don't get to the playoffs? Yes, you're going to be disappointed don't want a national championship… You still have the feather in your cap of beating Alabama, you still have the feather in your cap of being the only assistant to beat Alabama. So even though it doesn't fully justify the $90 million that you're paying to Jimbo Fisher, the one thing that you hired him to do, he has actually done now let's clean up the other stuff for that 2022 season."
On Ed Orgeron Being on the hot seat:
"No one says he's good. No one says he's smart. No one says he's a remarkable tactician or a guy who understands the nuances of the game. They're just like, 'He's from there, so stay there.' And I don't know that that's the coach that I want, if I'm LSU… Guess what nobody at Alabama cares that Nick Saban is not from Alabama. They just care that he's good."
Never miss the latest news from Clemson Sports Talk!
Join our free email list
PRESENTED BY