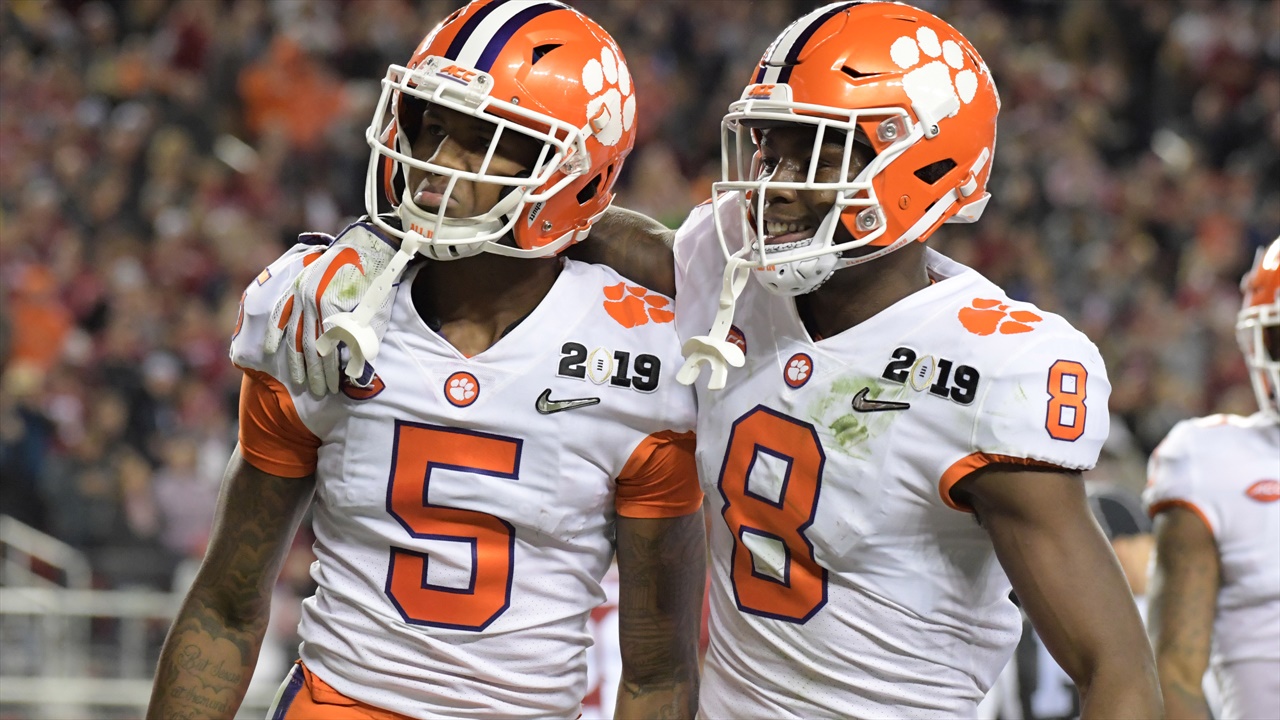 Photo by © Kirby Lee-USA TODAY Sports
Clemson Football
THE ROAR: NCAA Return, 40-Year Run, Clemson Legends
---

Avoid clickbait and sites bloated with advertising!
---
LISTEN. Take a moment to check out yesterday's show. Clemson Sports Talk can be heard around the world on the iHeart Radio App or streamed online. Listen to Fox Sports Radio 1400 from 4-6 PM daily! Subscribe to our podcast if you enjoy the show!
NCAA RETURN. With everything that's taken place in college football recently-- especially on the NIL and Transfer Portal front, I find it hard to believe that we won't eventually see a day where early entries who aren't drafted could return to college to finish their careers. Honestly, I don't know what the big deal would be given the recent changes.
The thought came to me as we watched and waited for Justyn Ross' name to get called-- which it never did-- and instead the former star signed an undrafted free agent deal with the Kansas City Chiefs.
Obviously, getting in the league is a huge accomplishment, even if it didn't happen as Ross probably expected after his breakout freshman season. Some would say that if he could have turned pro after his performance in the College Football Playoff he would have certainly been taken-- probably in the first three rounds. Ugh.
After watching the entire draft conclude, knowing Ross' story, and wishing him an opportunity to hear his name called, I could help but think of how things could be different for players if they could choose to return. At this point, with NIL running wild, I just don't see the big deal if players were granted the opportunity to return if their draft dreams fell flat.
40-YEAR RUN. The Clemson men's golf team received an NCAA Tournament team bid for the 40th consecutive tournament on Wednesday afternoon. It is the longest streak of NCAA team tournament invitations in Clemson athletics history. Jordan Byrd's first Clemson team will travel to the Scarlet Course at The Ohio State University Golf Club in Columbus, Ohio for the 13-team tournament to be held May 16-18.
Clemson is the No. 4 seed at the tournament, including second-ranked Oklahoma State, 11th ranked Georgia Tech and 14th ranked Arkansas. Clemson is ranked 23rd, while ETSU is the number-five seed at the tournament and ranked 31 st in the latest Golfstat rankings. Host school Ohio State is the #6 seed.
The top five teams in the 13-team field after 54 holes will advance to the NCAA National Championship Tournament at Grayhawk Golf Club in Scottsdale, Arizona, from May 27 to June 1.
Clemson has received a bid to every NCAA Tournament held since 1982 (the 2020 tournament was not held due to COVID19). Seven times Clemson has won the NCAA Regional and, in 2003, won the NCAA Championship.
CLEMSON LEGENDS. The Third Annual WAB Sports Celebrity Benefit Golf Tournament will take place Sunday, June 26, 2022 (Registration at 11:30 am, Shotgun Start at 1:00 pm) at Boscobel Country Club in Pendleton.
Other Events on the Weekend:
Friday, June 24: Tailgate party at Comfort Inn & Suites in Clemson, SC, begins at 5 p.m.
Saturday, June 25: Autograph session, Palmetto Smokehouse & Oyster Bar in Clemson, 2-5 p.m. Followed by Meet & Greet Draft Party, 5-10 p.m.
One Price for All Events: $200.00 per person.
The Golf Tournament will be a part of a huge weekend to benefit Dabo's All-In Foundation and its fight against breast cancer. Additionally, the event will also honor Barbara Kennedy-Dixon and Annie Tribble.
Former Clemson Greats Expected to Attend include: Dale Davis, Chris Whitney, Grayson Marshall, Harold Jamison, Tree Rollins, Jeff Bostic, Joe Bostic, Levon Kirkland, Homer Jordan, Michael Dean Perry, Cliff Ellis, Jim Davis and many more.
To Enter a Team: Call (331) 472-9828, or email wabsports@gmail.com
SONG OF THE DAY. After hearing some of those old school Clemson basketball names, I can't help but think of the time Puff Daddy dropped the line, "I'm trying to get some Grants like Horace," in "It's All About the Benjamins."
- "It's All About the Benjamins" - by P. Diddy, The Notorious B.I.G., The Lox and Lil' Kim -
OFF THE PATH. Remember when we spoke last about the NBA referees/Jack Harlow situation? How Scott Foster and Ed Malloy were caught on hot mics wondering who the rapper was?
Well, the official NBA Referees account just gave us an early contender for Twitter moment of the year, posting this video in response to Harlow.
Normally, especially during playoff season, it's not ideal for referees to become a story. But something lighthearted like this. I think we can let it slide.
See y'all tomorrow!
---
Let us know what you think about THE ROAR! If you liked it, make sure you SHARE! Don't forget to sign up for our special! Get THREE MONTHS of coverage for just $1.
Never miss the latest news from Clemson Sports Talk!
Join our free email list
PRESENTED BY