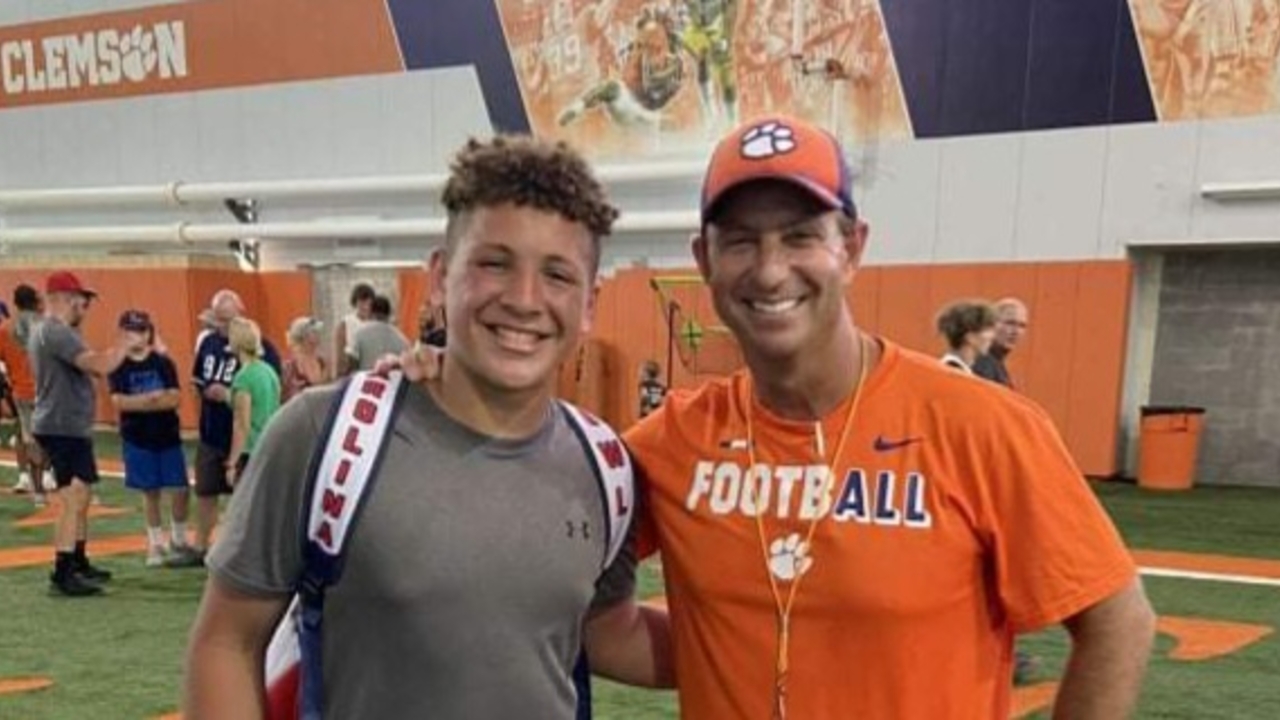 Before the Stars: Paxton Dobbins is a true Clemson fan
---

Avoid clickbait and sites bloated with advertising!
---
Paxton Dobbins (Crest Middle School, Shelby, NC) missed out on participating at Dabo Swinney's Camp in recent years due to other sports obligations and camp postponements. So when his schedule was free on June 1, he was ready to compete in Tigertown.
So after such a long wait, how was camp?
"Dabo's camp was a hard, tough, but really fun," Paxton told Clemson Sports Talk. "They always made sure everybody was cared for and that it was fun for everyone -- but it was also competitive. I had a great time."
Paxton, 13, is in the midst of a busy summer. One week, he's playing basketball and in the same or different week, he's in Clemson, Atlanta for more basketball, and then travels to Alabama's football camp. He was able to sneak in a picture with seven-time national championship coach Nick Saban along the way.
"I've been to other camps but they didn't compare to Dabo's camp," replied the rising eighth-grader when asked about football camps.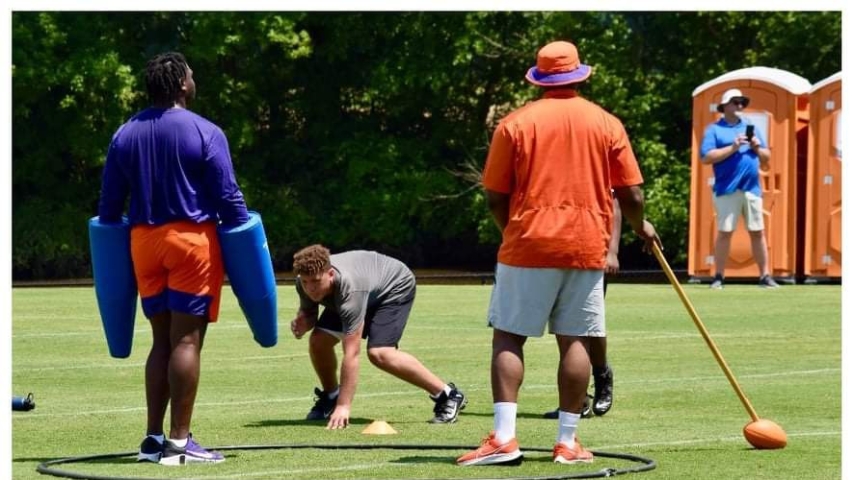 Nicole Dobbins
Paxton also posed with Clemson head coach Dabo Swinney and at 5'9, 200 pounds, he was nearly eye level with the 5'11 two-time national champion. (FYI: Paxton is taller than Saban)
What was his impression of Coach Swinney?
"I will tell you, he really loves that Coach Swinney isn't afraid to speak his truth about his Christian faith," said mom, Nicole Dobbins. "He said, he is "real" and keeps it honest with people. He also likes his outgoing personality and the positivity and fun that he exudes."
And what about Clemson?
"Clemson is where my heart is," was Paxton's quick response.
Alabama nor Saban could steal the heart of the lifelong Tigers fan.
"I do not recall him ever not being a Clemson fan," said Nicole.
See Paxton dreams of playing at Clemson like Las Vegas Raiders receiver Hunter Renfrow did before accepting a preferred walk-on invite in 2014 and Shelby native Lannden Zanders before enrolling at Clemson in 2019.
"Growing up when asked where he would go to college, he said Clemson," added Nicole. "He hasn't strayed from that idea yet."
Paxton's favorite college football player is also at Clemson. And so is his best friend.
For a classroom assignment, he was asked, "What is impressive about your best friend."
He wrote, "Something impressive about my best friend is he plays football with Clemson."
Lannden Zanders is that player and best friend.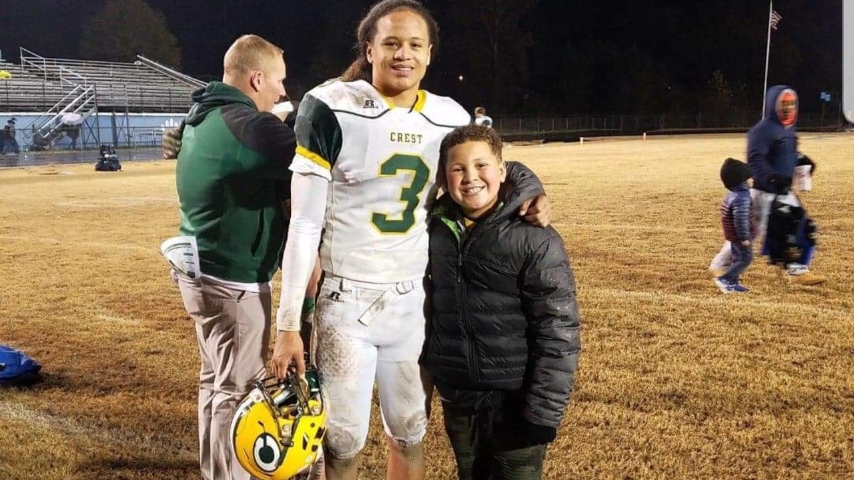 Nicole Dobbins
"I'm not sure what exactly attracted Paxton to Lannden, but Paxton just took to him. It may just be because Lannden would show him attention and play along with him," recalled Nicole, the assistant principal at Three Township Elementary in Shelby. She held the same position at Kings Mountain Middle (Kings Mountain, NC) when Paxton met Zanders, who, ironically, was in the eighth grade.
"Lannden would let him "tag-along". Paxton doesn't have any older brothers [or sisters] around and I think he loved that attention. He started calling Lannden his brother in kindergarten."
Furthermore, Nicole said they formed a close bond as Paxton followed Zanders in various sports (football, basketball, track and field, and wrestling) at Kings Mountain and football at Crest High, where Paxton spent some time as a ball boy. They met before and after football games and eventually, their bond brought Paxton and Nicole close to the Zanders family, which includes Lannden, his father, Lindell, and older brother, Quenten.
Paxton even included Zanders in his 12th birthday celebration last February at Top Golf in Charlotte, NC. But he wasn't just invited. His #36 jersey was the cake and orange and white cupcakes also donned 36.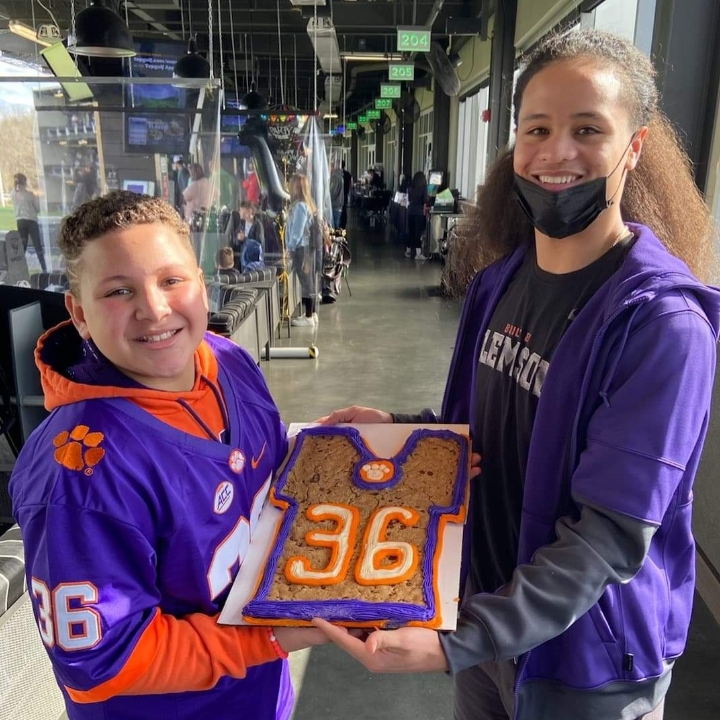 Nicole Dobbins
Paxton said he looks up to Zanders and the redshirt junior safety has been a big influence on his life.
Zanders has dealt with a shoulder injury the past two seasons, resulting in missed games (14) and sitting out the spring.
"I was mad," Paxton recalled when Zanders exited the No. 3 Tigers opening season battle against No. 5 Georgia with an injured shoulder. He was in Bank of America stadium with Nicole. "I was excited to watch him play, then boom...out for the season. It was sad, but I know he'll come back and he'll be even stronger this season. He always works hard at training, even when he comes home."
Paxton enjoys watching his best bro and the Tigers play anywhere, but especially in Death Valley.
"Exciting," he said about the game-day experience. He has attended several games with Nicole. "Clemson games are so much fun. We both have the best time. Those are great memories that I will keep forever. The Tiger Walk, as the players come thru to head to the stadium is neat because you get a chance to see them all up close -- if you can get in front of the crowd. The atmosphere at Death Valley is so electrifying."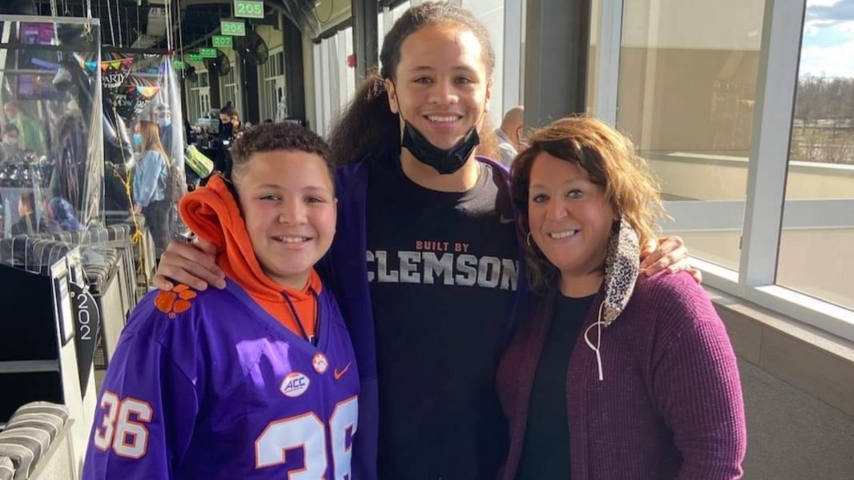 Nicole Dobbins
There's no doubting Paxton's love of Clemson. He's a true fan through and through and can recognize other true fans on daily cruises with mom.
"We will be in the car riding down the road and Paxton will see a car with a Clemson [Tiger Paw] sticker on it. He always says, 'Mom they are not a true fan. They don't have their Tiger Paw pointed, tilted to 1 o'clock.' He knows these things,'" laughed Nicole.
What's next for Paxton?
He is currently playing basketball at an Under Armour tournament in Indiana and for Crest Middle football in 2022, he will be shuffling along the offensive and defensive lines and could get a few carries from the backfield.
"He wants to go to Clemson. He wants to go D1," stated Nicole. "I told him I hope so, one day, but he knows he's gotta work for it. He says no one will outwork him."
Paxton tagged with the nickname "D1" by a number of his peers also spends time with a trainer.
"He wants to though," said Nicole. "I ask if he needs a break. He says nope. He's got drive and determination like very few do."
So when does "D1" rest?
"He gets a power nap just about every time we get in the car to drive to the trainer, workouts, practice, a game -- Anywhere!"
Never miss the latest news from Clemson Sports Talk!
Join our free email list
PRESENTED BY