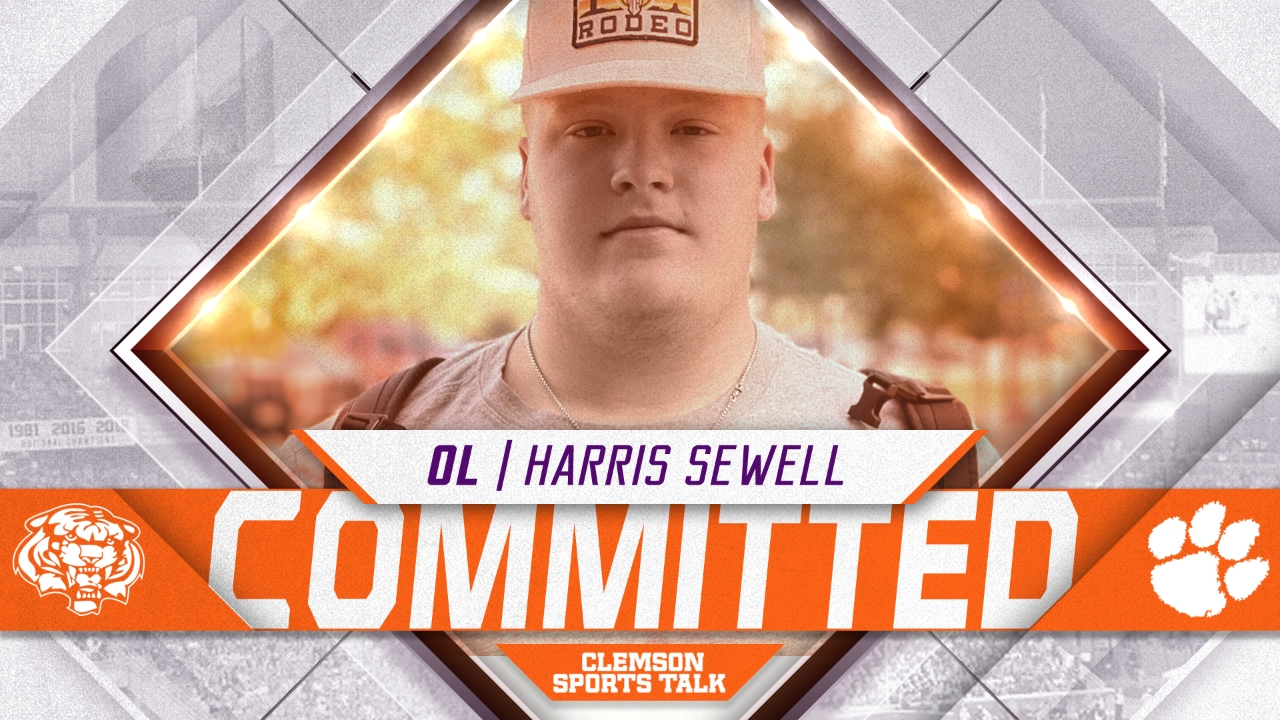 Clemson Football Recruiting
Clemson snags another elite Lone Star State talent
---

Avoid clickbait and sites bloated with advertising!
---
The Clemson football staff may be doing the Texas three-step dance this afternoon after securing a commitment from Texas offensive lineman Harris Sewell‍ (Permian High, Odessa, TX).
Sewell committed at 1:00 pm eastern on Wednesday and becomes the third Texas recruit in the Tigers' 2023 class joining offensive lineman Ian Reed‍ (Vandegrift High, Austin, TX)‍, and receiver Noble Johnson‍ (Rockwall High, Rockwall, TX).
In a post on his Twitter account, Sewell said:
"From the time I was a little kid, I always dreamed of playing college football. There was never a time I didn't want to play at the next level, but there were days when I wondered if I would get the chance to see my dream come true.
From my elementary football coaches to my Nimitz Middle School Coaches, Coach Wright and Coach Schreiber, and my Permian High School Coaches - Coach Ellison, Coach Washington, Coach Frisby, and Coach Gatewood - Thank You! To all of you and many more, thank you for pushing me, encouraging me, and making me better!!
For the Coaches who offered me a chance to play for you, Thank You! For my Friends who have supported me - Thank You! For Rob Clayton, Thank You for being a mentor and friend!
For my Parents, My Brothers, My Grandparents - Thank You for all your support!
I am excited to say am committing to Clemson University!
Coach Swinney, Coach Austin, and The Clemson Staff- Thank You! You have given me a chance of a lifetime. I commit to you and your team all I have and all I can become! Go Tigers! I AM ALL IN!
AND FINALLY, TO THE MAN UPSTAIRS, THANK YOU LORD!
THANK YOU FOR LOVING ME MORE THAN I UNDERSTAND, FOR THE DOORS YOU CLOSE, AND THE DOORS YOU OPEN! ROMANS 15:1 MSG"
Sewell is a four-star recruit and the No. 2 ranked interior lineman in the 2023 class, which makes him the highest-ranked Clemson pledge by position.
He has lined up at center and right guard, where he projects for college. At either position, Sewell plays with power, leverage, and finishes blocks with ferocity. One of the best quotes we've seen on Sewell came from Yahoo: "Sewell stands at 6-4, 290lbs, but plays more like a mid-300 pounder, and runs like a mac truck with a nitro boost." That is quite the description.
Sewell was named to the Texas District 2-6A first-team as a junior and sophomore.
He also has first-place finishes in the shot put and discus as a member of the Permian track and field team.
Sewell chose Clemson over Alabama, Oklahoma, Texas, and Texas A&M.
The Tigers class is now up to 15 commits including (in order of commitment) QB Christopher Vizzina‍, DE David Ojigebe‍, CB Branden Strozier‍, CB Avieon Terrell‍, TE Olsen Patt Henry‍, OL Ian Reed‍, DB Kylen Webb‍, WR Noble Johnson‍, LB Jamal Anderson‍, TE Markus Dixon‍, DE Victor Burley‍, LB Dee Crayton‍, DE AJ Hoffler‍, and DT Stephiylan Green‍.
Never miss the latest news from Clemson Sports Talk!
Join our free email list