Clemson Basketball Recruiting
Unselfish Texas guard brings size and versatility to Clemson backcourt
---

Avoid clickbait and sites bloated with advertising!
---
Clemson lost guards Al Amir-Dawes and Nick Honor to the transfer portal this offseason. Honor will play for Missouri and Dawes, a New Jersey native, for the Seton Hall University Pirates.
Without the veteran guards, freshman combo guard Chauncey Gibson‍ could see early time in the backcourt.
The Dallas, TX native is currently on campus participating in offseason workouts and getting an early start on college life away from the Lone Star State.
So how did the Dallas Kimball High standout even start communicating with Clemson?
"Dean [Antonio Reynolds] contacted me through Twitter," said Gibson on his initial contact with the Tigers. "I want to say in the middle of my AAU season. He told me that they had an interest in me because they needed a big guard who was able to shoot and handle the ball under pressure well. I guess I filled those shoes."
Dawes (6'1) and Honor (5'10) provided timely baskets and three-point shooting the past two seasons but at times, the pair struggled defensively against bigger guards.
Gibson offers more size than any backcourt player on the roster but what else made Clemson the school for him.
"I built a relationship with every coach on the staff, and we went from there," said the 6-foot-6, 190-pound guard. "When I went on the visit, they showed me love and everything I needed to see and hear to help get me to where I want to be."
His decision to play at Clemson also means he will be over 900 miles away from his family.
"My family said it was my decision and whatever you want to choose is based on you. I'll have to live with it," said Gibson. The distance will make it more difficult for them to see him play in Littlejohn Coliseum as well.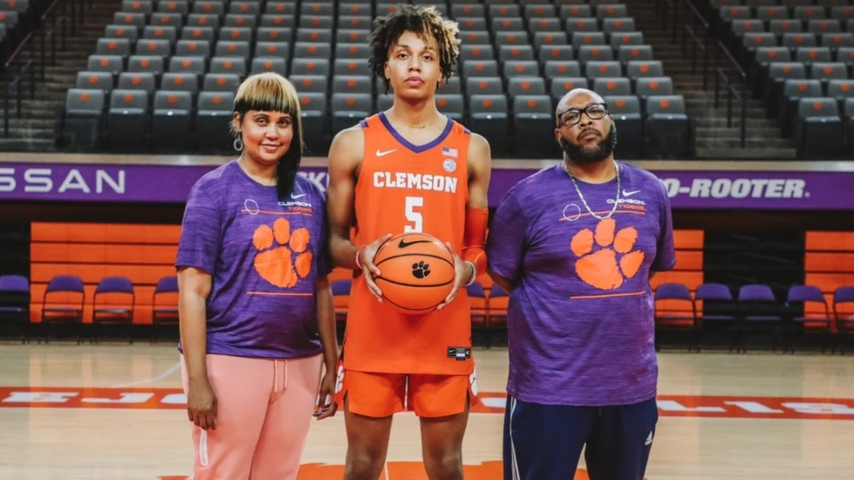 Chauncey Gibson/Twitter
"I really don't need them in the stands. They will be able to watch me on TV. That's another reason why I chose Clemson -- it's in the ACC. Most of the games will be on TV. I wanted to be somewhere where I was comfortable playing without my parents. But they will make the games they can make."
Gibson committed on Oct. 9, 2021, over Old Dominion, SMU, and Texas Tech and signed on Nov. 10, 2021. Since those momentous dates, in April, Dean left the program for Georgia and assistant Kareem Richardson moved on to N.C. State.
"Before Coach Dean left, I talked to Coach [Brad] Brownell and he told me that Dean was thinking about leaving. He said he wanted me there," Gibson stated. "That played a big part in me staying. The head coach wanted me there and they showed the same amount of love that they had during the recruiting process even though Dean was gone."
Brownell quickly replaced Dean and Richardson with Sean Dixon and Billy Donlon.
Before any coaching staff changes and his arrival on campus, Gibson was working on his body and trying to improve his overall game back in Texas.
"I've been trying to get stronger and perfect my shot," Gibson said before enrolling in June. "I can shoot the ball well now but there's always work to be done. I'm working on my all-around game -- getting quicker and everything."
Gibson won't have the usual timetable to prepare because the team will travel to France for an international tour from Aug. 3-13.
"I've never been out of the country. I think there's a first time for everything," he said about the international trip. "I feel comfortable going down there with people that have my back and I can call family."
Gibson should see plenty of court time overseas. In addition to playing in the backcourt, he could see time at small forward, where the Tigers are thin.
"I like to get my teammates involved more than anything," he explained when asked to describe his playing style. "So once they get going that's when I feel like I can score. Most people want to see the ball go through the basket from one of their shots. I like to see my teammates score. Getting them a basket gets me going.
"But if it's not their night, then I guess I have to score."
He did just that when he scored 20 points in consecutive games in the Monteverde Invitational and then exploded for 35 in the following matchup against conference rival South Oak Cliff.
Gibson averaged 17.6 points, 7 rebounds, and five assists on a talented Kimball team alongside McDonald's All-American and Texas Longhorns signee Arterio Morris and D1 scholarship candidates Trae Clayton and Kyron Henderson.
Gibson and his Clemson teammates will get 10 days of practice on campus before spending 11 days in France playing exhibition games.
Never miss the latest news from Clemson Sports Talk!
Join our free email list
PRESENTED BY