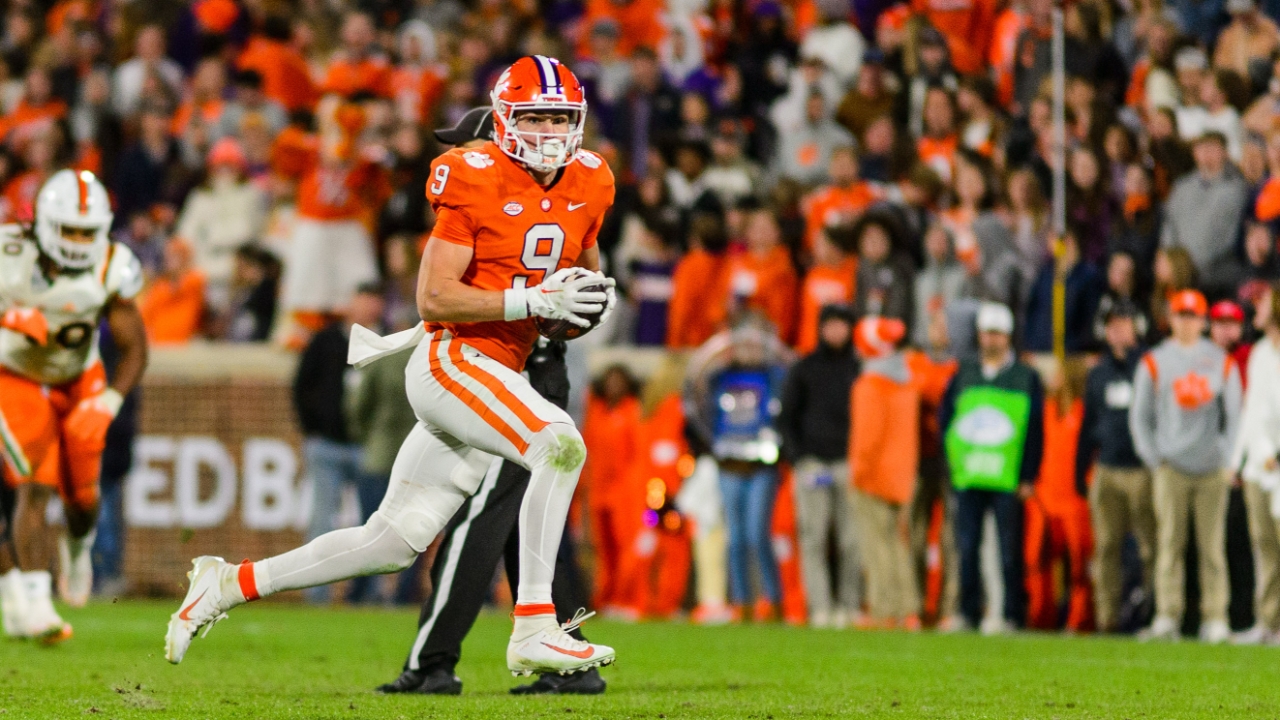 Photo by David Grooms
Clemson Football
With Davis Allen gone, which tight ends will step up for Clemson in Riley's offense?
---
The tight end tandem of Davis Allen and Jake Briningstool played a huge role in the Clemson offense in 2022. Allen had a career-high in receptions (39), receiving yards (443), and touchdowns (five), and Briningstool, a sophomore, had 25 receptions, 285 yards, and four touchdowns in 14 games. They are the first tight end tandem in school history to each have four touchdown receptions in a season.
Allen is preparing for April's NFL Draft and Briningstool, his third season but under new offensive coordinator Garrett Riley.
"He is unique," said Riley of the six-foot-six former top Tennessee recruit, who projects as the leader of the tight end group. "I've been around some similar types to him, but he's very athletic. He's got a lot of range to him. And then he can really run. He's going to present some matchup problems and one on one situations, there's no question about it."
Redshirt junior Sage Ennis and senior Luke Price were the only other tight ends to participate in every game. Ennis recorded two receptions for 17 yards and Price's only reception was a score. With Price gone, Ennis and redshirt freshman Josh Sapp are in line for significant snaps.
"Sage has done a nice job. He's been injured," Riley said of the graduate, who dealt with a minor back injury this spring. "But getting him back and seeing some of his physicality early on, it's been good."
Sapp appeared in five offensive snaps in two games after being one of the late additions to the 2022 class. He is the son of former Clemson quarterback/linebacker Patrick Sapp (1992-95) and head coach Dabo Swinney is happy he's a Tiger.
"I'm so glad we got him. This kid is really smooth," commented Swinney after the first spring scrimmage. "He's going to be a very good player. I think it's just a credit to he's a football kid, number one. He's played quarterback. He's played receiver. He's played DE. He's played linebacker. He's played safety. He's played running back. This guy has played all these positions his whole life.
"He can really run [sneaky] and bounces off people, [has] really soft hands, and has shown up," added Swinney. Furthermore, Swinney noted that Sapp "really flashed" during Orange Bowl prep practices and picked up where he left off this spring.
At 6'2, Sapp lacks ideal size for the position but his weight (245) and athleticism make him an intriguing player in a group Riley said offers versatility and variety.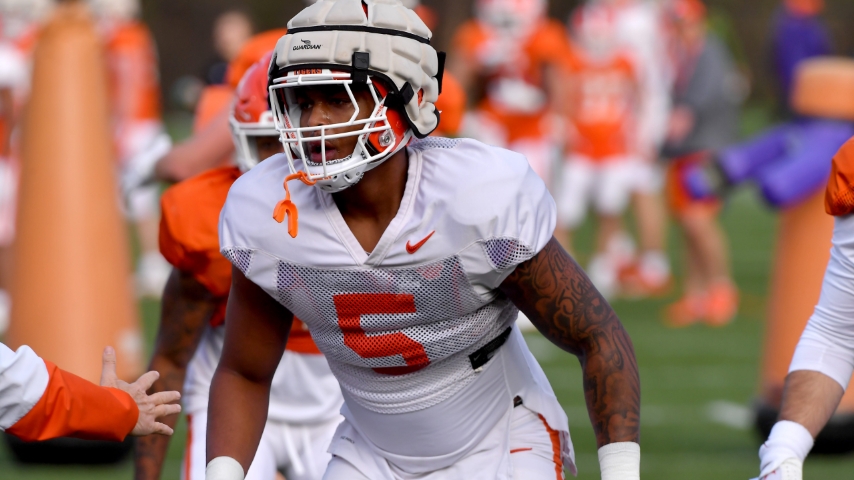 © ALEX HICKS JR. - USA TODAY / USA TODAY NETWORK
"He's one of those bodies that you feel like you could probably do just about anything with," Riley stated. "He's strong enough to hold up in the box and certainly athletic enough to be displaced or flexed out."
Riley and tight ends coach Kyle Richardson will see even more athleticism and flexibility injected into the tight end room when freshmen Markus Dixon‍ and Olsen Patt Henry‍ arrive on campus this summer. Dixon and Patt played multiple positions for their respective schools and were routinely flexed out in the slot or even wider as tight ends.
Dixon is ranked No. 35 among tight ends in the 2023 class while Henry is No. 21, according to 247Sports Composite rankings. Henry played in the prestigious All-American Bowl game in San Antonio, TX but finished without a reception for the East team.
Meadowcreek High (GA) head coach Todd Wofford, known in the Peach State for his high-powered offenses, coached the East to a record-breaking 55-17 win over a West squad led by Jason Negro (St. John Bosco High, CA), the 2022 HSFA National Coach of the Year and prep coach of Clemson receiver Beaux Collins and former quarterback D.J. Uiagalelei.
What does Wofford think of Henry?
"He's kind of that hybrid that could be a mismatch on the outside against smaller corners," said Wofford, who coached Tennessee tight end commit Ethan Davis (No. 7 on 247Sports) as an assistant at Collins Hill High (GA) from 2019-2021. "But he's a really good, big athlete. He's kind of a tweener receiver tight end - the skill set of a receiver but not the size of a tight end or at least, the six-foot-five guy."
Henry's listed height is from 6'2 to 6'3 with a weight of 215 pounds on recruiting sites so he will need to develop physically to increase his chances of receiving snaps in 2023. That physical growth will aid him in another area where Wofford thinks he's a bit raw.
"He's just going to have to get more used to blocking and that more physical part he probably wasn't really asked to do," Wofford added. "He had never really put his hand down and in some of our sets we had him do that."
Allen improved as a pass catcher during his career but left Clemson as maybe the best blocking tight end in school history. Throughout his career he made game-changing blocks and Price (6'2, 236) was used predominantly in blocking situations. Richardson will need to find consistent blockers within this group, which has varied physiques, for the offense to flourish.
Along with the normal tight end duties, the players, new and old, are also responsible for learning the intricacies of a new offense. Although Allen is a busy man these days, he has been able to spend enough time with the group to understand how they feel about the offense.
"They seem to love it," Allen said after Clemson's Pro Day. "They really do. Obviously, they have to learn it, it's a brand new offense. But from what I've heard, I think they really like it. I'm excited to see how it works.".
Never miss the latest news from Clemson Sports Talk!
Join our free email list