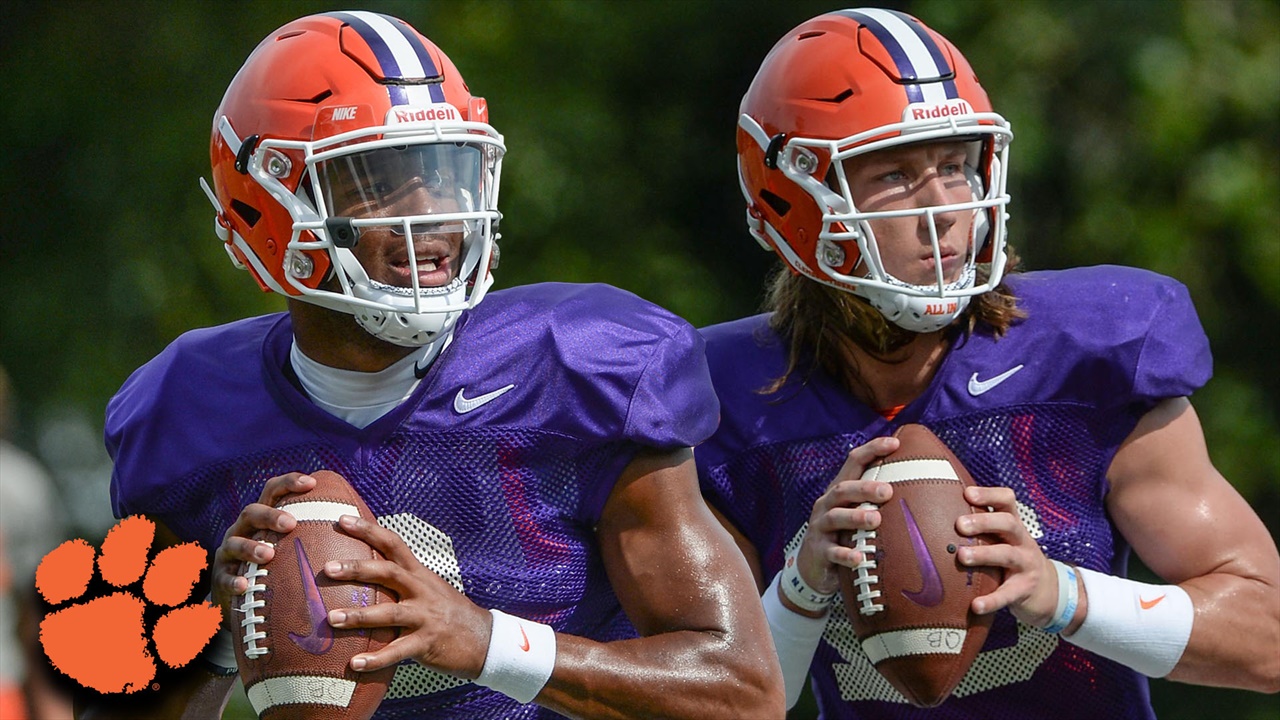 Seven storylines that shaped Clemson sports in 2018
---
---
Happy New Year, Clemson Tiger fans! As we turn our attention to 2019, we wanted to take a look back at some of the top stories that shaped 2018. This was our first full calendar year covering Clemson sports and what a year it was!
Clemson's three major sports all played in the postseason as football qualified for the College Football Playoff for the third consecutive season, as the No. 1 seed before falling 24-6 to Alabama in the Sugar Bowl. Brad Brownell's basketball team navigated their way into the Sweet Sixteen and baseball made the postseason again under Coach Monte Lee.
Here are the seven moments that stood out to us from the past year. We hope that you will consider becoming a subscriber and a loyal poster on our forums. We would love to have your support.
#7: January 20th
A day that Clemson fans want to forget. Coach Brad Brownell had the Men's Basketball team ranked 20th in the country and also had fans excited about Tiger hoops once again. With a home matchup against Notre Dame set on national television, legendary broadcaster Dick Vitale in Littlejohn for the game, and the nation's favorite recruit, Zion Williamson, set to announce his college choice with Clemson as the heavy favorite to land the dunk that would soon shake the southland later in the evening.
In the second half of action the team's senior leader, Donte Grantham, went down with an injury. As he winced in pain and grabbed his right knee, the worst case scenario entered everyone's mind; a torn ACL, which would be confirmed later that week. Clemson went on the win the game 67-58, but all fans could think about was the future of their All-ACC caliber player.
© Jeff Blake-USA TODAY Sports
Later in the evening, Tiger fans were hopeful as the entire country awaited the announcement of one of the country's #5 overall basketball recruit. As thousands tuned in, Zion Williamson committed to Duke.
#6: Last Call
From January 2016 as an early enrollee to 2018, Seth Beer was a staple for Clemson baseball. In 188 games, of which Beer started all 188, he was a career .321 hitter with a .489 on-base percentage over three seasons. He had 41 doubles, a triple, 56 homers, 177 RBIs, and 172 runs against only 98 strikeouts, 42 hit-by-pitches, and four steals. Beer also drew 180 total walks in his career, with 35 being intentional.
Beer left Clemson holding many records including slugging percentage (.648; minimum 500 at-bats), first in walks per at-bat (one every 3.59 at-bats), tied for second in walks and fourth in homers and fifth in slugging percentage (minimum 100 at-bats). He was also the first Tiger in history with 16 or more homers in three seasons, and he led the team in homeruns all three seasons.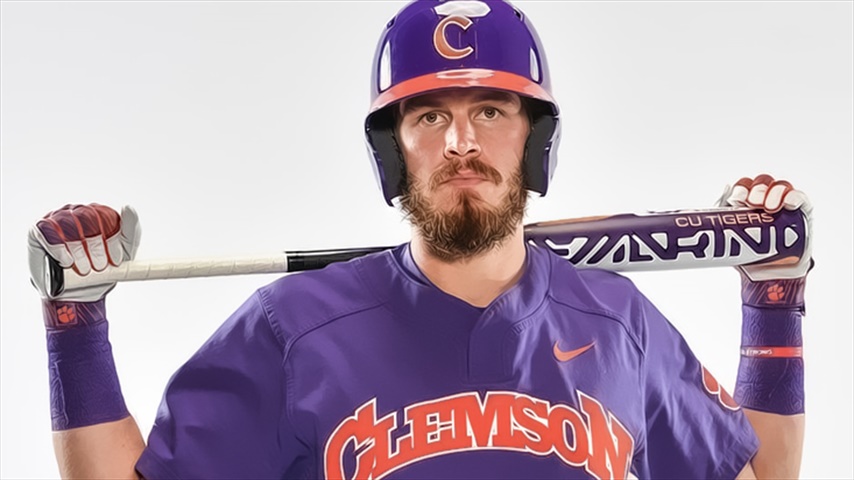 Clemson Sports Talk
He would start every Clemson game from April 1, 2016, to the end of the 2018 season for a streak of 165 games.
Beer's accolades will decorate Clemson's history books for years to come. In his three seasons, Beer was named three-time All-American, three-time All-Atlantic Region by ABCA, three-time All-ACC selection, two-time Clemson Regional All-Tournament selection, ACC Player-of-the-Week four times, and two-time USA Collegiate National Team member
With the 28th overall pick in the 2018 MLB Draft, Beer got the call. He had been selected by the Houston Astros with their first-round pick. He was the first Tiger to be selected in the first round since Richie Shaffer in 2012. He is now in the Astros' minor league system with the Tri-City ValleyCats.
#5: Ostarine-gate
As Tiger fans boarded planes and packed their cars headed for Dallas, Texas, almost nobody expected to hear the news handed down by the NCAA. All-American Defensive Tackle Dexter Lawrence, along with tight end Braden Galloway and offensive lineman Zach Giella, had failed their drug tests and therefore would be suspended prior to the College Football Playoff Semifinal game against Notre Dame.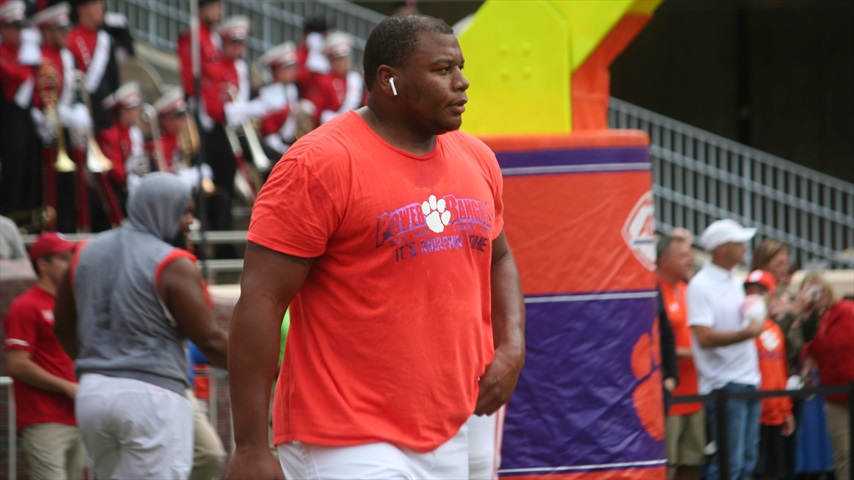 Clemson Sports Talk
According to Coach Swinney, a "sliver" of Ostarine was found in their samples that resulted in the failed test. Ostarine, a performance-enhancing drug, is not on the FDA's approved list.
The Clemson Athletic Department can go through an NCAA Appeals process, as the punishment is potentially a year-long suspension.
#4: How Sweet it is
A Clemson men's basketball team hadn't seen the NCAA Tournament since 2011. That wouldn't be the case for 2018 as the Tigers were awarded a 5-seed on Selection Sunday.
After taking down a talented 12-seeded New Mexico State team, Brad Brownell and the Tigers advanced to the Round of 32 for a matchup with a defensively sound Auburn squad.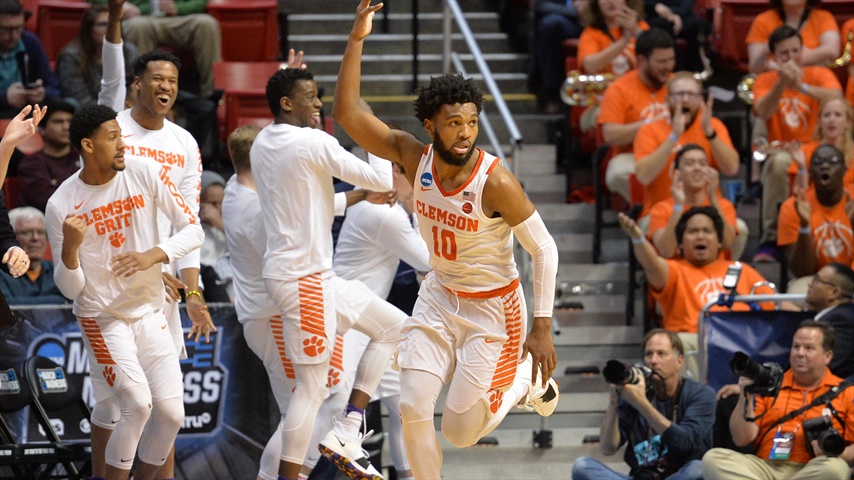 © Jake Roth-USA TODAY Sports
The Tigers would send Auburn crawling back to Alabama after a dominant 84-53 victory. With the win, Clemson found themselves in the Sweet 16.
With the Sweet 16 game being held in Omaha, Nebraska, the team was able to celebrate in the locker room following the Auburn win with hats gifted by the baseball team that had "Omaha" stitched in the paw.
Although they fell to the 1-seeded Kansas Jayhawks 80-76, the orange and purple had made the third round of the tournament for the first time in 21 years.
#3: QB1
It started when he stepped on campus as an early enrollee and everyone started watching his high school highlights. It continued into summer camp after an eye-opening spring game. Everybody in Clemson was talking about it. It was one of the country's biggest storylines of the year. Kelly Bryant or Trevor Lawrence?
Coach Swinney said throughout the spring and summer that Kelly Bryant was remaining as the team's starter after leading the Tigers to a 12-2 overall record, an ACC Championship, and the College Football Playoff in 2017. Although he said Bryant was first on the depth chart, he also added that Lawrence was a close second.
Bryant went 36-54 for 461 yards to pair with two touchdowns and one interception as the starter through the first four games of the season. While the senior jogged out first, the freshman got plenty of snaps in later series. In that same span, Lawrence threw 39-60 for 600 yards to go along with 9 touchdowns and two interceptions.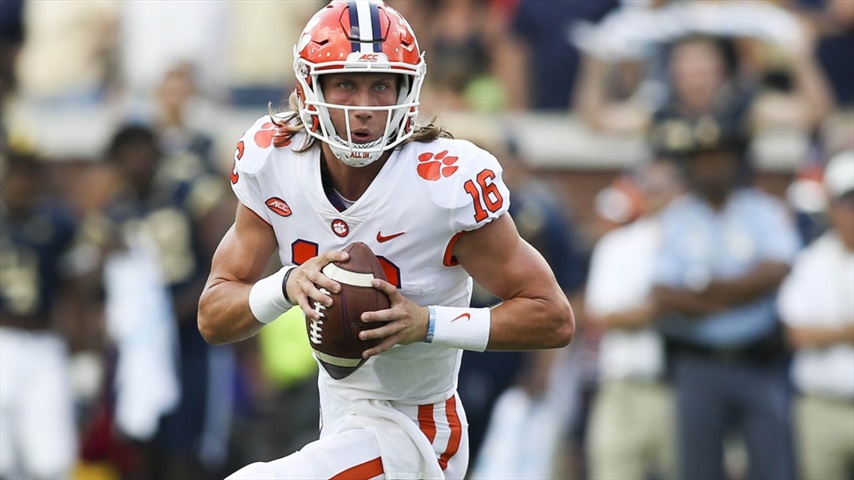 © Brett Davis-USA TODAY Sports
After a terrible start at Georgia Tech, Bryant was pulled and Lawrence entered the game and led the Tigers to a 49-21 win in Atlanta. Lawrence threw for four touchdowns in the winning effort, while Bryant had 61 yards.
The win came on a Saturday. The announcement from Swinney that Lawrence had been named the starter for the Syracuse game came on the next Monday.
Swinney gave Bryant that Monday off after the announcement and the senior did not practice. In a surprising turn of events, the senior would never practice again in Tigertown. Bryant, in a story with The Greenville News, announced that he would transfer from the program-- effective immediately.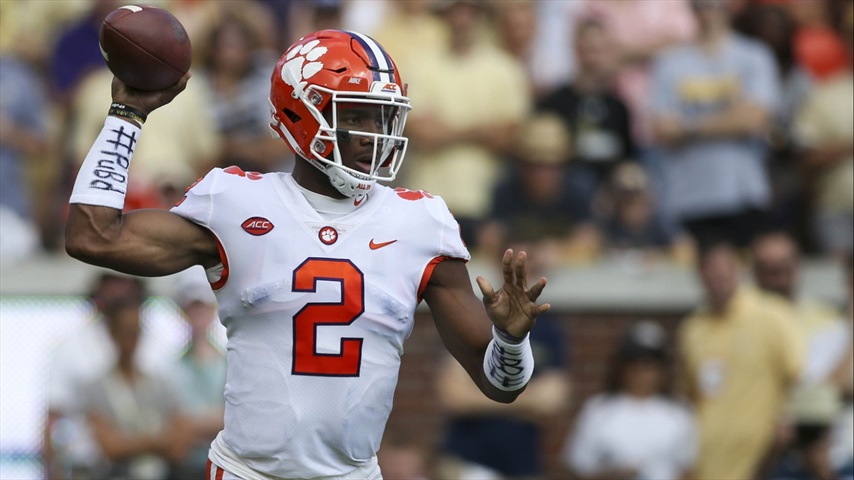 © Brett Davis-USA TODAY Sports
"They asked me how I felt about it," Bryant said of his meeting with Coach Swinney. "I was like, I'm not discrediting Trevor. He's doing everything asked of him, but on my side of it, I feel like I haven't done anything to not be the starter. I've been here. I've waited my turn. I've done everything y'all have asked me to do, plus more."
"I've never been a distraction. I've never been in trouble with anything. To me, it was kind of a slap in the face," said Bryant.
After announcing on December 4th, Kelly Bryant is headed to Missouri as a graduate transfer. Meanwhile, Trevor Lawrence is headed to California to play in the National Championship game on January 7th.
#2: The Return
Following Clemson's loss to Alabama in the Sugar Bowl, there was a serious chance that Clelin Ferrell, Austin Bryant, and Christian Wilkins would leave for the riches of the NFL. The three players had been a part of three consecutive College Football Playoffs, won a national title, and didn't have anything left to prove, at least that's what we thought.
Little did fans realize how much the loss to Alabama would burn inside of those three defensive linemen and all three elected to return for one final run at a national title.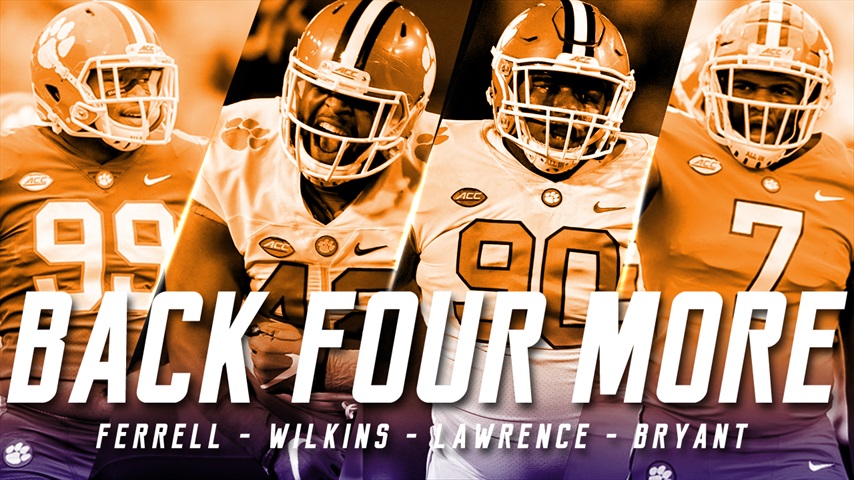 Clemson Sports Talk
Along with Dexter Lawrence, the four man front for Clemson has been seen as one of the top groups in college football, helping lead the Tigers back to the title game, including a shot at Alabama this coming Monday.
If the Tigers get past the Crimson Tide next week, it feels like a certainty that the defensive line will have to play a huge part in slowing down Alabama's offensive attack, led by quarterback Tua Tagovailoa.
#1: Even the Backup is Good
There were two thoughts on the minds of Clemson fans entering the home game against Syracuse on September 29th. One was revenge, as the Tigers' only 2017 regular season loss came on the road to the Orange. The other was the fact that this would be the first game since the transfer of Kelly Bryant. Trevor Lawrence was now the starting quarterback in Tigertown and Chase Brice would be his backup.
In the second quarter, Lawrence rolled out on a keeper and upon sliding, he took a hit to the head. Now only two words crossed the minds of Clemson fans, "Oh, no." With Syracuse leading 16-7 and Lawrence being taken to the locker room, Chase Brice took the field.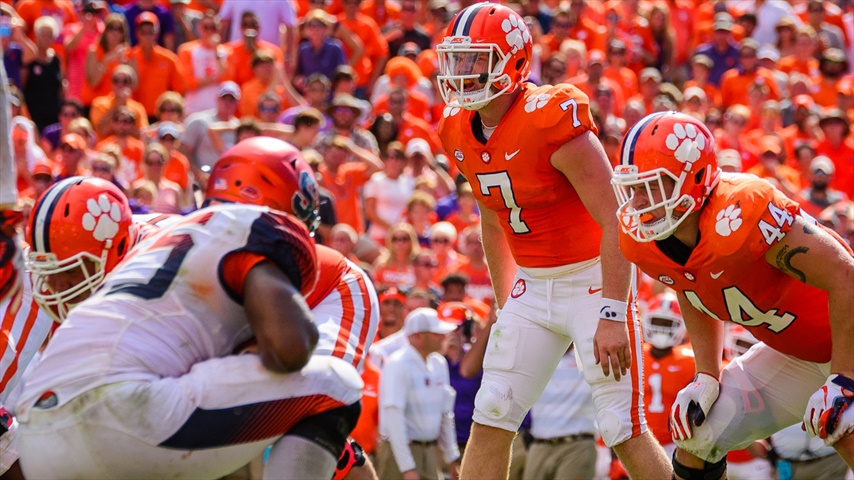 Clemson Sports Talk
Fast forward to six minutes remaining in the game and Syracuse hanging onto a 23-20 lead. Clemson would have one last shot to avoid the upset bid by the Orange, but they would have to start their final drive from their own 6-yard line.
Following seven straight run plays and a false start penalty, the Tigers were faced with fourth-and-six near midfield. With the undefeated season hopes hanging in the balance, Chase Brice dropped back and found Tee Higgins 20 yards downfield to move the chains.
Five plays later, Clemson took a 27-23 lead courtesy of a Travis Etienne 2-yard run and would stay undefeated on the season.
---
Let us know other stories you would have had in the top seven. Leave a comment in our FREE forums. We'd love to hear your thoughts on the biggest moments of 2018.
Never miss the latest news from Clemson Sports Talk!
Join our free email list