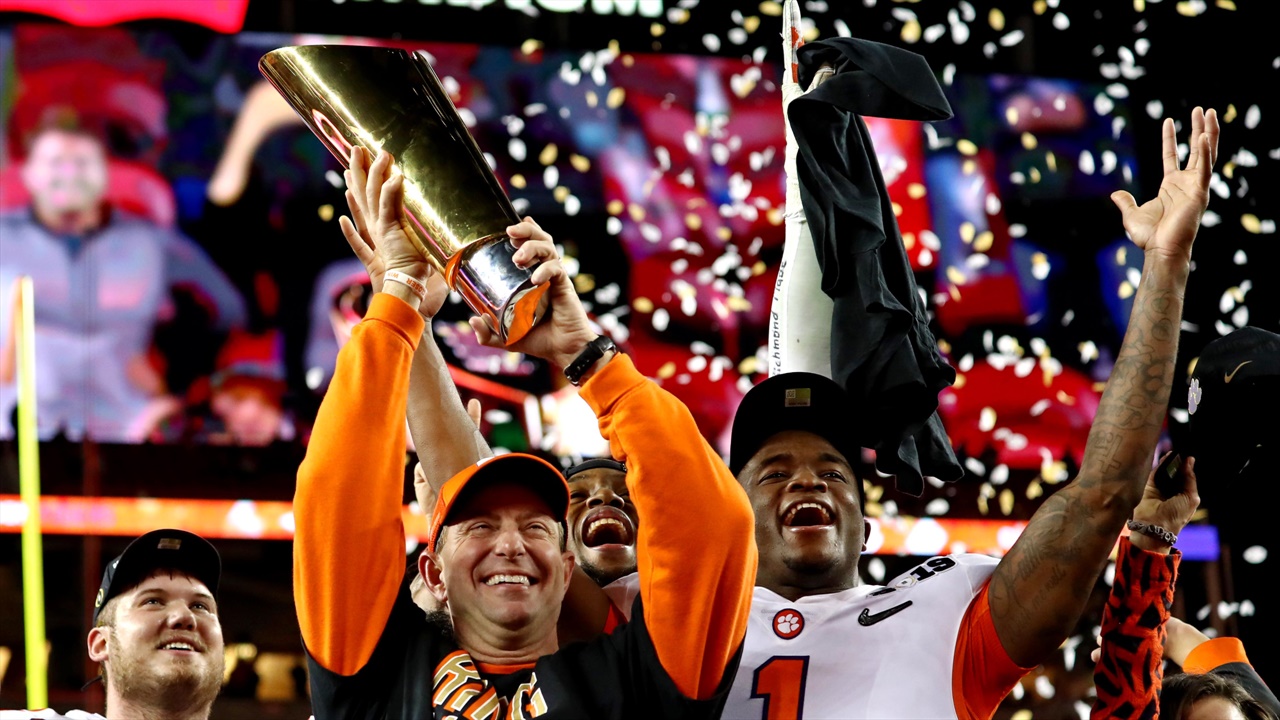 Clemson Football
PERFECT ENDING
---
SANTA CLARA, Calif. -- Many people thought the feeling would never get better than the last one.
The moment Hunter Renfrow secured Deshaun Watson's touchdown pass in the final second to become national champions of college football escalated Clemson's program to new heights. Watson sat on the sidelines; tears ran down his face.
It was history. It was surreal. It was a fairytale.
And as it turned out, that moment was merely the beginning.
The difference between that faithful January day in Tampa Bay and this year's fourth consecutive contest between these two programs was that this game didn't come down to the game's final possession. It was a knockout.
The worst beating a Nick Saban coached team had endured since he's been at the University of Alabama.
The Tigers climbed back to the top of the college football mountain after they rolled over the Crimson Tide 44-16 and became the first team ever in the modern era to finish a season with a perfect 15-0 record. Undefeated, undisputed, and grabbing its second national title in three years, Clemson believes this year's squad belongs in elite company.
"We came in hearing (Alabama) were the best team ever," Clelin Ferrell said. "I feel like all of college football is brainwashed, man…We feel like we're the best team in college football. We came, we showed it and played like it. It was dominant."
"We came in hearing (Alabama) were the best team ever," Clelin Ferrell said. "I feel like all of college football is brainwashed, man…We feel like we're the best team in college football. We came, we showed it and played like it. It was dominant."
Dabo Swinney, who is now the only active head coach in the coach in the country behind Saban with two national titles to his name, felt the same way.
"Our guys had the eye of the Tiger," Swinney said after the confetti fell. "For our seniors to go out 15-0 and truly be the best ever - there was a lot of talk about 'best ever' all year long. We were never in that conversation. But tonight, there's no doubt."
The fun is in the 'fetti, right?
Sure, tears of joy were shed Monday in celebration from Swinney and players just as they did after the 2016 National Championship.
But blood was also shed.
Fittingly enough, Swinney corralled his players to watch Rocky III the night before the final game of the season to motivate his players. And a title game that everyone thought was a toss-up at kickoff turned into a beatdown.
It all began with the most exciting first five minutes in College Football Playoff history. AJ Terrell started the scoring with a 44-yard pick-six, but Tua Tagovailoa quickly bounced back to even things up with a 64-yard touchdown to Jerry Jeudy.
Back-and-forth the game went as Travis Etienne scored from 17 yards out the play after Tee Higgins hauled in a 62-yard bomb on third down to set up the score and retake the lead.
Clemson's offense only ran ten plays in the first quarter, and Alabama racked up 224 total yards. The Crimson Tide looked set on busting the game open, but Clemson's ability to connect on big plays allowed them to not only hang around, but keep the Tigers in the lead for most of the game.
The game changed when Clemson's defense made a goal-line stand in the second quarter after the Tide had second-and-goal from the one-yard line. After a false start when the offense tried to get cute, Alabama stalled and kicked a field goal to take its first and final lead of the game.
Like the second half of last year's national championship game was for Tua Tagovailoa, the game from the second quarter on was a coming out party for Trevor Lawrence. The freshman quarterback found a groove and led three consecutive scoring drives in the second quarter.
The first being a 6-play, 65-yard scoring drive that put Clemson right back in front, 21-16. A 26-yard Tavien Feaster screen pass followed by a Higgins 14-yard catch on third down set up Etienne for his second touchdown of the night.
The second was an 8-play scoring drive that was 47 yards. After Trayvon Mullen intercepted Tagovailoa for the second time in the game, Lawrence could smell blood, and the Tigers marched right down the field. An Amari Rodgers 26-yard completion on third down set up Etienne for his third touchdown of the game, this time on a shovel pass from five yards out (the same play Alabama was unable to convert on the other end).
The Crimson Tide were lucky things didn't get worse before halftime as the Tigers settled for a 36-yard field goal from Greg Huegel. When the dust settled after outscoring Alabama 17-3 in the second quarter, the Tigers had outscored their opponents 228-41 this season in that period alone.
And it was Lawrence who continued to show his calm, stoic demeanor, which was usually followed by a crucial throw. He completed 10 of 14 passes in that second quarter for 127 yards and a touchdown.
To take down the Saban dynasty at Alabama, you're going to need to make plays. Which, of course, means you're going to need playmakers. In 2016, it was Watson and Mike Williams who led the way with gigantic throws and catches down the stretch. They were the elder statesmen of that group that pushed Swinney's program over the top.
This time, the true freshmen that took over and showed not only why Clemson has won games in such a dominant fashion, but that they also are going to be around for a while.
Insert Justyn Ross, who was the one that got away to Alabama fans everywhere as the former No. 1 recruit in that state. The true freshman stud from Phenix City dismantled the Crimson Tide with Mike Williams-esque catches that just didn't seem fair at one point.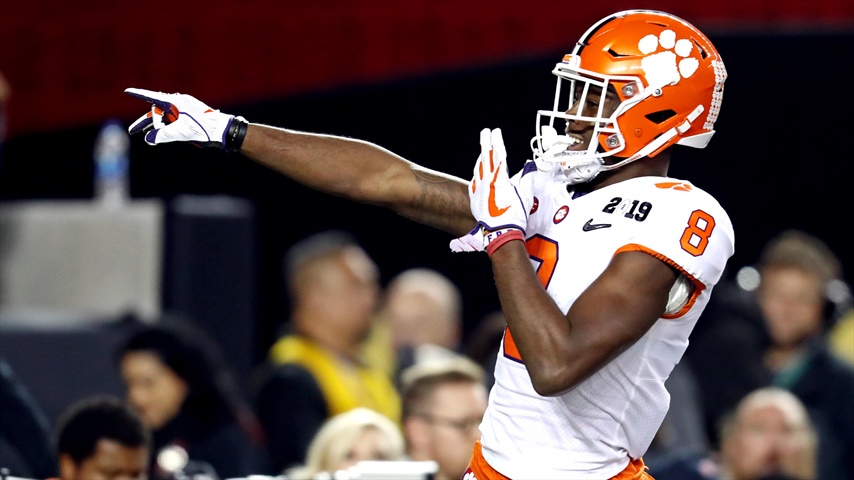 © Matthew Emmons-USA TODAY Sports
Facing third-and-8 from Clemson's own 26, Lawrence found Ross amidst pressure wide open, and Ross ran untouched for the 74-yard touchdown that looked like could have been the final fatal blow.
But it was the next possession where Lawrence and Ross flexed their muscles. A 37-yard one-handed grab from Ross was quickly followed by another one-handed catch that was better than the previous. That was the moment Lawrence and company could sense the title as the duo could do nothing but smile after those plays.
A sentence you don't see too often: Clemon's offense, led by two freshmen, imposed its will on the Crimson Tide.
"The catches that you saw him make tonight, those are routine for him," Swinney said.
The 12-play, 89-yard drive was capped off by a Higgins 5-yard touchdown to give Clemson 30 unanswered points. Usually, in the regular season, that would be the point of the game where Swinney would empty his bench, and Will Swinney would catch a pass.
Ross finished the game with a mere six catches for 153 yards and one touchdown. Lawrence followed suit with an incredible 347-yard performance on a 20-32 clip. Three touchdowns. Zero interceptions.
Tagovailoa was in a groove early but faltered. He completed 22 of 34 passes for 295 yards and had two touchdowns, but two bigger interceptions. The spotlight that shined on him all season quickly beamed towards the true freshmen on the other side, who looked like a 10-year NFL veteran.
Clemson had fewer first downs, rushing yards, and plays ran but still won by 28 points. It all came down to third-down execution as the Tigers were 10-of-15 in that category with Lawrence completing 8 of 11 passes on third down for 240 yards and two scores.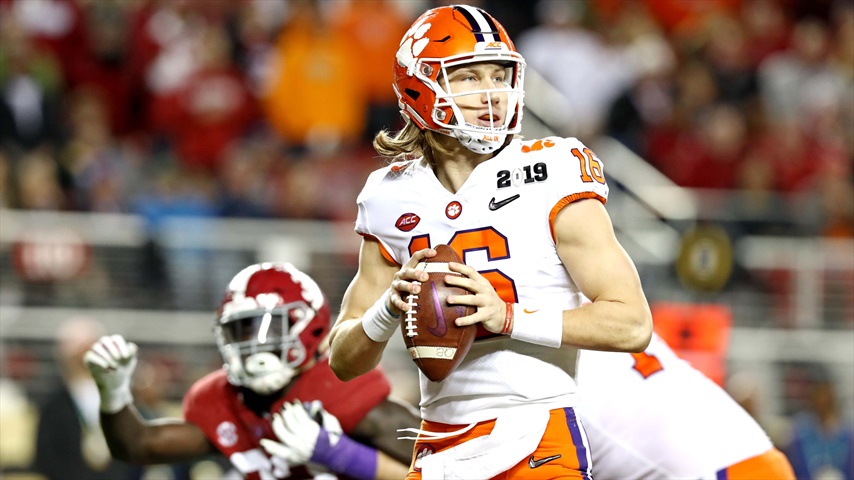 © Matthew Emmons-USA TODAY Sports
The offensive line, who took a lot of flack after last year's shortcoming against the Crimson Tide, deserves the highest of praises after not giving up a sack in this year's championship game. The clean pocket allowed the Tigers to average 7.7 yards per play. In 2016, it took 99 plays for Watson to wear down Alabama and finally pull the game out.
This year? Only 63 plays. Because the key to Clemson's success this season has been the explosive plays.
And how about Clemson's defensive performance? Brent Venables put together a scheme that rattled Tagovailoa to just enough of an extent that kept the Tide from being the explosive offense they have shown. Alabama was 4-of-13 on third down, 3-of-6 on fourth down, and only managed to put up 443 yards of offense.
Saban gave up on his defense and his special teams early in the third quarter as he went for it on fourth down twice in the frame. A fake field goal that would even make Kirby Smart shake his head and a quarterback sneak that fell short made a 13-play drive and an 8-play drive result in zero points.
It's funny to think that Saban has been the one to get desperate against Swinney twice now. This time, nothing seemed to work.
It's funny to think that Saban has been the one to get desperate against Swinney twice now. This time, nothing seemed to work.
Saban even waved the white flag by putting backup quarterback Jalen Hurts in the game. In return, the Tigers did something to Alabama that is rarely seen. Clemson racked up its longest drive in school history, 14 plays for 94 yards that ran just over 10 minutes off the clock to end the game.
All of a sudden, Alabama was the team that was getting pushed around as the Tigers ran the ball down its throat. Each play chipping away at a continued Saban dynasty as Swinney could almost taste the golden trophy.
Clemson's seniors finished what they started. And what a run it has been. Over the past four years, Alabama and Clemson both have identical 55-4 records, which tie each other for the most wins by a senior class in school history. The defensive front that decided to come back ended things in poetic fashion with one last goal-line stand in the fourth quarter to send Alabama fans toward the exits.
This entire season has been one full of ups and downs for this Clemson squad. It feels like forever ago when Clemson was on the brink of falling at home against Syracuse. And now it feels like the Tigers should be heavy favorites to be right back in next year's title game in New Orleans.
Swinney has always said that it's important to dream big. At some point during the contest, we believe even the head man had to pinch himself as he high-stepped down the sidelines.
California dreaming? No, this was real. This was the storybook ending no one really expected. Well, maybe except the players dancing in that Clemson locker room with another trophy in their hands.
In a game that is usually played with plenty of imperfections, the Tigers saved their best, most complete performance in a long time, for last.
National champions. 15-0.
The perfect ending.
Never miss the latest news from Clemson Sports Talk!
Join our free email list