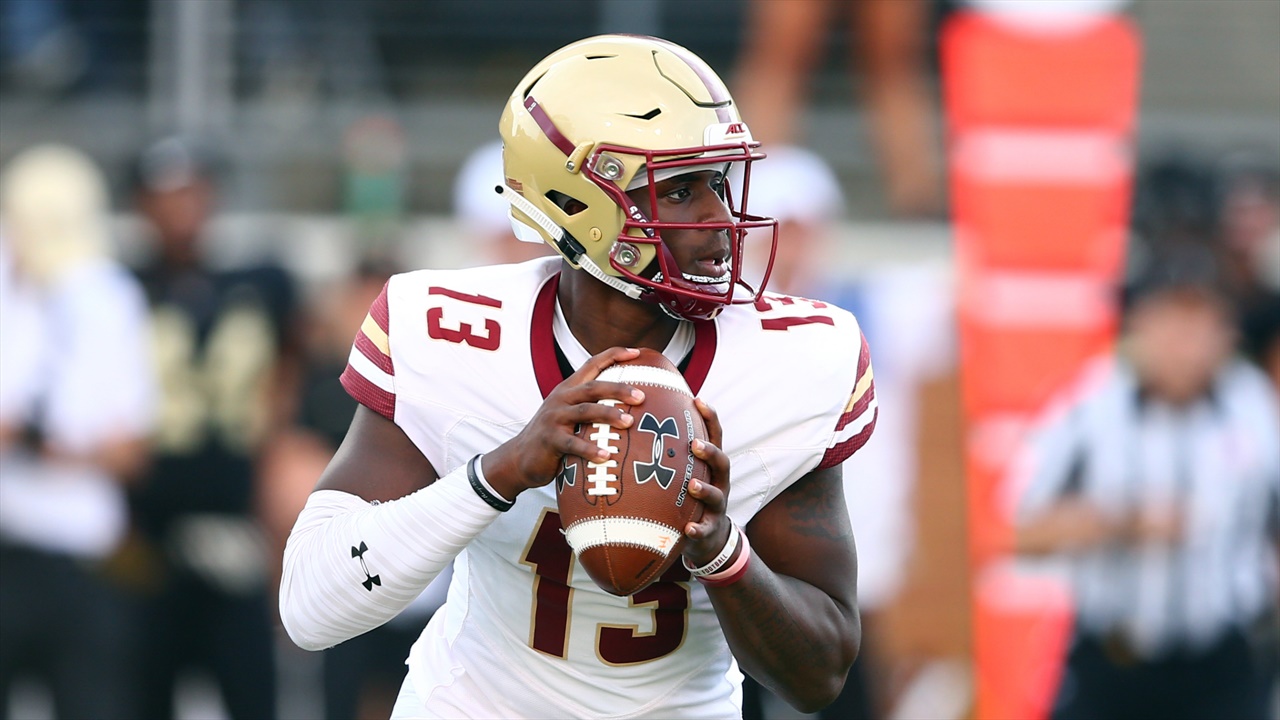 Photo by © Jeremy Brevard-USA TODAY Sports
Clemson Football
2019 Opponent Series: Boston College
---
Feel the difference - The best user experience on mobile devices or personal computers. Avoid clickbait and sites bloated with advertising! Join us today for just $1 or get a full year for $63.17.
---
2019 Opponent Series
When you think about Boston College, you think hard-nosed, smart, tough football. There's no reason to believe that won't continue in 2019, but the Eagles haven't been able to string more than seven wins in a season since Steve Adazzio has been there. The next step for the Eagles according to Adazzio is to compete for the ACC Championship.
"We have to be able to stay consistent in our level of play through the course of the season. We have to develop our depth so that injuries don't unseat us. That's where I think our challenge lies, is staying healthy and staying consistent," Adazzio said.
Boston College will be led offensively by quarterback Anthony Brown and junior running back A.J. Dillon. Dillon battled injury during the 2018 season, but he will be one of the top backs in the country again as he was named to the Walter Camp Player of the Year award list after running for 1,108 yards and 10 touchdowns in 2018. Dillon says he models his game after several different players.
"My third year, I kind of try to be a sponge, take little bits and pieces from all the great backs, Le'Veon Bell's patience, Saquon Barkley's ability to cut and accelerate. That all kind of works its way to trying to be an all-purpose back," Dillon said.
BC will have a new offensive coordinator as well. Mike Bajakian, who spent the last four seasons as the quarterback coach for the Tampa Bay Buccaneers. Adazzio said Bajakian can bring some of his experiences and knowledge to the Eagles' passing game in 2019. If Brown can become more of a passing threat in 2019, things will open up for tight end Chris Garrison and wide receiver Kobay White.
Another thing that comes to mind when you mention the Eagles is their defense. There are questions for this year's unit after losing 8 starters from last season. Defensive tackle Tanner Karafa was asked at the ACC Kickoff on what the key will be to find the past success and he said that begins with finding their own personality.
"We need to make a conscious effort to find that personality during camp. We need young guys who have no experience to be able to provide depth, come along in a way that they can provide value," Karafa said.
Defensive back Brandon Sebastian is the only starter that returns in the secondary so developing that personality will be big for that group during fall camp.
Boston College Eagles
Head coach: Steve Adazzio, seventh year
Last season: Finished 7-5, bowl game against Boise State canceled due to weather
Returning starters: 6 offense, 4 defense
Players to Watch
Max Richardson (Linebacker, R-Jr.) -- Richardson will be looked on as one of the leaders of a defense that lost a lot, but he definitely has the experience to fill some of the void left. He was named to the All-ACC third preseason team for 2019. He had 76 tackles, nine tackles for loss and 2.5 sacks.
Kobay White (Wide receiver, Jr.) -- If Boston College can get their passing game to be more of a factor in 2019 with a new offensive coordinator, White will likely be one of the key guys. He was the team's leading receiver with finishing with 33 receptions for 526 yards and 3 touchdowns.
Ben Petrula (Offensive line, Jr.) -- After starting all 12 games last year at right tackle, the Jersey native has moved over to right tackle and will look to continue to be a leader up front. He has started 24 straight games.

Last Meeting vs. Clemson: 2018: Clemson traveled to Chestnut Hill and defeated the Eagles, 27-7 on a cold night in the Boston area as the Tiger defense held Boston College to 9 first downs and 113 yards of offense.
2019 Schedule
Aug. 31 - vs. Virginia Tech
Sept. 7 - vs. Richmond
Sept. 13 (Fri.) - vs. Kansas
Sept. 21 - at Rutgers
Sept. 28 - vs. Wake Forest
Oct. 5 - at Louisville
Oct. 19 - vs. NC State
Oct. 26 - at Clemson
Nov. 2 - at Syracuse
Nov. 9 - vs. Florida State
Nov. 23 - at Notre Dame
Nov. 30 - at Pittsburgh
**Home games in BOLD
Never miss the latest news from Clemson Sports Talk!
Join our free email list