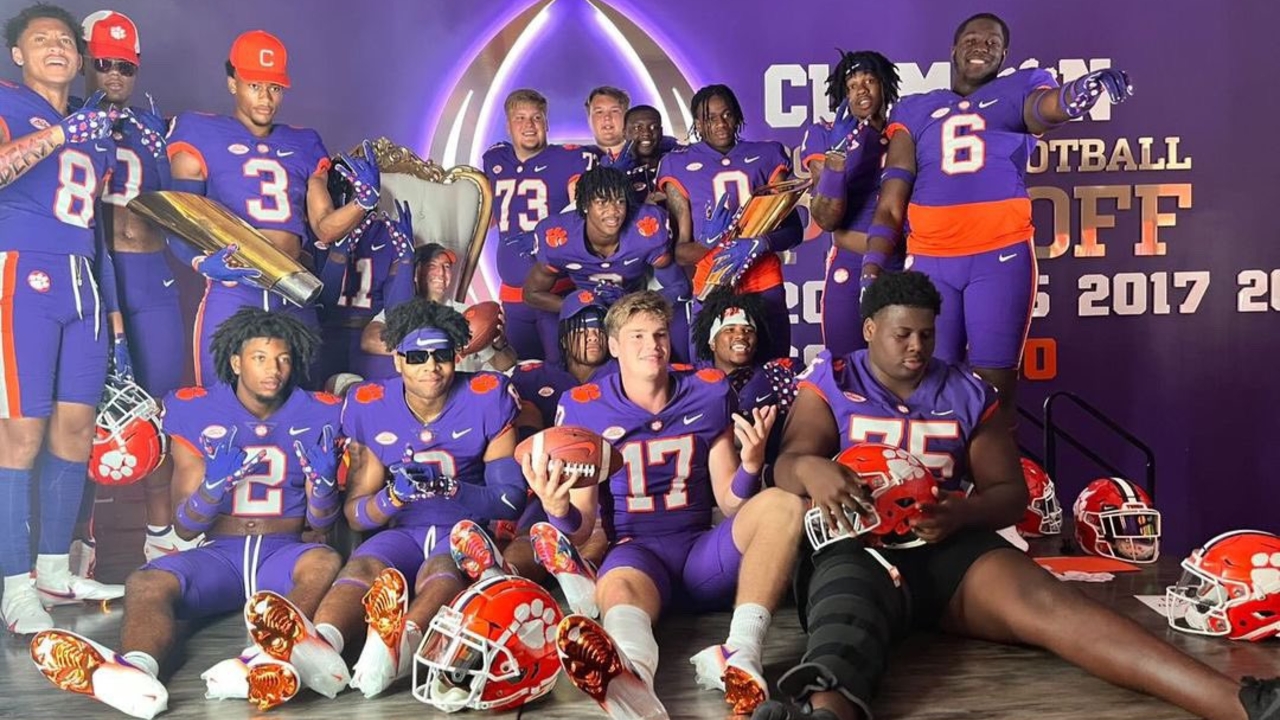 Photo by Christopher Vizzina/Twitter
What are Clemson coaches and players saying about the freshmen this spring?
---

---
Clemson signed 26 in the 2023 football recruiting class and 14 are participating in spring practices.
Clemson head coach Dabo Swinney is pleased with what he's seen from the mid-year enrollees. "They're what we thought they were," he said on March 15. "There's nobody we're disappointed with and nobody I'm like, oh boy, that's going to take awhile. They all flashed at some point. They're all as advertised."
With several players sitting out the spring with various injuries, the mid-years are gaining valuable experience ahead of the 2023 season.
What have we heard from players and coaches about the newcomers?
Offense
Offensive line coach Thomas Austin welcomed three offensive linemen, Zechariah Owens‍, Ian Reed‍, and Harris Sewell‍, to campus in January.
"I'm really pleased with all three of those mid-years," said Austin about the Texas pair (Reed, Sewell) and Peach State standout."I mean those guys are about the right stuff. So all three of those guys have the mental capability to play multiple positions."
#54 Ian Reed
"Freaking tough, strong, physical, loves ball. But he's still kind of overloaded a little bit and it's coming a little slower from an installation standpoint, and we got to get his body a little bit better." – Dabo Swinney
#72 Zechariah Owens
"Tough, competitive, won't back down. Exactly, what you want. That big guy can move and run and he's physical. But he can't play at 380, right? He was 405 so he's on his way. So, if he keeps buying into what we're asking him to do, we're going to look up and that big dude is going to be something special." – Dabo Swinney
© Susan Lloyd/Clemson Sports Talk
#55 Harris Sewell
"He can just bend. He can move. He has great football IQ. He understands defense. He's incredibly well-coached. He is as tough as they come. He's nasty. He can play both really three positions. Very athletic and he's got the mentality. So, he's a rare guy that physically and mentally it kind of matches up. And so he'll help this football team for sure. No doubt." – Dabo Swinney
"Obviously, he's very talented. I think the biggest thing for him is he's extremely coachable. He takes everything to heart. He listens. When you put the helmet on and we're in between the lines he wants to finish people. He gets after guys. He wants them on the ground. He wants to be on top of them. You want that mentality as an offensive lineman." – Will Putnam, graduate offensive lineman.
Christopher Vizzina‍ was the lone freshman quarterback in the class.
#17 Christopher Vizzina
"He's a talented dude," said new offensive coordinator/quarterbacks coach Garrett Riley. "He's a big kid now. Fun to watch, eager mentally. I mean, it's all kind of going fast and new as you would expect for a young quarterback but the guy's not fazed. You know what I mean? He's a very poised individual. And so, skill set-wise, there's a lot to love about him."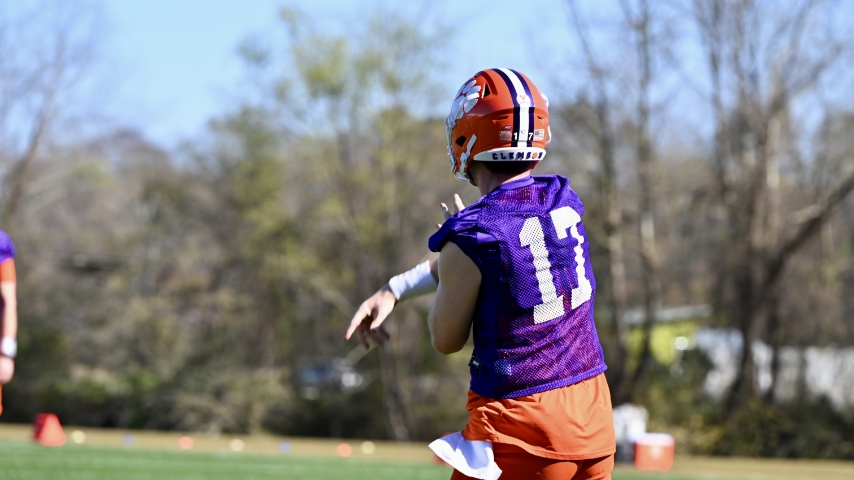 Aidan Murin | Clemson Sports Talk
Wide receivers coach Tyler Grisham signed four receivers (Misun Kelley‍, Tyler Brown‍, Ronan Hanafin‍, and Noble Johnson‍) but only Texas native Johnson‍, who Riley was familiar with from the recruiting trail in the Lone Star State, is on campus.
#3 Noble Johnson
"He's one that's getting a ton of reps right now. And physically, he's a gifted guy and so, we just got to kind of bring him along and he's already made strides here in just a couple of days." – Garrett Riley
"He's going to be a stud. He's got all the physical attributes and wants to learn, great route running skills just early on and he's going to be a great player for us. He's going to do great things and I'm super excited about him." – Cade Klubnik, sophomore quarterback
Defense
"Honestly, in my personal opinion, I don't know if I've seen a freshmen class come in as ready as this defensive class," replied senior safety R.J. Mickens when asked his opinion on the defensive newcomers. "You got Peter Woods, Khalil Barnes, Kylen Webb, [Tomarrion] TJ Parker, Vic Burley, Stephiylan [Green], Shelton Lewis, all those guys are miles ahead of myself whenever I came in and the average freshman."
Clemson was able to retain veteran defensive tackles Tyler Davis and Ruke Orhorhoro for another season but also signed talented tackles, Peter Woods‍, Victor Burley‍, and Stephiylan Green‍.
"They're all good human beings, good people from good families, great character guys," defensive tackles coach Nick Eason said about the trio. "They've been handling their business off the field and they show up every day ready to work and ready to learn. In terms of talent level - off the charts" - all three of them."
"It's easy to see those young D-linemen. Hard to miss those guys. They are as advertised. That's for sure." – Dabo Swinney
The Tigers signed defensive ends AJ Hoffler‍, David Ojigebe‍, and Tomarrion Parker‍ on December 21, 2022, the early signing period, but only Parker is a mid-year.
#12 Tomarrion Parker
"He's physical. He's a big kid. He has a great foundation," defensive ends coach Lemanski Hall said in reference to T.J. Parker. "He's physical at the point of attack. He can rush the quarterback. He's what we call a plug-and-play guy. I mean come in on day one, and you can put him in and he can play and execute. And that's what I wanted when I recruited him and that's what we got."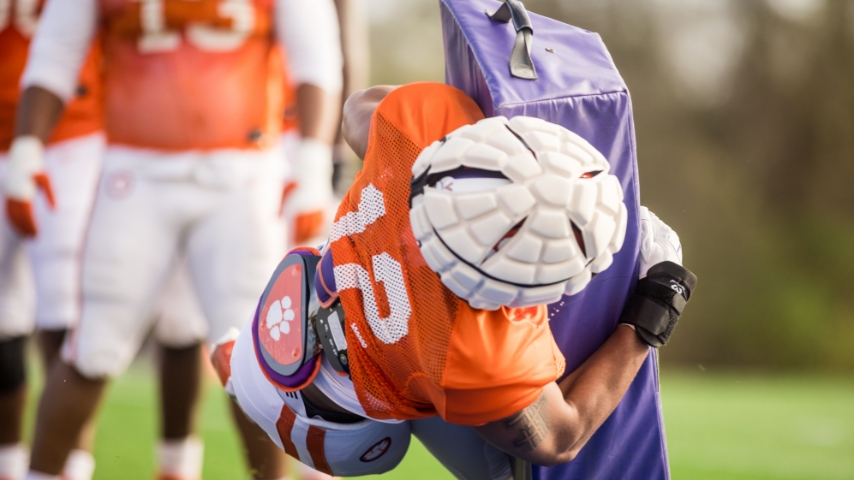 © Susan Lloyd/Clemson Sports Talk
Jamal Anderson‍ and Dee Crayton‍ are the linebacker signees.
#32 Jamal Anderson
"This kid is just a big-time athlete. This dude is smooth. He can run, change direction. I think he can do a lot of things. He's got really good growth potential." – Dabo Swinney
"Jamal is really good. And people don't really pay attention too much about how aggressive Jamal is too. He's really strong for his size and he's putting on some weight. And he can fly around for a linebacker. He's fast. He could play all three positions. I'll like to see what he does." – Malcolm Greene, graduate cornerback
#22 Dee Crayton
"Dee is a thumper. He's got a great body." – Dabo Swinney
Shelton Lewis‍ is the only member of the cornerbacks class, which also includes Branden Strozier‍, and Avieon Terrell‍, practicing this spring.
#14 Shelton Lewis
"He's just smooth, very instinctive, very natural player and it's very important to him. But he can run. He's got really good technique. He's got excellent ball skills. He's incredibly competitive. So all those things will serve him well." – Dabo Swinney
"His mentality is like he's hungry. He really wants this. He's really competing for a spot. He's not one of those freshmen that just come in, there's older guys above me, I might have to sit down. He's locked in. He's a pit bull. He's ready to attack. He is ready to go out there and compete and make plays. He's been doing that since he got here." – Andrew Mukuba, junior safety
Co-defensive coordinator/safeties coach Mickey Conn signed Khalil Barnes‍, Rob Billings‍, and Kylen Webb‍ to his safety group.
#36 Khalil Barnes
"I've been extremely impressed with his ability to pick up on the defense, his footwork, his speed, his change of direction, his coverage ability. He's gonna be a good one." – Mickey Conn
"He's a baller. He's definitely going to be one of the guys that's going to help us a lot whether that's on defense, special teams." – Andrew Mukuba
#30 Kylen Webb
"Khalil, Kylen [are] both out there making plays. Really good technique, footwork, great man-to-man, zone awareness, tacklers. They're complete safeties. I think they're really good." – R.J. Mickens
#11 Peter Woods
Woods has been the most impressive freshman and arguably the most outstanding player regardless of class or position this spring. With Orhorhoro and Payton Page out, rehabbing injuries, he will have the attention of fans on Saturday for sure.
Defensive coordinator/linebackers coach Wes Goodwin was asked, what stood out about the former five-star defensive tackle.
"What doesn't," He replied with a huge grin. "An amazing young man off the field. Comes from a great family, great program, four state championships in the state of Alabama. So, he's a winner," Goodwin continued. "Works extremely hard. He's powerful, explosive. He can play on the edge, play inside, he can play all the techniques up front, and he's just super heavy-handed, explosive, violent. The list goes on and on. We could be here all day talking about him."
Does Woods remind Eason, who spent 17 years in the NFL as a defensive tackle and coach, of anyone he has seen?
"Peter Woods has the twitchiness and the power and the quickness of some dominant NFL defensive linemen that I've been around," said Eason before comparing the Alabama native's talent to a few Clemson greats. "I will say that he has the talent level to obviously be an All-American, one of the best that's ever come through Clemson, in that list of great defensive linemen – the Michael Dean Perrys and the Trevor Pryces and the Grady Jarretts and Dexter Lawrence, and the list goes on and on."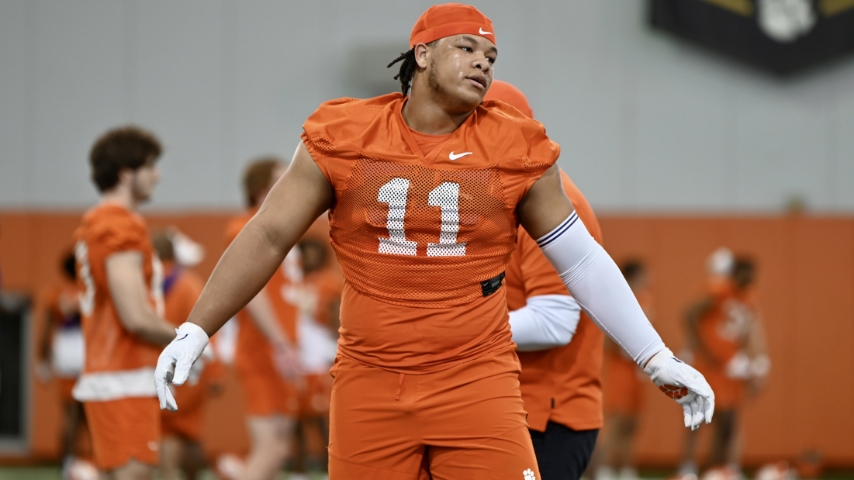 Aidan Murin | Clemson Sports Talk
"He's as good as anyone we've had. It's easy to see. He's a problem." – Dabo Swinney
"I don't think this whole college thing intimidated him one bit. He just came in and just acted like it was like another day and now he's just dominating guys." – R.J. Mickens
"Coach Swinney talks about, you know it when you see it. I saw Peter Woods as a freshman, and I was like, wow, you don't get to see many guys like that. He's all of that and I'm happy he's on our team." – Lemanski Hall
"He's a dog. That's pretty much it." – Malcolm Greene
"This dude is supposed to be in high school and he is shoving and throwing dudes that have been here for a while. I can't wait to see what he can do when it comes time to play and for as long as he is here. I can't wait to see how good he gets because he is only going to get better and it's going to be scary because he is already good now." – Andrew Mukuba
Never miss the latest news from Clemson Sports Talk!
Join our free email list
PRESENTED BY